Formula 1 testing: McLaren's Fernando Alonso second on last day in Barcelona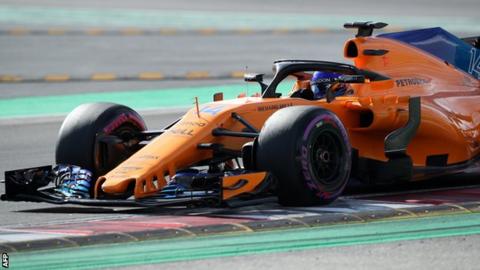 Fernando Alonso set the second fastest time on the final day of pre-season testing to end two difficult weeks for McLaren on a high.
The two-time champion was 0.563 seconds slower than Kimi Raikkonen, who ensured Ferrari topped the times on both the final two days.
The Finn's time was just short of team-mate Sebastian Vettel's on Thursday.
McLaren still had problems - a turbo failure kept Alonso in the pits for five hours - but he managed 83 laps.
It meant it was a relatively successful final day for McLaren, whose preparations for the season have been hit by a series of reliability problems throughout the eight days of running in Spain.
Racing director Eric Boullier described all the problems as "minor issues", adding: "Very quickly we are going to get back to normal."
Renault's Carlos Sainz was third quickest on the final day, 0.3 seconds behind Alonso on the same 'hyper-soft' tyre and just over 0.2secs ahead of Red Bull's Daniel Ricciardo on the slower 'super-soft'.
Romain Grosjean continued the Haas team's impressive end to the winter with the fifth quickest time.
Mercedes drivers Valtteri Bottas and world champion Lewis Hamilton were sixth and 11th quickest, concentrating on longer runs on heavier fuel loads.
They will start the new season as favourites in Australia in two weeks' time.
Fastest times, final day, final pre-season test, Circuit de Barcelona-Catalunya
Kimi Raikkonen (Fin) Ferrari 1:17.221 ****
Fernando Alonso (Spa) McLaren-Renault 1:17.784 ****
Carlos Sainz (Spa) Renault 1:18.092 ****
Daniel Ricciardo (Aus) Red Bull-Renault 1:18.327 **
Romain Grosjean (Fra) Haas-Ferrari 1:18.412 ***
Valtteri Bottas (Fin) Mercedes 1:18.825
Brendon Hartley (NZ) Toro Rosso-Honda 1:18.949 ****
Esteban Ocon (Fra) Force India-Mercedes 1:18.967 ****
Charles Leclerc (Mon) Sauber-Ferrari 1:19.118 ****
Sergey Sirotkin (Rus) Williams-Mercedes 1:19.189 *
Lewis Hamilton (GB) Mercedes 1:19.464 **
Lance Stroll (Can) Williams-Mercedes 1:19.954 *
**** = time set on hyper-soft tyre; ** = super-soft tyre; * = soft; all others medium