Tatiana Calderon: I had to crash to earn respect of male drivers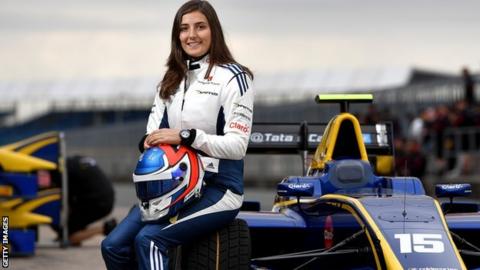 Sauber test driver Tatiana Calderon says she has had to "crash" to earn the respect of male drivers who do not want to be "beaten by a girl".
The Colombian races in the GP3 category and has been promoted from development driver for the 2018 F1 season.
"There's still this belief that you can't be as competitive as the guys, so you have to prove yourself again," Calderon, 24, told BBC World Service.
"Once they start to see you as another racing driver there is no issue."
Calderon said she has been involved in collisions in races because she refused to give up track position.
"There were some occasions where I thought I'm not going to lift because this is my position and it's their time to brake," she said.
"The other guy has not braked, so we crashed, but it was the only way to make him understand that, just because I'm a woman, I'm not going to give him the place.
"Sometimes that's also how you have to earn that respect. He never did it again."
'Male drivers told me it really hurt their ego'
Only two women, Maria Teresa de Filippis and Lelli Lombardi, have started a Formula 1 grand prix.
In 2014, Susie Wolff became the first woman for 22 years to take part in a race weekend, at the British GP.
Calderon's promotion means she will complete simulator training and coaching with engineers on site and during grand prix weekends.
She said: "Competitors have come to me and said, 'I remember the day you passed me on this corner and it really hurt my ego, but it's OK, great job'.
"It just shows that it's still something new for the guys to accept that a girl is quicker or can beat them."
'No physical barrier' for women
Spaniard Carmen Jorda, a former GP3 and Lotus development driver who sits on the Women in Motorsport Commission at motorsport governing body the FIA, suggested this week that Formula E may be more "physically" accessible than F1 to women.
2009 F1 world champion Jenson Button said Jorda was "not helping proper female racing drivers".
Calderon said: "I have never tested a Formula E car but all I can say from my experience and my point of view is that we probably have to work much harder than the boys to be fit enough to drive a racing car because we have less lean muscle than men.
"I've worked really hard to compensate and I have never felt like there was a physical barrier for me to perform at the highest level.
"You need to be an athlete. You need a lot of strength on your neck, on your lower back, because of the high G-force, on your core and even on your legs because you have to press the brake so hard.
"Our heart rate is always above 150 so we have to do a lot of aerobic training. People tend to underestimate how fit a racing driving should be."