Lando Norris: Can McLaren's teenage recruit live up to all the hype?

By Andrew Benson
Chief F1 writer
Last updated on .From the section Formula 1119
It has been the fate of many promising British racing drivers in the last 10 years to be dubbed "the next Lewis Hamilton".
The difference with Lando Norris, who has been signed to race for McLaren next year, is that he looks like he might just be one who can justify the hype.
Hamilton is a tough act to follow - as was demonstrated by his superlative drive to victory in Italy on Sunday. And Norris has a long way to go before he can be considered anywhere near him.
But in his short career, the indications so far are that he has a considerable natural talent.
Still only 18, Norris has been quick pretty much straight away in virtually every car he has driven. That's always a good sign. As is pace in the wet, which Norris has also demonstrated in abundance.
McLaren's reserve driver this year, he drove the car in Friday practice at last weekend's Italian Grand Prix.
In the rain, he was matching team-mate Fernando Alonso's pace. And although he ended up considerably slower than the Spaniard, he had been on course to set the same sort of time had he not encountered traffic on his fastest lap.
A meteoric rise
Norris might not be 19 until November, but he is already a veteran of seven different junior motorsport categories and a champion in three, including the prestigious Formula Three Euroseries last year.
How is that possible? Well, it helps to come from a very wealthy family - his father is an investment banker. They recognised his talent and had the multi-million pound fortune to back it - and felt in a position to allow him to give up school to pursue it.
"I left school to concentrate on racing," Norris says. "It was a family decision between my mum, dad and myself.
"I feel it has paid off because I have definitely improved with not feeling tired all the time from travelling, getting home and then going to school the next day."
But no amount of money can compensate for a lack of talent, and Norris has demonstrated that he has plenty.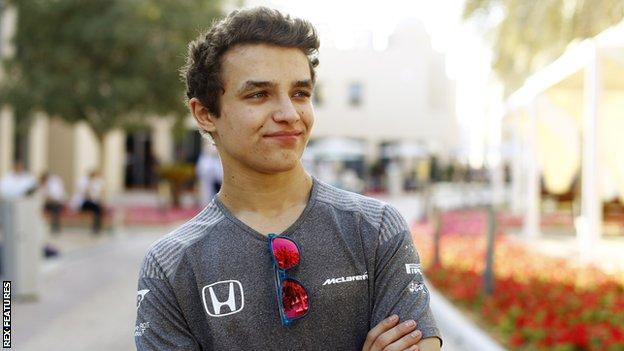 Quick but raw
Monza on Friday was the sort of performance that has convinced McLaren they should take the risk of promoting the lad from Glastonbury in Somerset into a full-time race seat in Formula 1 in 2019.
But a risk it is, however talented Norris is.
If they're quick enough, they're old enough, is an F1 adage. Norris is certainly quick, but whether he is ready is a question that will only be answered with time.
McLaren always had an eye on promoting Norris to F1 in 2019 when he embarked on his maiden Formula Two season this year.
He had already impressed at the Daytona 24 Hours sports car race in January, where he shared one of the cars run by McLaren boss Zak Brown's United Autosports team with Alonso and British driver Phil Hanson.
Alonso was using the event to gain experience of night-time sportscar driving ahead of his ultimately victorious visit to Le Mans with Toyota this year. Norris, a source close to the situation says, was determined to set a quicker lap time than the great man.
He managed it, too, although the source says that to do so he treated one particularly nasty kerb with a fair bit more aggression than might have been ideal in a 24-hour endurance race.
"The things he did were very impressive," Alonso said after the race. "The team work, the preparation, the focus.
"When we switched to wet tyres for one stint, we were fifth, one minute behind the leader. Then we switched to slick tyres again in damp conditions - all this with Lando driving - and we were 27 seconds behind the leaders. He is 18 years old, so that is quite impressive."
Daytona demonstrated Norris' pace, and his determination and drive. And when he began the F2 season impressively, with a win in the first race and an early championship lead, the decision was pretty much made to promote him.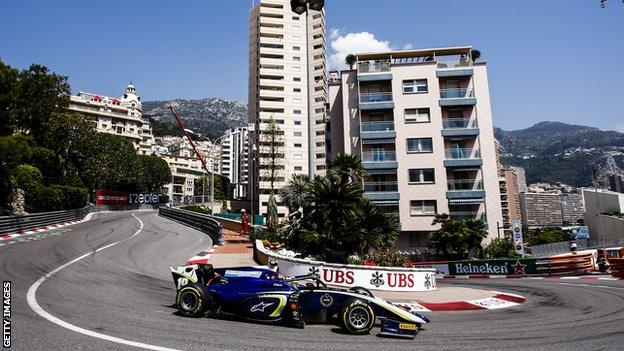 Norris also attracted the attention of Red Bull, whose motorsport boss Helmut Marko made a pitch for him to replace New Zealander Brendon Hartley in the early summer. This was resolutely rejected by McLaren, who were determined to hold on to him.
But then Norris had what can only be described as a mid-season wobble, and he has looked less convincing in recent races. In fact, he has been outshone by another British talent, George Russell, a protege of Mercedes.
McLaren began to wonder whether Norris might be better off doing another year of F2, or something else to gain experience, before his promotion to the big time.
When Alonso decided to retire from F1 at the end of the season, McLaren signed Carlos Sainz to replace him. Their choice as his team-mate was effectively between Norris, and the two Force India drivers, Esteban Ocon and Sergio Perez.
Ocon seemed the most logical choice - he's young, quick and proven. But McLaren were unwilling to take a driver who had contractual links with Mercedes, for all sorts of reasons tied up with the wider political climate in F1 at the moment.
Perez is effectively tied to Force India, and with no will to change their minds on Ocon, the seat was Norris'. Meanwhile, he is still very much in contention for the F2 title - 12 points behind Russell with two rounds to go.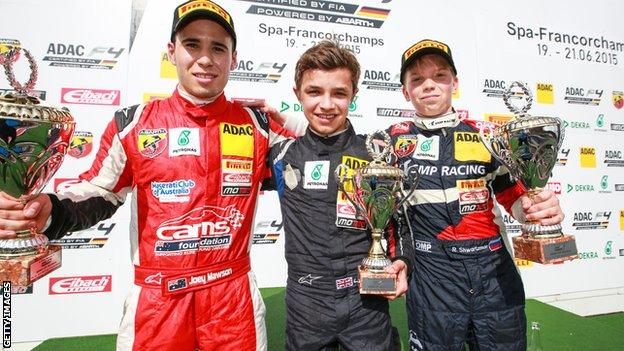 A chance to prove what he's made of
Norris is one of the most promising talents to come along for a while and he has earned his F1 break on merit.
But he only has to look at his current team-mate Stoffel Vandoorne to see that what you achieve on the way up is no guarantee of a successful F1 career. The Belgian's junior career was at least as impressive as Norris' - and he is being pitched after two seasons of unconvincing performances alongside Alonso.
Like Hamilton, Norris is making his debut with McLaren, but this is a very different McLaren from the one Hamilton graduated with in 2007.
Then, they were at the front of the grid; now they're at the back. Hamilton had a known quantity in Alonso as a team-mate and benchmark; Norris has someone who, while clearly quick and talented, is still proving his level - and was not going to be retained by Renault at the end of this season, whether McLaren wanted him or not.
McLaren in 2007 were the factory Mercedes team and knew exactly where they were going. McLaren in 2019 have a customer Renault engine and are starting what will clearly be a long and difficult rebuilding process.
Norris has absolutely earned his chance. But if he wants to emulate Hamilton, the real work starts now.
Additional reporting Gary Rose