Fernando Alonso considered quitting F1 at end of season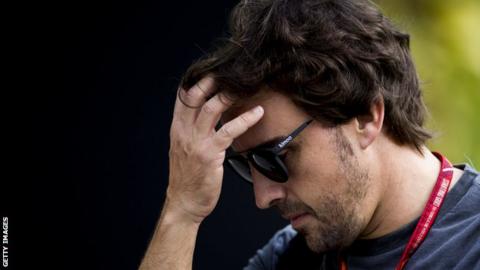 Two-time world champion Fernando Alonso has said he considered quitting Formula 1 at the end of last season.
In the wake of three years of poor results with struggling McLaren, the Spaniard pondered switching full-time to IndyCar or endurance racing.
However, he said: "I felt it was not the time for me to step out - not after these results, not with this feeling.
"I knew I'd regret it for the rest of my life and I'd have this bad taste for the rest of my racing career."
The 36-year-old, who was talking in an interview published in the latest F1 Racing magazine, re-signed for McLaren, who have swapped their troublesome Honda engines for Renault. Alonso has also committed to the 2018-19 season with Toyota in the World Endurance Championship, including two shots at winning Le Mans.
He said: "Definitely I still want to succeed. There is unfinished business for me and McLaren together."
The Spaniard set the second fastest time in pre-season testing last week but that was after McLaren had had eight difficult days plagued with unreliability.
Alonso said that his attempt at the Indianapolis 500 last year, when he led for a number of laps and was contending for victory in the closing stages when his engine failed, had "woken up all my racing senses".
He said McLaren's lack of performance during the Honda era had made him forget the extra buzz that comes from running at the front.
"I hadn't felt it for a while but now I feel i could do a very good season if we have a good package this year because I am sure I will be able to put in the 'extra' that I have put in all my career," he said.
"That has been the most difficult thing to give to the team over the past three years: the commitment, the work, simulator feedback.
"That's something that comes naturally to a racer but to give extra when you're in Mexico and you have a power-unit penalty and starting last because of a 35-place engine penalty, things like the extra two-10ths or moves in the race - or maybe a magic start - don't come out. It's not conscious. It's just how you feel on the day."
Alonso said he was not frustrated "too much" with being stuck on two world titles since 2006, despite being regarded as one of the best drivers of his era, and three near-misses in 2007, 2010 and 2012.
"When you're fighting for the world championship with someone and he gets the title, that's frustrating," Alonso said. "You start thinking: 'I deserve it more.' But I don't have that feeling when I'm not in the championship fight.
"Actually, Lewis (Hamilton) really deserves the championships he's having now. He had more talent than the results showed at the beginning. Now it's a bit easier for him because his car is dominant, but he's equal with Sebastian (Vettel) and that's fair."
However, he added: "I know the numbers are a little bit unfair with us. Maybe this year we'll get some luck back."