Australian Grand Prix: Lewis Hamilton & Sebastian Vettel play down race for fifth title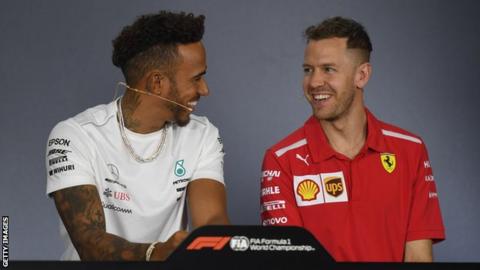 Four-time world champions Lewis Hamilton and Sebastian Vettel are going head-to-head to claim a fifth, but both insist improvement is their main aim.
The two are expected to be the main contenders as the new Formula 1 season begins in Australia this weekend.
Mercedes driver Hamilton "hoped" he had not reached his peak and had been "working towards" finding a new level.
Ferrari's Vettel added: "I think about [my weaknesses] a lot; I try to get better at what I need to improve."
The German made driving errors last season that contributed to his losing the title to Hamilton, who in turn found better consistency in 2017.
Neither could say what it would mean to win a fifth title, a feat that would put them level with Argentine legend Juan Manuel Fangio and just two behind all-time record holder Michael Schumacher.
"I have not really put much thought to it, to be honest," Hamilton said. "I am just incredibly grateful for the four I have. I am going to work my hardest to see if I can excel and drive better than I ever have before but I have not thought about number five or what it would mean.
"I don't think you really know until it happens. It's like saying, what are you going to feel when you get married? I have no clue. What are you going to feel like when you have your first kid? I have no clue.
"You don't know until you're there. It is the same with this. But I am really grateful to be here again and fighting for it again. It's a real privilege."
Vettel said: "I'm not setting these things out and planning or looking forward to what could possibly happen.
"Certainly, if it will happen it would mean a lot - and then I think you start to realise - but now I don't see the point of thinking 'what if'.
"I have a lot on my plate now and I'm happy also to look forward to what's right in front of me, not what could be at some point in the future.
"Ideally, it's less than 12 months away - but it's a long way. I think we all know how many things need to come together to be able to fight for the championship towards the end of the season."
Hamilton added that staying ahead of Vettel as the most successful driver of his generation was "not something I have ever really thought about".
"I am just going to work as hard as I can to keep fighting toward the front and hopefully with that will come some good results," he said.
"You don't think about matching others, I am trying to break down new barriers, trying to see how far I can take the opportunity I have and the ability I have."
Mercedes start the season as favourites and Vettel initially seemed to downplay his chances of victory in Australia this weekend.
Asked whether he and Ferrari could beat Hamilton and Mercedes, Vettel said: "We try. It's a long season. If it was one race it would be a different story, but it is a lot of races."
But he added that it is "right that Lewis is the favourite".
"We have all the reasons to be confident. Our car is great. There's stuff to come, so plenty to look forward to - but usually at this point you don't know where the others are. So, that's why it's a bit pointless to come here and say that you'll blow everyone away.
"Based on testing I think we are in good shape. We could be in better shape but it's always like that. I think you are going to be surprised how competitive Red Bull are. I am excited to see how we all measure up in practice."