Australian GP: Is the three-way Mercedes-Ferrari-Red Bull title battle dream on?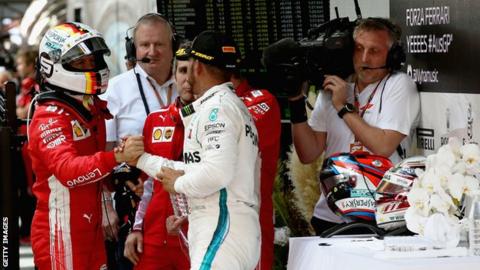 Lewis Hamilton started the new Formula 1 season as the favourite to win a fifth world title and he remains so despite losing the first race to Sebastian Vettel - but the Australian Grand Prix suggested Hamilton might not have as easy a time as some had feared.
The Mercedes driver would have won the race had his team not miscalculated the gap he needed to ensure he kept the lead if there was to be a virtual safety car period.
That is exactly what happened. Ferrari had delayed Vettel's stop in the hope of catching a VSC or safety car. Mercedes thought Hamilton had enough time in hand, but then saw Vettel emerging from the pits in front.
The numbers in the Mercedes computers were wrong - and they left Australia on Sunday still not sure why.
Had they been right, Hamilton would have taken a victory that would have looked comfortable. But exactly how easy it actually would have been for him in reality is another matter.
'It was not easy at all to pull away'
Hamilton said after the race it was too early to have a clear picture of the relative competitiveness of the cars.
"I never know how it is going to pan out," he said. "You don't get a good understanding until after four races." The point being that Formula 1 cars do not behave the same on all types of tracks, and the gaps will ebb and flow.
Hamilton said he could have done a number of things to prevent what happened had he only known the problem waiting to trip Mercedes up. Team boss Toto Wolff added they would have asked him to build a bigger gap in the first stint. As he only needed another second or so, it's hard to imagine he would not have been able to do it.
Hamilton definitely had a pace advantage over the Ferraris behind him, but it was nowhere near as big as it looked in qualifying, when he took pole with a stupendous lap that put him 0.7 seconds clear of the field.
The Ferrari behind Hamilton in that first stint was Kimi Raikkonen, driving a very strong first race weekend of the season.
The gap between them when Raikkonen made Ferrari's first pit stop in the pincer movement that trapped Hamilton was 3.3secs after 17 laps. On some laps, Hamilton had been as much as 0.5secs quicker, but on others Raikkonen came back at him. How much quicker could Hamilton have gone?
"Everyone has been talking about [a qualifying engine] 'party mode' and how much quicker we are," Hamilton said. "He was bloody quick in the first stint. It was not easy at all to pull away from him. What I felt I could have done was looked after my tyres really well and I could have gone further."
Doing that, though, would have probably handed Raikkonen the lead through what is known as the 'under-cut' - stopping earlier and using the extra pace of fresh tyres to leapfrog the car ahead that stops later. Mercedes pitted Hamilton on the next lap to protect against that happening.
The problem was Ferrari had two cars in the fight and they left Vettel out, hoping to benefit from a virtual safety car or safety car, when stopping for new tyres costs less time.
And that's exactly what happened when Romain Grosjean became the second Haas driver in as many laps to retire with a loose wheel after a pit stop, a bitter blow to a team that had looked set to finish fourth and fifth.
"You don't strategise for that," Red Bull team boss Christian Horner said. "It's just luck."
Mercedes had been trying, but their numbers were wrong.
Vettel emerged from the pits ahead of Hamilton. In the remaining parts of the race there were further hints of the pace differential between the two cars, but nothing definitive.
The fact Hamilton was able to sit within a second of Vettel for 15 laps suggests the Mercedes was much quicker - because cars lose a lot of grip following that closely. But then how hard was Vettel pushing on a track that is the second hardest to overtake on of the season?
What was behind Hamilton's stunning qualifying?
Vettel admitted he had got "lucky" with the timing of the VSC and added: "We are not there yet where we want to be."
That was a reference to the events of the previous day.
"Qualifying is extremely important," Vettel said. "We had a good session but the gap was too big. That's what I meant by we are not yet where we want to be." Get pole and win the start, he said and "you can control the race - as Lewis did in the beginning and I did in the end".
Hamilton took pole by such a big margin, there was a lot of talk in the paddock about Mercedes' qualifying engine in "party mode" - a phrase Hamilton had used in the run-up to the race to refer to the power boost Mercedes have had for the final stages of qualifying since hybrid engines were introduced in 2014.
At Red Bull, who had been close with Mercedes and Ferrari, they were particularly frustrated.
"That sucks," Daniel Ricciardo said, adding it was a "a little bit of a punch in the stomach for everyone".
"I think he's very good," the Australian added, "but I think obviously their car and their package is too good. It's not to discredit Lewis, not at all, but I think even him at 90% with that package, he still would've got pole. I feel any of us top guys could've made that happen."
Vettel, though, was not so sure.
"We do get a bit of data, GPS data and stuff like that," he said. "I think they did turn it up for Q3 but not by seven-tenths.
"I don't think the gain that he had in time was down to engine. Probably a tenth, a little bit more, but not seven-tenths.
"So, the credit is for his lap that he did and not for the engine power. It's completely fine what they're doing because they didn't do anything special. Not more than they did last year, probably even a bit less by the looks of it. So, it was clear that he just had a very good lap and he drove well."
Vettel was absolutely right.
According to data Channel 4's pit-lane reporter Karun Chandhok collected from F1, Raikkonen's Ferrari was actually just under 0.3secs faster than Hamilton's Mercedes on the straights over the lap in qualifying. Which means the Mercedes was nearly a second a lap faster in the corners.
The TV coverage of Hamilton's lap captured his entry to Turn One and the speed of his change of direction was shocking. "I thought the same when I saw it," Wolff said. "It was almost like he wouldn't make the corner with that speed."
Hamilton was 11km/h faster in Turn One on that lap than his previous one and 16km/h faster in Turn Six.
That is not all the engine. It is, for the largest part, a huge talent getting the best out of an excellent car, getting his tyres at absolutely the right operating temperature - something he is extremely skilled at - and putting in what he described as "one of my best ever laps" on a track where he has always gone really well. This is not the first time Hamilton has had more than half a second on the field around Albert Park.
Ferrari still have work to do
Meanwhile, Vettel was comparatively struggling. He had not been happy with the feel of the car on Friday - and, unlike Hamilton and Fernando Alonso, he is very much a driver who needs the car to be right to deliver his best.
His average qualifying advantage over Raikkonen over their three years as team-mates is in the region of 0.2secs, and yet in Australia he was behind him. He said he had been happier with the car, but also that he had made a mistake in Turn 13.
As Hamilton said: "I am not convinced Sebastian did a good lap yesterday and so that dimmed their performance through qualifying. I think their performance is better than it looked."
And yet, if Mercedes' advantage is not as big as it looked on Saturday, they do have one.
Vettel also won in Australia last year - but that was after following Hamilton closely in the first stint, jumping him on strategy and then controlling the race. Ferrari, on race pace, clearly had an advantage at the start of last year.
"At the moment we're a bit worse off," Vettel said. "Last year we had more pace at this point. If you look at the gaps the whole weekend, we're not yet a true match.
"Obviously we had very good pace today. Kimi was very strong in the first stint. I think I was probably a tiny bit stronger in the second stint but it was a different race for us.
"If you look and you are fair, then Lewis was fastest, whereas last year I think we were fastest and it was very, very close and therefore at this point we know that we are not yet where we want to be."
Next comes Bahrain, on 8 April. Last year, Ferrari won in the desert of Sakhir, again showing stronger race pace than the Mercedes.
Hamilton is confident that "with a couple of adjustments, we can win the next race." But if Ferrari can repeat their victory of last year, it is very much game on.
And then there is Red Bull, whose true race pace was not seen in Melbourne because both Ricciardo and Max Verstappen spent the race behind other cars. Only one of them had a clear lap - and Ricciardo set the fastest lap of the race on it.
"We had a lot of pace in hand," Horner said, "but were never able to show it because they were constantly within a second of someone. We have a quick race car."
And Wolff still thinks it will be a three-way fight between Mercedes, Ferrari and Red Bull.
"I think it will depend on the circuits," he said. "On less power sensitive tracks the Red Bull might be a bit closer but I expect these three teams to be able to win races and go for the championship."