Bahrain Grand Prix: Lewis Hamilton says plans for F1 could affect contract length

By Andrew Benson
Chief F1 writer in Bahrain
Last updated on .From the section Formula 1129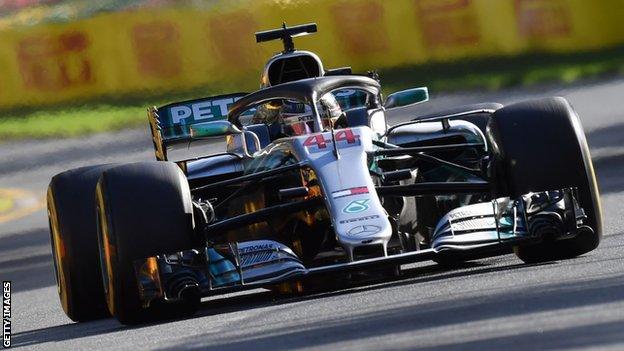 Bahrain Grand Prix on the BBC
Dates:
6-8 April.
Circuit:
Bahrain International.
Coverage:
Practice, qualifying and race across BBC Radio 5 live sports extra and online. Live text commentary, leaderboard and imagery on BBC Sport website and app.
World champion Lewis Hamilton says plans for the future of Formula 1 could affect how long he stays in the sport.
New owners Liberty Media will present its vision for F1 to the teams in Bahrain on Friday.
Hamilton, who is yet to commit to a new contract with Mercedes beyond 2018, said: "It is always good to wait to hear those and see the future of F1.
"That could or could not have an impact on the decisions you make in terms of [contract] length moving forward."
Liberty is to flesh out its plans for the sport post-2020 at a meeting scheduled for 08:00 BST on Friday, when it hopes to introduce a more equitable revenue split between the teams, a limit on expenditure, simpler, cheaper engines and plans to close up the field.
The plans could affect the future of a number of teams in the sport - including Mercedes and Ferrari - as most are committed only until the end of 2020.
"The next contract is probably the most important one of my career," said 33-year-old British four-time world champion Hamilton, who is in the middle of talks over a new deal with Mercedes to take him beyond this season.
"The decision as to how long you want to commit to F1 becomes more and more important.
"For me, being at the latter end of my career, it is one not to be rushed into. There is no rush and I will not be rushed.
"Ultimately, you want to have all the information so you can make the most knowledgeable decision.
"It will be interesting to see what is happening with F1 as I am an integral part of it. I am interested to know. I am at a pretty good time because I still haven't put pen to paper.
"The cool thing is they are looking into how to make it more of a spectacle. What's always been the biggest problem is there are so many people making decisions.
"I talk to so many people high up who have no idea what it means to be a racing driver or a team boss or a designer. At least they have some people in there who do understand it and hopefully we will be moving in the right direction."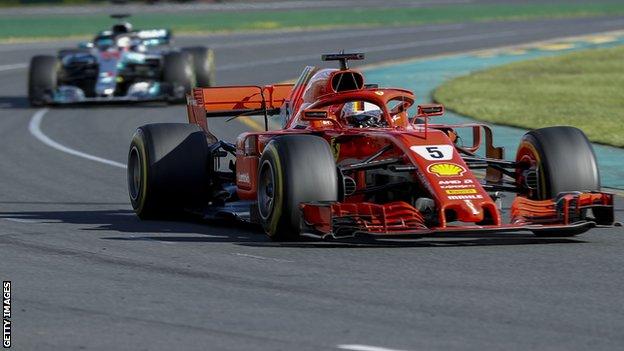 The title fight
Hamilton heads into the Bahrain Grand Prix this weekend second in the championship to Ferrari's Sebastian Vettel after losing the first race of the season in Australian to the German because of a miscalculation by Mercedes during a safety car period.
Vettel said he believed that, despite his win, Mercedes had a significant pace advantage over Ferrari.
"If you look at the pace - testing, first race - it is very clear Mercedes is the fastest, by a 0.3-0.4-second gap," Vettel, also a four-time world champion, said.
"That is also what we saw in the race. Lewis was controlling his pace in the beginning and then pushed when he had to. He had time in hand. That is a fair answer.
"Ultimately, we need to have pace to win. I am confident we can improve. The car has potential but we need to make progress and catch up quickly to be there and fight for wins - just the way we did in many races last year.
"We have enough clever people to know we are not quick enough yet - it is a no-brainer. At this stage, Mercedes is quicker - but we go racing. It is not that we live in simulation land and rely solely on numbers. And as we saw a couple of weeks ago in Australia, and many times over the last years, the excitement of what we do is that you never really know what will happen."
Hamilton said he thought Mercedes did have an edge but he was not sure how big it was.
"I don't actually have a figure," he said. "[The engineers] said that in qualifying they think we are power-wise equal to them and then in the race they think pace-wise we have a slight edge on them. But it is hard to say from one race."
He emphasised that the circumstances of the first race meant it was impossible to have a clear picture.
Hamilton was deliberately saving fuel while leading the first part of the race, which limited the gap he could build over the Ferraris behind. The number of laps of slower running behind the safety car then meant no team needed to save any more fuel for the remainder of the race.
"They had a different fuel profile from us in the race," Hamilton said. "They were doing something different fuelling wise. So it is difficult. We will have a much better idea over the coming races."