Bahrain GP: Ferrari ahead of struggling Mercedes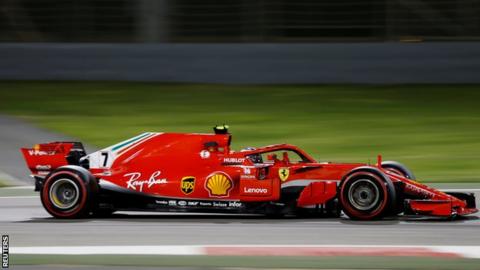 Kimi Raikkonen headed Sebastian Vettel to a Ferrari one-two in second practice at the Bahrain Grand Prix.
Mercedes appeared to be struggling - Valtteri Bottas was third and 0.563 seconds off the pace, with team-mate Lewis Hamilton 0.092secs adrift.
Hamilton was blocked by Haas driver Kevin Magnussen at the last corner on his fastest lap but was already 0.4secs off the pace before that happened.
Red Bull's Max Verstappen was fifth, ahead of team-mate Daniel Ricciardo.
The Australian was also blocked on his fastest lap - by Bottas.
It is always hard to draw an accurate conclusion as to the competitive picture from practice and that was made even more difficult in this session because both Hamilton and Raikkonen encountered problems on their fastest laps.
Raikkonen suffered a lack of front grip at the final corner and lost time, while Hamilton had his trouble with Magnussen.
The world champion also had to abandon his first lap on the fastest super-soft tyres after running wide at the first corner when he locked his brakes. That would have meant his tyres were not at their absolute optimum when Hamilton did his next lap.
Impressive Raikkonen hit in the pocket
Raikkonen's session ended 15 minutes early when his car ground to a halt out on track just after Turn Three.
It appeared as if a wheel might not have been attached properly at a pit stop - he had just stopped for a new set and the mechanics were waving as he left the pits.
Ferrari faced an investigation from race stewards after the session for an unsafe release from the pits and were fined 5,000 euros.
Are Red Bull actually fastest here?
Even Red Bull's pace was not necessarily their optimum. Verstappen edged Ricciardo by 0.006secs but Ricciardo would have been expected to be the faster Red Bull had he not been blocked by Bottas because Verstappen's weekend was compromised by missing the entire first session.
Verstappen then ran out of sync with the other drivers - doing more laps at the start of the session to get a feel for the car, which meant the track would have been in better condition for him when he did his fast lap later in the session than others.
The gap between the Ferraris was also small - Raikkonen had a slight edge on pace, as he had in the first race of the season in Australia, but was just 0.011secs ahead of Vettel.
On race pace on the super-soft tyre, the Red Bulls appeared to have an advantage - they were an average of about 0.2secs quicker than Raikkonen, with the Mercedes a similar margin back from the Ferrari.
"It looks very close between all the teams and we definitely have got some work to do to try and see if we can eke out to be ahead of the others," said Hamilton. "The tyres have felt the best they've felt here in years; very stable and with less degradation."
"We need to wait," said Vettel. "I don't know what happened today. It looked like we were a bit quicker than the rest but it depends a bit on the programme. At this point, I wouldn't draw any conclusions."
McLaren need more at 'home' race
Best of the rest was Renault's Nico Hulkenberg in seventh, ahead of the surprising Toro Rosso of Pierre Gasly and McLaren's Fernando Alonso and Stoffel Vandoorne.
Gasly was running a new aerodynamic part on his car, but team-mate Brendon Hartley was not, and was 12 places behind the Frenchman in 20th.
If Gasly and Alonso's positions are repeated on Saturday in qualifying, it would be embarrassing for McLaren at the home race for their chief shareholders, the Bahraini sovereign investment fund.
McLaren dropped Honda engines at the end of last year - at a net cost of about $100m - claiming their lack of performance and reliability was holding back a car they said was one of the best in the field.
However, Alonso told BBC Sport that McLaren had been hiding their true pace on the short runs and that their form was better represented by their long-run pace, on which he was about 0.5secs slower than Vettel on the same soft tyre.
Predict who will win in Bahrain
Predict who you think will finish in the top three at the Bahrain Grand Prix