Bahrain GP: Sebastian Vettel wins, Lewis Hamilton third after fine overtake

By Andrew Benson
Chief F1 writer in Bahrain
Last updated on .From the section Formula 1173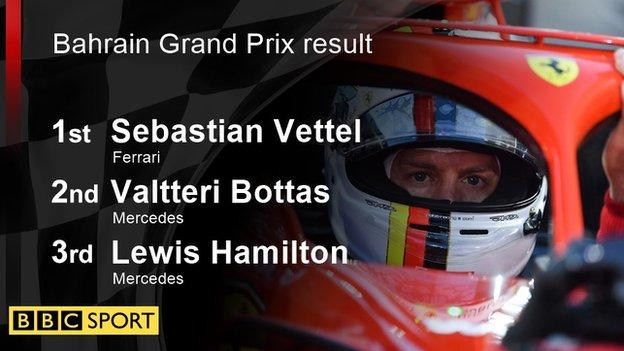 Ferrari's Sebastian Vettel drove a masterful race to fend off Mercedes' Valtteri Bottas to win a nail-biting Bahrain Grand Prix.
Vettel hung on ahead of the charging Mercedes on the final lap to take his second win in two races this season and one of the best of his illustrious career.
In a dramatic, strategic and unpredictable race, a Ferrari mechanic was injured when he was run over by Vettel's team-mate Kimi Raikkonen at a pit stop.
Lewis Hamilton recovered to third place after starting ninth, including one stunning moment when he passed three cars in effectively one move early in the race.
Vettel now has a 17-point lead over Hamilton after two of 21 races this season.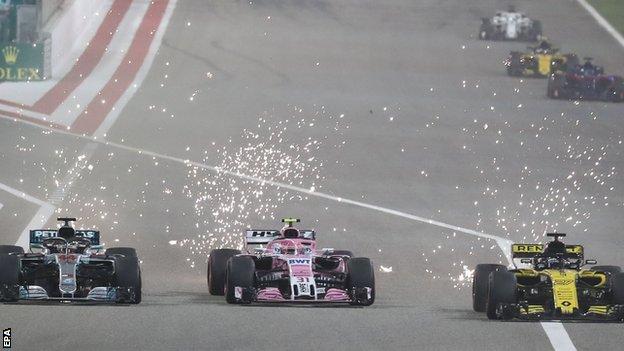 Vettel's amazing save
Vettel whooped in delight after crossing the line, his glee at winning a race he arguably should have lost clear.
"These tyres were done, done, in the last 10 laps," Vettel told his team over the radio.
Bottas had closed five seconds in five laps and was right on Vettel's tail as they entered the final lap - but a half-hearted move into the first corner was not enough and Vettel was able to hang on.
The German looked in total control of the race in the opening laps as he led away from pole position, after Bottas passed Raikkonen into the first corner.
But Mercedes employed clever thinking to force Ferrari into an agonising choice between hanging on with fading, fragile tyres or sacrificing the lead for a stop for fresher rubber and attacking.
Mercedes appeared to be readying to pit Bottas, but changed their minds when Vettel made his pit stop ahead of them on lap 18, with 39 to go, the Ferrari fitting soft tyres.
Bottas stayed out for two more laps and changed to mediums.
Ferrari were now under pressure, with Bottas clearly going to the end on those tyres, and in a quandary.
They chose to stay out, going for track position rather than risk any aggression, and it paid off thanks to Vettel's ability to manage the tyres while also keeping a strong pace.
As the strategies played out, Mercedes initially assumed Vettel would pit and were telling Hamilton, now in third place after Raikkonen's problem, that the German would come out behind him.
Radio exchanges became fraught as Mercedes and Hamilton discussed the scenarios with a crackling signal.
In the end, Hamilton's pace became moot as Vettel hung on to set up what promises to be a great season.
Ferrari mechanic in hospital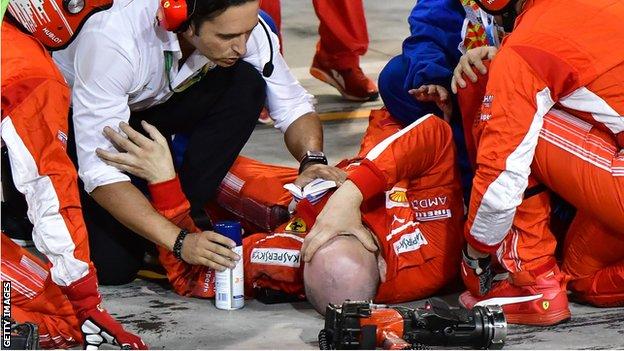 Ferrari's decision-making was hardly made easier by a nasty incident at Raikkonen's second pit stop.
The Finn was given the green light to leave the pits before the left rear wheel had even been removed and his rear wheel smashed into the leg of the mechanic in front of it waiting to remove it.
The man was taken to hospital and Ferrari later confirmed a broken leg - a shinbone and fibula fracture.
Raikkonen was on course for third place, ahead of Hamilton, but he had to stop the car because it is not allowed to enter the track with two different types of tyre compound fitted.
Ferrari have been fined 50,000 euros by race officials for an unsafe release.
The team, and Raikkonen, had suffered a similar unsafe release from the pits during second practice on Friday, for which they were fined 5,000 euros.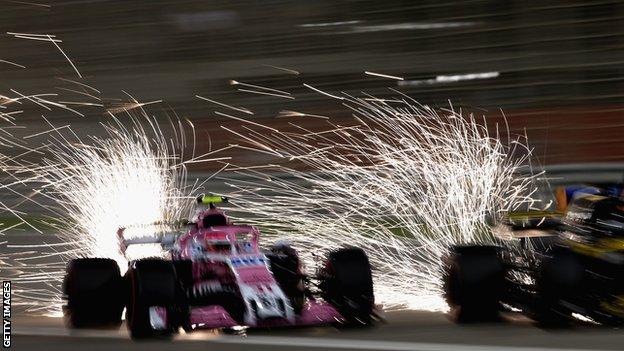 Hamilton's amazing overtake
Hamilton had his work cut out starting from ninth, and managed to achieve the podium finish he would have been hoping for.
He made a great start and speared between the Force India of Esteban Ocon and Renault's Nico Hulkenberg in front of him, but chose to back off and play safe before the first corner and finished the first lap ninth.
A virtual safety car period to recover the retired Red Bull of Daniel Ricciardo paused the race, and after the re-start Hamilton swept past Fernando Alonso's McLaren on the pit straight before - seemingly with the braking zone fast approaching - deciding to dive past both Ocon and Hulkenberg into the first corner.
Running sixth by lap five, Hamilton then passed Kevin Magnussen's Haas a lap later, then Gasly, and moved into fourth by lap eight.
"It is not an easy manoeuvre to pull off - it was quite risky," said the Briton. "I tried to be cautious. I had a lot of people ahead and a long race. I was trying to take it easy, but lost a lot of ground at the start and was trying to come back."
Hamilton was lucky too
Hamilton also survived a clash with Red Bull's Max Verstappen as the Dutchman tried to pass on lap four at Turn One, the Dutchman's differential breaking as they touched when Verstappen pushed Hamilton wide and the Briton hung on.
That was where he looked like staying until Raikkonen's error.
Behind him and a hugely impressive performance by Pierre Gasly and Toro Rosso, Magnussen took fifth ahead of Hulkenberg and Alonso, who spared McLaren's blushes with a superb drive after a terrible performance in qualifying, trounced by the Toro Rosso using the Honda engine McLaren rejected as not good enough last year.
The Spaniard now lies fourth in the championship after a fifth and seventh place in the first two races.
Gasly's fourth place is Honda's best result since returning to F1 in 2015.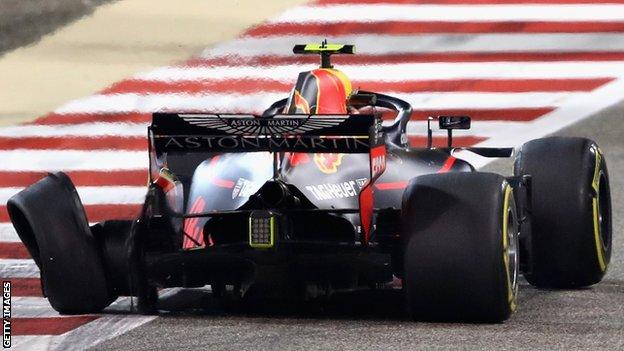 Driver of the day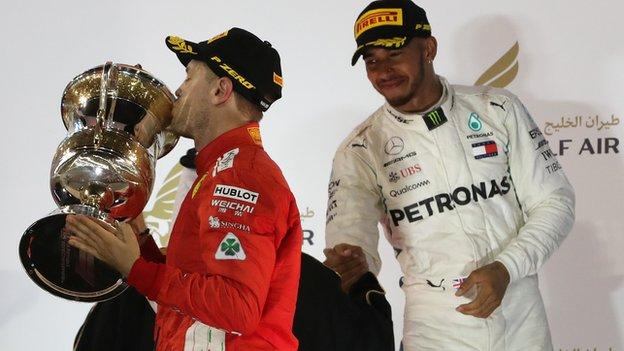 What they said
"With 10 laps to go, I came on the radio and said I had everything under control," Vettel said.
"That was a lie. I tried to make it as clean as possible. By them going onto the medium, I thought: 'That's checkmate.' Because we had to come in again. It was a great strategy and put us under a lot of pressure. I had to nurse the tyres. It worked but only just. Valtteri had a bit of a sniff but he ran out of laps."
Lewis Hamilton, who finished third: "I am happy. Firstly congratulations to Sebastian and Valtteri did an exceptional job. It was damage limitation.
"There were some frustrating points in the race when they could not hear me on the radio. Communication is really difficult when you are trying to catch Vettel."
What happens next?
F1 flies to China for another race next weekend, where Hamilton really needs to beat Vettel to kick-start his title campaign.