Lewis Hamilton says Verstappen lacks respect after Bahrain collision

By Andrew Benson
Chief F1 writer in Bahrain
Last updated on .From the section Formula 1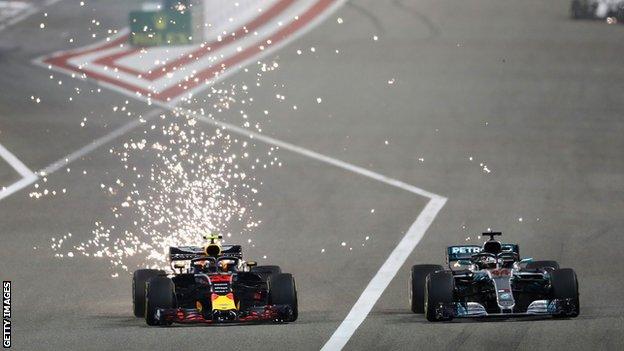 Mercedes' Lewis Hamilton criticised Red Bull's Max Verstappen for a lack of respect after the two collided during the Bahrain Grand Prix.
Verstappen was forced to retire after the two cars touched when the Dutchman was trying to overtake on lap two.
Hamilton said: "It was an unnecessary collision. There needs to be a certain respect between drivers.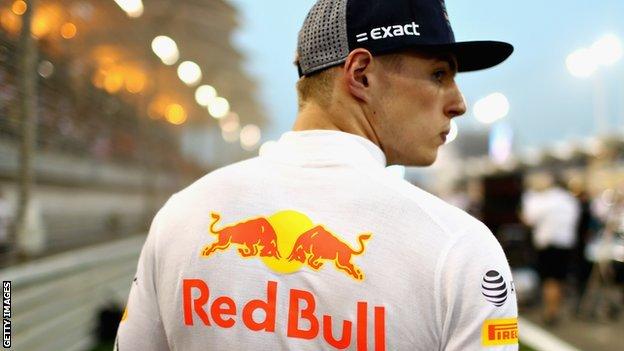 "It didn't feel that respectful. It was a silly manoeuvre from him because he didn't finish the race."
Verstappen, who retired with a broken differential, insisted Hamilton was in the wrong as they collided when the Red Bull pushed Hamilton wide as they ran side by side through Turn One.
"I had a good run on to the straight and going for the inside under braking I was next to him, going in to the corner I was ahead," Verstappen said.
"Of course you always try to squeeze each other a bit. I think there was still enough space on the left but he drove into my left rear and gave me a puncture and also destroyed the diff."
Hamilton added: "He ran me out of road, which I felt at the time was just unnecessary. He was past. I couldn't get by. There was no need to push by.
"It was frustrating because it could have been me out of the race and it ended his race and there was not much I could do to avoid him."
The Briton, who went on to finish third in the race, appeared to use an expletive to describe Verstappen when discussing the incident with race-winner Sebastian Vettel and runner-up Valtteri Bottas in the green room before the podium after the race.
He added to the media: "He is tending to make quite a few mistakes and it was unnecessary for him to do that."
That is a reference to a series of errors Verstappen has made so far this season.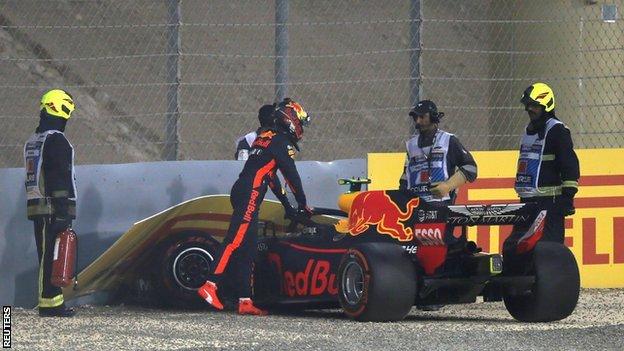 Verstappen crashed in qualifying in Bahrain on Saturday, blaming an unexpected power surge for the incident.
He also over-drove in the opening laps of the first race of the season trying to pass Kevin Magnussen's Haas, damaged his car running off track and then spun, an incident that led to him finishing the race sixth rather than fourth.
Red Bull team principal Christian Horner described the Hamilton-Verstappen clash as a "racing incident".