Lewis Hamilton: Bahrain overtake up there with the best in Formula 1?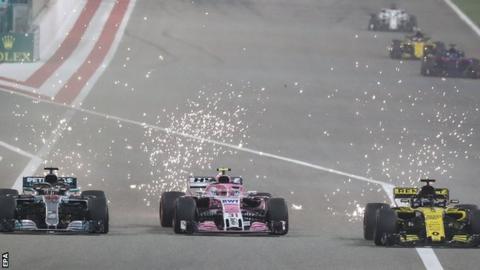 "Now he's going to try to take three cars into one corner... what a move by Lewis Hamilton!"
Jack Nicholls' voice said it all.
Commentating on Sunday's Bahrain Grand Prix for BBC Radio 5 live sports extra, Nicholls' tone got steadily higher as he watched Hamilton turn ninth into sixth in one stunning move.
Of the 42 overtakes in Bahrain, Hamilton's was undoubtedly the pick of the bunch.
What happened?
Hamilton started ninth on the grid after a five-place penalty for a gearbox change in his Mercedes.
He made a great start and speared between the Force India of Esteban Ocon and Renault's Nico Hulkenberg in front of him, but chose to back off and play safe before the first corner and finished the first lap ninth.
A virtual safety car period to recover the retired Red Bull of Daniel Ricciardo paused the race, and after the restart Hamilton swept past Fernando Alonso's McLaren on the pit straight before - seemingly with the braking zone fast approaching - deciding to dive past both Ocon and Hulkenberg into the first corner.
Running sixth by lap five, Hamilton passed Kevin Magnussen's Haas a lap later, then Pierre Gasly, and moved into fourth by lap eight, before finishing third after Kimi Raikkonen's retirement.
'Quite risky' - what Hamilton said
"It is not an easy manoeuvre to pull off - it was quite risky," said the Briton.
"I tried to be cautious. I had a lot of people ahead and a long race. I was trying to take it easy, but lost a lot of ground at the start and was trying to come back."
'He breezed past them all'
Ex-Renault Formula 1 driver Jolyon Palmer on BBC Radio 5 live sports extra
This is brilliant for him. The race has unfolded perfectly for him after a tough start. Hamilton had more straight-line speed in a treble tow and breezed past them all.
What you said on #bbcf1
Shaun Bristow: Hamilton overtakes three cars in one go. Just another day at the office.
Sho: Three in one for Lewis! Wow!
Josh Earl: Hamilton passing three cars at once, brilliant.
Five of the best - stunning overtakes from the past
Mansell vs Piquet - 1987 British Grand Prix
Ask Nigel Mansell if driving at your home grand prix helps you discover energy reserves that you didn't even think you had, and he would agree.
The 1992 world champion produced some magical moments in front of the British fans, none more so than his ruthless hunting down and stunning overtake of Williams team-mate Nelson Piquet at Silverstone in 1987.
"That race was just pure dynamite," said Mansell. "The fans were getting into it. I could see the fans stand up every time I went round. It meant so much to me and you could tell how much it meant to them."
Mansell famously chased down Piquet's 29-second advantage before producing a breathtaking overtake on the Brazilian with two laps to go, selling him a dummy before diving down the inside into Stowe Corner.
"It was like a chess game and I was doing maths for the last 28 laps thinking, 'If I do X amount of qualifying laps, can I find 29 seconds and catch him? And then if I catch him, is there enough time to pass him?'" added Mansell.
Alonso vs Schumacher - 2005 Japanese Grand Prix
Fernando Alonso is the sort of special talent who is both capable and brave enough to go where few other drivers dare go.
That was very much the case in 2005 when a young Alonso not only took on Michael Schumacher but did so at one of the most challenging corners in Formula 1, Suzuka's famous 130R.
Alonso had been running nose to tail with Schumacher for several laps before finally grasping the opportunity to strike, sweeping around the outside of Schumacher at full speed - 207mph - to put himself on the way to a third-place finish.
Mansell vs Berger - 1990 Mexican Grand Prix
Some moves are so good even the driver who does it can't quite believe it happened.
Mansell's manoeuvre at the 1990 Mexican Grand Prix was one of those.
The Briton once showed his fearless streak with a 300km/h (186mph) pass on Gerhard Berger around the outside of the hugely intimidating Peraltada corner on the penultimate lap to take second.
"I think, did I really do that?" said Mansell. "Because in that day if it went wrong, you were going to get seriously hurt. So you've got to be a bit mental to take it on."
Crazy or not, the fans loved it and the corner was renamed 'Mansell's corner' in his honour before the 2015 Mexican Grand Prix.
Hakkinen vs Schumacher - 2000 Belgian Grand Prix
At the 2000 Belgian Grand Prix, Mika Hakkinen pulled off one of the greatest overtaking manoeuvres in F1 history to win from Michael Schumacher.
The German led coming into Les Combes on the 41st lap and in the way was Ricardo Zonta's BAR-Honda, which the pair were about to lap.
Hakkinen said: "I thought to myself, 'Whichever way Michael goes, I'll go the other.' He went to the left, so I went to the right, braking as late as I dared, off-line, on a still-damp track, at 300km/h (186mph). As I turned in, I had done it; I had passed Michael."
Hakkinen finished first, with Schumacher second, although the German would beat the Finn to the world title.
Ayrton Senna vs Alain Prost - 1988 Japanese Grand Prix
In the Japanese Grand Prix of 1988, Ayrton Senna stalled on the grid but recovered to be involved in a spectacular battle with McLaren team-mate Alain Prost.
On a wet surface, Senna got past his rival with a brave move down the inside that enabled him to win the race and become world champion.
While it may not seem to be one of the higher-risk passes, given what was at stake it was beautifully executed and we would eventually realise just how rare it would be for Senna and Prost to actually get around each other without it ending in a title-deciding shunt.