Jolyon Palmer: Sebastian Vettel and Valtteri Bottas have contrasting emotions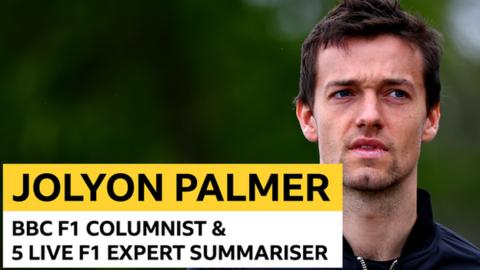 F1 driver Jolyon Palmer, who left Renault at the end of 2017, joins the BBC team this season to offer insight and analysis from the point of view of the competitors.
Sebastian Vettel and Valtteri Bottas will be heading to the Chinese Grand Prix this weekend with contrasting emotions after their intense battle for victory in Bahrain on Sunday.
Vettel produced a masterclass in race management and composure in his Ferrari to take his second win in succession this season, eking out his soft tyres for 39 laps.
Mercedes' Bottas, meanwhile, admitted he ended the race "disappointed" not to have snatched victory from Vettel. And I suspect he will head to China for the race this weekend thinking it was a race that was his for the taking.
Bahrain was an incredibly tense, nervy race between two teams - and ultimately two drivers - which came right down to the wire on the last lap as Vettel just fended off Bottas' attack to win.
Did Bottas bottle it?
I've been in situations like Bottas was in.
In my case, it might not have been for a grand prix victory, but in any situation where a chance presents itself and you don't take it, as a racing driver you can't help but think of the missed opportunity. You relive the moment - in Bottas' case the first corner of the last lap - and think, 'What if I'd have dived down the inside?'
On balance, the Finn had a great weekend in Bahrain. He outpaced team-mate Lewis Hamilton in qualifying, which is no mean feat, and did a strong race to hunt down Vettel, managing his pace and tyres well throughout.
Bottas is an extremely good driver, as I also mentioned in my column after the Australian Grand Prix. But I wonder if he lacks a killer instinct in wheel-to-wheel racecraft.
If Vettel had been defending from Hamilton on the last lap - and certainly if he had been defending against either of the two Red Bulls - I'm sure he would have faced some sort of attack down the inside.
Daniel Ricciardo has shown time and again that he is willing to lunge up the inside of anybody, none more notable than against Bottas in the US Grand Prix last year.
In that race, Ricciardo threw the car down the inside from an unfathomable distance. At the first attempt, the Australian ran off the track and Bottas re-passed, but next time Ricciardo made it stick.
Bottas had the chance to do the same to Vettel in Bahrain.
Why Bottas should have gone for it
I'm not a fan of big run-off areas on these modern circuits, but one of the benefits is if you go into a corner too hot you can just run wide and return to the track.
In many cases this is frustrating to watch as a fan, and the drivers also prefer the challenge of having gravel or barriers closer, where mistakes get punished.
But if Bottas had committed down the inside he either would have emerged from Turn One with the lead and the win, or he would have gone in too deep and ended up having Vettel slide back underneath him and ultimately finished second. At least that way he would know he had given it a go.
The only way such a move would end in tears is if he was half-hearted and stuck just a nose down the inside. That's where collisions so often happen.
Note how few times Ricciardo actually makes contact with another driver, despite his amazing overtaking bravado.
He commits so heavily to his moves that they either come off, or he overshoots the corner too much and loses the place again. There's so rarely a half-hearted attempt from him, and I'd say he's the true master of the art.
Once shy, many times bitten
Drivers earn reputations in F1 in wheel-to-wheel racing. As a driver you take into account who it is you are fighting with before deciding to defend, attack, chop or lunge.
For example, I always knew if I was fighting someone like Kevin Magnussen he would be an extremely tough opponent and not give an inch… even when we were team-mates!
Magnussen had another fantastic weekend, finishing in a well-deserved fifth place, but yet again got stuck in, having contact with Renault's Nico Hulkenberg on lap one, before more with Toro Rosso's Pierre Gasly on the restart after the virtual safety car.
He was perhaps slightly lucky to get away with both of those with a car still intact, but these moments cement his reputation as a feisty racer, and people are a bit more cautious about passing him as a result.
Fernando Alonso, of course, is another example of a driver you know will never cede a position without giving 110% to hang on to it if at all possible. And if you see a Red Bull in your mirrors, you know they will have a lunge as soon as possible because of the nature of their two aggressive drivers.
That means you sometimes defend unnecessarily and end up getting distracted looking too much in your mirrors, handing the advantage straight to them.
I feel Bottas has the reverse effect in F1 at the moment. Yes, he's had a few scrapes, most notably with countryman Kimi Raikkonen, but he's seen as something of a soft touch in wheel-to-wheel fighting.
Drivers are throwing moves down the inside of him that they wouldn't try on Hamilton in the other Mercedes, for example, because they know Bottas would rather let them through than risk a crash.
Of course this is true to some extent with most drivers in championship contention, but the others simply drive a bit closer to that risk.
Bottas' non-attempt at a move on the final lap may have been borne out of a natural caution and a willingness to finish second which many others around him wouldn't have. He made matters worse by being caught in two minds and ending up in the middle of the road into Turn One, making his exit harder and letting Vettel off the hook at Turn Four as well, the next best overtaking place on the circuit.
Bottas is an incredibly talented driver, but if he is to really take the fight to those around him I feel he needs a bit more bite in the heat of battle.
His Bahrain weekend shows he has the pace to win races and fight with the best. He now has a strong haul of 18 points after two races and that keeps him within reach of the championship protagonists.
But perhaps it could have been seven more from Bahrain and more from Melbourne as well if he had made more progress from 15th on the grid.
Considering Hamilton's ability to hustle Vettel in Australia, it's conceivable Bottas could perhaps have done more.
Having said that, it's early stages in the season and at least the pace Bottas showed, and his charge at the end, will give him confidence heading to China this weekend.
Vettel at his best
If Vettel's victory in Melbourne two weeks ago was somewhat fortuitous, Bahrain was a heroic drive. Pole to win seems so easy on the face of it, but in reality this was far from it.
After struggling throughout practice and qualifying, Mercedes were more than a match for Ferrari on race pace, and once Bottas jumped Raikkonen off the line we were all set up for another Mercedes v Ferrari showdown.
Although Vettel led the first stint, Mercedes put Ferrari on the back foot by switching to a one-stop strategy with both cars, forcing the German to eke out his 'soft' tyres for 39 long laps.
What followed was an absolute masterclass in race management and composure. Vettel declared after the race that the tyres were finished and this was evident from the time sheets.
As Bottas closed in at the end it seemed inevitable he would take the win on the fresher tyres but Vettel used all of his cunning to keep the last bit of life in his tyres and maintain just enough distance to the man behind.
There is no more desperate feeling for a driver than being chased down like this in the final laps. You are in a strong position, doing the absolute most you can with what you have, and someone is hunting you and making massive inroads into your advantage.
When Vettel was told Bottas' pace towards the end of the race was over a second a lap quicker than his, he said he did the maths and it didn't look good… that's an understatement to say the least.
It's a horrible feeling. But he kept his head down, focused on his job and did it perfectly. One mistake and Bottas would have snatched this race away from him.
Despite Vettel's luck in Melbourne, it was a drive that means his championship lead is fully deserved.