McLaren in management restructure after poor start to season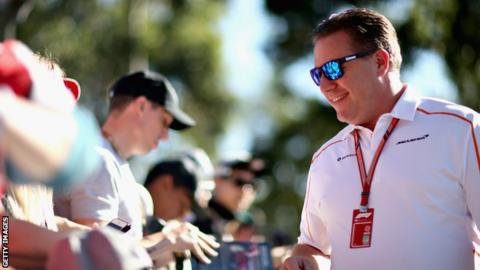 McLaren have restructured the management of their Formula 1 team after performances at the start of this season fell short of expectations.
Fernando Alonso is fourth in the championship but McLaren have failed to match Red Bull's pace.
Executive director Zak Brown has been put in formal charge of the F1 programme with a new title of chief executive officer of McLaren Racing.
Eric Boullier, racing director, now reports directly to Brown.
The move formalises a structure that was only implicit before.
Brown's new position means he is directly responsible for the on-track performance of the F1 team, as well as his wider role in raising new sponsorship income.
It is likely to increase the pressure on Boullier to ensure the performance of the car improves.
Ferrari's Sebastian Vettel leads the drivers' championship on 50 points after winning the first two races, with Alonso fourth on 16.
The Red Bulls of Daniel Ricciardo and Max Verstappen are eighth and 10th respectively.
The McLaren has been about a second a lap slower than the Red Bull, which uses the same Renault engine and which McLaren said they would be racing after their switch from Honda engines for this season.
Alonso said at the Bahrain Grand Prix at the weekend that the next two months were "crucial" for McLaren as they seek to overcome the delays to car developments that Boullier says were caused by reliability problems in pre-season testing.
Boullier skipped the team's usual post-qualifying news conference to attend what was described by a spokesman as an "emergency debrief" after Alonso and team-mate Stoffel Vandoorne qualified in 13th and 14th places.
Alonso was left to defend the team in Boullier's absence. He insisted that new parts in the pipeline would address the car's weaknesses but added that it was "up to us" to rectify them.
The moves are the latest major developments in the organisation of McLaren, from which long-time boss Ron Dennis was ousted by fellow shareholders Sheikh Mohammed bin Essa Al Khalifa of Bahrain and Mansour Ojjeh last year.
The changes streamline what had been a confusing management structure, with Brown initially employed largely for commercial operations and working in partnership with chief operating officer Jonathan Neale in reporting to the executive committee of Sheikh Mohammed and Ojjeh.
Brown's former role as executive director has been eradicated as part of the simplification process.
Sheikh Mohammed, the McLaren Group executive chairman, is the representative of the Bahraini royal family's Mumtalakat investment fund, which owns more than 50% of McLaren Group.
He said: "The work of the past year at a corporate level has been focused on structuring and positioning McLaren for growth.
"These latest developments are a natural consequence of that work and are designed to bring greater simplicity and clarity to the structure and leadership of the group."