Azerbaijan GP: Can the old and new of Baku keep F1 fire alive?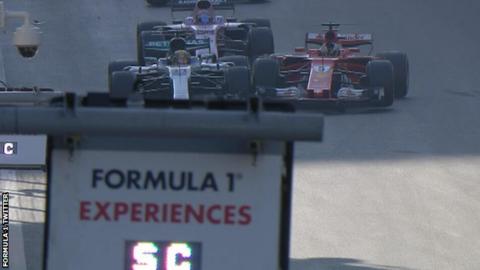 The F1 history books were already open this season, the pen poised to write Vettel or Hamilton's name as a five-time world champion.
Then the Chinese Grand Prix happened and what could have become a predictable title fight has now become a box-office hit for the masses to relish.
Fearless overtaking, Hamilton lost in "no man's land", Max Verstappen's mistakes, Vettel on the receiving end of said Verstappen mistakes. If the sport needed a blockbuster event to showcase its spontaneity, this was it.
A recurring theme has been running through the narrative of these early races: who can get their tactics right in the safety-car period?
Ferrari and Vettel came out on top in Australia, with Hamilton and Mercedes ruing miscalculations. In Shanghai, Red Bull's Daniel Ricciardo charged down the field on a set of new tyres and raised a champagne-filled shoe for the first time since Azerbaijan 12 months ago.
Let's rewind to that Ricciardo win in Baku last year. Hopes for a cracker were low following the inaugural race's cautious snorefest.
A promise of thrills and spills at the fastest street circuit on the calendar never materialised and the 'European Grand Prix' was quickly labelled a dud.
However, second chances deserve to be given and, like a phoenix rising from the flames, Azerbaijan produced one of the best races in the modern age - several crashes, three safety cars and F1's most talked-about incident: Vettel v Hamilton road rage.
The cries of "Vettel is a disgrace" and "F1 just got nasty" rang out from all quarters and debate about rivalry and sportsmanship raged, but in the midst of the drama it allowed a relatively fresh podium to emerge - Ricciardo was also joined by Canadian Lance Stroll in third place after the day's mayhem.
So, after the fireworks in China, can Baku (once again) deliver a grand prix that is the must-watch spectacle of the year?
Previously in F1... round three, China
Baku predictions
Have you correctly predicted who will finish in the top three for each race of the season so far?
Well, don't stop now. Give us your Azerbaijan selections from the list below.
Choose your top three drivers from the list below
The track
Back pocket facts
If you love a savoury pancake, then Azerbaijan is the culinary destination for you. Kutabi are stuffed pancakes bursting with anything from meat to veggies, sprinkled with herbs and enjoyed with a side of fresh yoghurt.
Speaking of food, Baku is home to the largest KFC in the world, spanning multiple floors and looking like a religious temple from the outside.
Which F1 driver do you think would be best in arm wrestle? It's a tough call but Baku could certainly stage the match, as the Azerbaijan arm wrestling league headquarters are based in the city.
Ask a citizen of Baku to smile - especially some of the older generation - and you'll be met with a dazzling sight. A gold tooth is common in these parts and is treasured by many as a savings investment.
F1 social
How to follow on BBC Sport
BBC Sport has live coverage of all the season's races on BBC Radio 5 live, BBC Radio 5 live sports extra, plus live online commentary on the BBC Sport website and mobile app - including audience interaction, expert analysis, debate, voting, features, interviews and video content.
Azerbaijan Grand Prix coverage details
Date
Session
Time
Radio coverage
Online text & audio commentary
Friday, 27 April
Preview
21:00-21:30
BBC Radio 5 live
Friday, 27 April
First practice
09:55-11:35
BBC Radio 5 live sports extra
From 09:30
Second practice
13:55-15:35
BBC Radio 5 live sports extra
From 13:30
Saturday, 28 April
Third practice
10:55-12:05
BBC Radio 5 live sports extra
From 10:30
Qualifying
13:55-15:05
BBC Radio 5 live sports extra
From 13:00
Sunday, 29 April
Race
13:05-14:00
BBC Radio 5 live sports extra
From 11:30
Race
14:00-16:00
BBC Radio 5 live