Azerbaijan Grand Prix: Red Bull crash 'unacceptable', says Christian Horner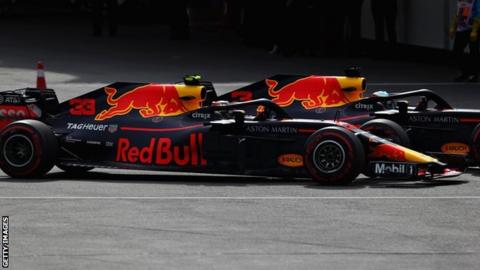 Red Bull have told drivers Daniel Ricciardo and Max Verstappen their crash in the Azerbaijan Grand Prix was "unacceptable".
The pair will apologise to the Red Bull workforce for the incident, which earned both a reprimand from officials.
But team boss Christian Horner said they would be allowed to continue to race if they gave each other space.
He said: "The most important thing is they recognise it is unacceptable. Both will take valuable lessons from it."
Ricciardo crashed into the back of Verstappen on lap 40 of the 52-lap race while they were disputing fourth place.
Stewards investigated the incident and concluded both men were to blame for the crash.
They said Verstappen had "made two moves, both of which were relatively minor" but Ricciardo "admitted he left his move to overtake on the left too late".
The stewards concluded: "Although the incident had its origins in the moves by (Verstappen), (Ricciardo) also contributed to the incident.
"Both drivers expressed regret about their respective contributions to the incident."
Horner said: "We have let them race hard against each other and unfortunately it has resulted in the worst possible scenario with both making contact. It is enormously disappointing.
"There is no blame apportioned to one more than the other. They are both equally responsible.
"What is annoying is that we have given away an awful lot points and both drivers will be apologising to all the members of staff.
"The important thing is to learn from it and do our best to make sure we avoid it in the future because we want to allow the drivers to race."
The collision happened after a series of close shaves between the two, who had raced hard for most of the grand prix.
At one point, they banged wheels as Ricciardo tried to overtake Verstappen around the outside of Turn One.
Horner described all incidents prior to the crash as "hard, good racing".
He added: "It is a fine line because that is what people want to see and we want to allow the drivers to race each other. For the last two and half years they have done a good job of that."
Horner said the team's policy would be discussed before the next race in Spain on May 13, adding: "They have to ensure if they are going to go wheel to wheel they leave each other enough space."
Both drivers were contrite after the incident.
Ricciardo said: "It's not a situation we want to be in. Apologies to the team firstly for the situation. We want to be able to race and I'm thankful the team let us race but when this happens what do we do?
"I know we touched already earlier. I don't know what we could have done differently.
"I had tried the outside multiple times. It eventually worked and there is always a risk on the outside the tyre barrier get closer.
"I thought I'd try something different. I thought there was some space on the inside and it closed up pretty quickly. I will watch some more replays. I know everyone is pretty heartbroken and it's a shame and I apologise."
Verstappen said: "Before, we had the little brush with the tyres. That was unfortunate but it was just hard and fair racing and then when the crash happened it is not what you like as a team. It doesn't matter who is to blame, it shouldn't have happened.
"It is not about blaming each other. It is about trying to make sure to not do it again and apologise to the team. There are so many people working hard at the factory and we mess it up like this."