Kevin Magnussen: Haas driver apologises to Toro Rosso's Pierre Gasly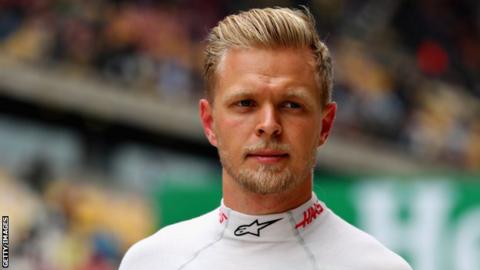 Haas driver Kevin Magnussen says he has apologised "many times" to Toro Rosso's Pierre Gasly for a dangerous incident in the Azerbaijan Grand Prix.
Magnussen was penalised with a time penalty and points on his licence for colliding with the Frenchman at 200mph at the re-start following the final safety car at the Baku street track.
"I didn't squeeze Pierre on purpose," Magnussen said on Twitter.
Gasly had called the Dane "the most dangerous guy I ever race with".
Magnussen has been criticised a number of times by fellow racers for his aggressive driving, and had run-ins with both Toro Rosso drivers at the Baku race.
After the Baku race, he was given a 10-second time penalty, which dropped him behind Gasly to 13th in the results, and received two points on his licence. The punishment takes his penalty points to eight - any driver who gets 12 within a 12-month period gets an automatic race ban.
Magnussen was quoted on Tuesday saying: "I will die in the car. I won't hold back."
But he said the interview had been done before the race and the remarks needed "a little clarification".
"I have apologised to Pierre many times since the incident," Magnussen said.
"I don't want to die in a race car. I was expressing my willingness to give absolutely everything in my power to achieve success. Success to me obviously isn't having accidents or getting penalties, but finishing races in as high a position as possible.
"I am living my childhood dream of racing in Formula 1 and I've put my whole life into achieving that dream. So it is only natural for me to be giving absolutely everything I've got, to achieve success in racing.
"And the day I no longer do that I will retire from racing immediately."