Spanish Grand Prix: 'Lewis Hamilton's dominance leaves questions for Ferrari'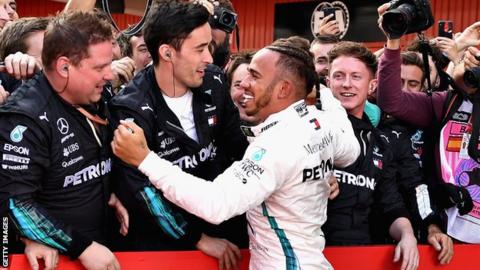 Lewis Hamilton's dominance made the Spanish Grand Prix the first race this season in which the win was not disputed in any way, but it added a fresh twist to the narrative of the 2018 Formula 1 title fight.
Whether it marks a definitive shift in form at the front, where Ferrari had until this weekend appeared to have the fastest car of the year, remains to be seen.
But Hamilton's 64th grand prix victory was one of his most comfortable and has put him in a commanding position in the championship.
His win, combined with an unexpectedly poor performance from Ferrari on Sebastian Vettel's route to a disappointing fourth place, has moved Hamilton 17 points clear of the German in their so-far private battle to be their generation's first five-time world champion. And it contained some concerning signs for Ferrari.
It was the first race since the opening event in Australia in which Mercedes were not on the back foot in the face of a faster Ferrari.
Until Spain, it had appeared as if Ferrari had definitively the fastest car and Hamilton's massive qualifying advantage in Melbourne was an outlier, caused by his affinity with that particular track.
Now there is a possibility Mercedes might have got on top of the tyre problems that afflicted them in Bahrain, China and Azerbaijan. That is worrying for both Ferrari, and prospects of a close title fight.
How did Mercedes turn it around?
The lessons of Spain will become clear only with the passage of time and more races. Hamilton, for one, was cautious after the race.
"Race by race we are understanding the tyres more," he said. "But we could easily go to the next race and struggle.
"It is a little early to say, but I would like to hope it could be a turning point. After five races we have a much better understanding of the car and what we need to do to get it working but we still have learning to do and still need to add performance to the car throughout the year."
Nevertheless, Hamilton definitely made a decisive personal step forward in Spain.
The world champion has looked off-colour in the past three races, and his win in Baku owed a substantial amount to luck - on form, without the chaotic final laps following the crash between the Red Bulls and subsequent safety car, he would have been third there behind team-mate Valtteri Bottas and Vettel, and the Finn would have been leading the championship.
Hamilton arrived in Spain saying he felt he had been "punching below my weight" this season, and blamed his inability to get on top of the tyres.
In Spain, though, he took his first pole since Melbourne - albeit by a tiny margin from the on-form Bottas - and walked the race, even if he may not have had it quite so easy had his team-mate not got jumped by Vettel at the start.
At the demanding Circuit de Barcelona-Catalunya, he looked much more at home in the car through the practice sessions and into qualifying and even more so in the race.
After his victory, Hamilton said: "We definitely got ourselves onto the right path this weekend. I had no idea what the pace would be like. I thought it would be a lot closer but I was much happier with the car. I wouldn't say I had perfect synergy but close. And I think that showed in my pace."
His team boss Toto Wolff suggested some of the reason for Hamilton's upturn in form may also have been psychological, following his victory in Baku. However it came about.
"I believe it is about having a car that does what you want, drives like you expect it to drive and it is about confidence," Wolff said.
"We let him down in Melbourne, which could have been an easy win, with an error and that stays in your mind. I think now he has put all these things behind him and had a good weekend and this is what racing drivers need. They need results and podiums and wins and hopefully it is the beginning of a good phase."
Why were Mercedes much more relatively competitive in Spain than in the past three races? There were several theories floated for that. One revolved around a change in the tyres for this race, Pirelli choosing to bring tyres with a thinner tread depth to avoid the blistering some teams suffered from in pre-season testing.
Wolff dismissed theories this was done to favour Mercedes with some salty language, and pointed out after the race their performance advantage in testing, on the thicker-gauge tyres, had actually been larger than it was at the race weekend. This is true - and accounts for some of the pre-season fears Mercedes might dominate this year.
Wolff said: "We have been pretty competitive in winter testing. The circuit suits us, the Tarmac suits us, the cold weather suits us and I would be careful with predictions. We have seen performance swing from race to race and even from day to day."
Another theory doing the rounds was Ferrari had had to make some modifications to their power-unit following an intervention by the FIA. But there was no proof of that. And it would certainly not explain their struggles in the race.
What happened to Ferrari?
Part of Mercedes' upturn can be explained by a downturn from Ferrari. They were beaten for pace in qualifying for the first time since Australia and were nowhere in the race, struggling with high tyre wear. What had looked at first sight like questionable strategy was actually, they said, just the car going through its tyres quicker than others.
Some observers were sceptical of this explanation, but Wolff said Mercedes, too, were experiencing heavier than expected tyre wear - and in fact had brought forward Hamilton's only pit stop as a result of discovering at Bottas' stop that his tyres were almost worn out.
Vettel, clearly stung by his car's lack of pace, made no attempt to play down the potential seriousness of Ferrari's experience.
"We got a fair beating this weekend," he said. "We were not quick enough. If we are not able to see that, we are more than blind.
"Second, we struggled a little over the course of the weekend with the tyres. They changed but they changed for everyone, so our ambition has to be we are better rather than worse off.
"Third, it was a poor weekend in terms of reliability. Kimi (Raikkonen, Vettel's team-mate) had an issue with the engine (on Saturday) and had to change it. And he had to retire (from the race). So overall there are three things we must be able to see. If we don't see those, there are no excuses.
"I have said many times this team is strong and we have a lot of potential but we also need to make sure we address the problems we have and work together in the same direction.
"The season so far has been positive for us. Today was not a good day. It is important these days to understand why and then you look back and understand what is missing in the preparation to the race."
As a potential explanation for the lack of pace, Vettel added that perhaps Ferrari's upgrades for Spain had not been as significant as those of other teams.
But as he put it: "The last couple of races we were a bit closer in terms of pace. We had a car with a winning pace. We did not have a winning pace today.
"Probably in the short term, we all had updates for this race. Maybe the others have brought more than us. On top of that, we had different tyres that maybe suited others better than us.
"But why find excuses? The bottom line is we were not quick enough to win and that's what needs to be addressed. And our tyres did not last as long as others."
A lack of pace after a promising start to the season. Poor reliability. Those look remarkably like some of the reasons why Ferrari ultimately failed to win the championship last year. And they need to stop the rot - if that is what it is - sharpish.
Suddenly, the next race in Monaco - where Ferrari had one of their best races in 2017, Vettel and Raikkonen finishing one-two - takes on even more significance than usual.