Monaco Grand Prix: Red Bull's Daniel Ricciardo and Max Verstappen 'can fight for pole'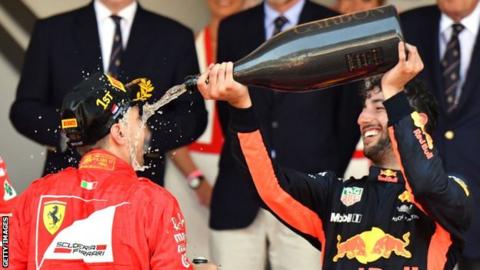 Red Bull's Daniel Ricciardo and Max Verstappen are hopeful they can fight for pole position for the first time this year in Monaco this weekend.
Ricciardo said he believed Red Bull were in similar shape to 2016, when he qualified on pole and led until a mix-up at a tyre stop handed the win to Lewis Hamilton.
"We're still not probably the quickest car but we can be if we can get it all hooked up," the Australian said.
"I think we can be pretty good."
He added: "I'd be surprised if we weren't at least close."
World Championship leader Lewis Hamilton of Mercedes has been talking up Red Bull's chances in Monaco this weekend, saying: "I think the Red Bulls are going to be particularly quick. They seem to be very quick in the low-speed corners so I anticipate it will be a good one for them."
Ricciardo said: "I think they're also trying to take a bit of pressure off them and put it on us. But it is no secret - we are always pretty good around here. We weren't good enough last year but for sure previous years we have been.
"There are no guarantees we will be quickest but I do feel the DNA of our car is solid. I am excited but I am not expecting anything yet. I am ready to push the car on the limit and hopefully that's enough."
Team-mate Max Verstappen added that the power deficit of Red Bull's Renault engine to those of Mercedes and Ferrari in qualifying would not be as significant around the tight and twisty Monaco street track.
"We don't have too many straights here," the Dutchman said, "so that's good for us and we know we have a good car around the corners. We just have to make sure we have a good balance and then we find out how fast we are.
"We are still down on power, plus they have the qualifying mode as well, it just won't make as big a difference. It is normally 0.4-0.5secs, but here it is more like 0.2secs and I think we can work with that."
Concerns for Hamilton?
Hamilton and Mercedes struggled in Monaco last year. The world champion finished seventh after qualifying 13th and although team-mate Valtteri Bottas was second on the grid, he also lacked pace in the race and finished fourth.
Hamilton said: "I think we have definitely learned a lot from last year. We are confident with our preparation but we think this is going to be one of the tougher races for us.
"I do anticipate it is going to be a difficult weekend but not an impossible one. We may not have the pace of the others, but we'll find out tomorrow [in practice]. I am excited for that challenge by the way."
Hamilton said he always looked forward to driving on the difficult Monaco track, where he won in 2008 and 2016.
"It is such a dream to drive here," he said. "Every single year, the wait that you have from one year to the next - it is a shame we only have one race a year here because it is so challenging to drive. The most mentally challenging track of the season and there is the aspect of just wanting to shine at a track like this."
His title rival Sebastian Vettel of Ferrari, who is 17 points adrift, said he was not concerned his team's struggles in the last race in Spain would continue into Monaco.
"It is only the last race that wasn't that good," Vettel said. "It is normal things don't go the way you want every now and again. This track is completely different. There is a lot of work to try to find the reasons and improve for the future but for this weekend it is not relevant."
Can McLaren surprise?
McLaren have had a difficult start to the season in terms of competitiveness but Monaco was one of their stronger showings last season.
But two-time champion Fernando Alonso, who won at Monaco in 2006 and 2007, said expecting too much from him or the team would be a mistake.
The Spaniard, who did not compete in Monaco last year because he was racing at the Indianapolis 500, said: "It is difficult to predict. Last year the car was quite strong here, Stoffel [Vandoorne, his team-mate] was sixth in first qualifying and seventh in second qualifying [before crashing in the top 10 shootout]. I think P7 was possible last year.
"This year we saw in some circuits we perform a little bit better than we expect and in some we perform a little bit worse, so difficult to predict but around P5-P10 should be our target. To be in Q3 with both cars should be the target."
McLaren have former IndyCar driver Gil de Ferran on hand again for a second race in his role as an informal adviser, as BBC Sport revealed at the Spanish Grand Prix two weeks ago.
Alonso, who became friends with De Ferran when the Brazilian acted as his driver coach at the Indy 500 last year, said he had not been involved in recruiting the 50-year-old but was "happy" he was involved.
"It is good to have him here with maybe a fresh approach or a different point of view of some of the things we are doing here," Alonso said. "He is a great guy.
"At the moment, he is just listening more than talking and trying to understand how the team does everything and how the philosophy of the McLaren team is. And his contribution maybe is later on or in a couple of months' time."
Monaco Grand Prix coverage details
Date
Session
Time
Radio coverage
Online text & audio commentary
Thursday, 24 May
First practice
10:00-11:30
BBC Sport website
From 09:30
Second practice
14:00-15:30
BBC Sport website
From 13:30
Saturday, 26 May
Final practice
11:00-12:00
BBC Sport website
From 10:30
Qualifying
14:00-15:00
BBC Radio 5 live
From 13:00
Sunday, 27 May
Race
14:00-16:00
BBC Radio 5 live
From 12:30
Review
18:00-18:30
BBC Radio 5 live
Monday, 28 May
Review (repeat)
04:30-05:00
BBC Radio 5 live