Monaco Grand Prix: Lewis Hamilton backs 'grid girls' return
Last updated on .From the section Formula 1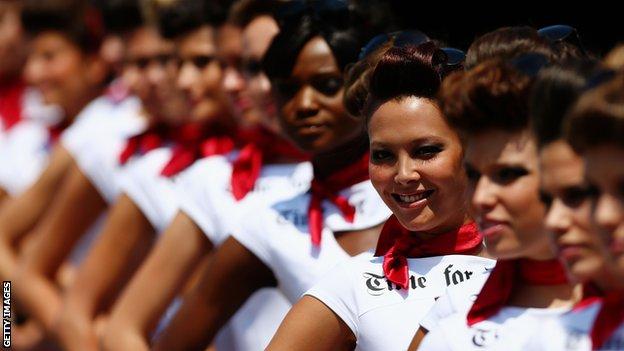 World champion Lewis Hamilton says the return of female models to the F1 grid at this weekend's Monaco Grand Prix is "a beautiful thing".
The sport's owner Liberty Media stopped the use of 'grid girls' in January, saying their use was "at odds with modern day societal norms".
Models for Swiss watchmaker Tag Heuer will feature on the grid at Monaco - though not in 'grid girl' roles.
"Women are the most beautiful thing in the world," Hamilton, 33, said.
"Monaco is a very elegant grand prix and when we pull up to the grid and there's beautiful women on the grid, that's the Monaco Grand Prix and that's a lovely thing."
Traditionally, grid girls would hold driver placards on the grid but the Monaco models - who will include men - will only be there as representatives of Tag Heuer, taking pictures of the drivers to be posted on social media.
Last month, Monaco organisers spoke of their opposition to Liberty's ban.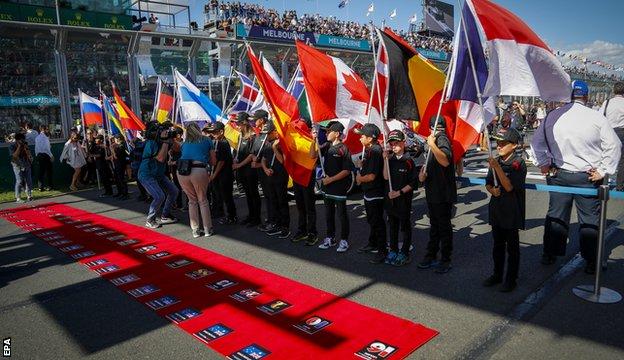 Ferrari driver Sebastian Vettel said he "agreed with Lewis".
"I like women. I think they look beautiful. The bottom line is that there is too much of a fuss nowadays," the German said.
"All the women that took part as a grid girl in the past did it because they want to. I'm sure if you ask any grid girl on Sunday if they're happy to stand there, their answer will be yes.
"I don't think there's anybody that forces them to do it."
The decision to drop grid girls proved controversial. Supporters of Liberty's stance agreed that the practice objectified women.
"I definitely don't think we should ever be supporting or pushing these women in general to feel uncomfortable. And if they are, then we shouldn't do it," Hamilton added on Wednesday.
Darts similarly phased out its use of walk-on girls to lead players out earlier this year and there followed calls for other sports to do the same.
Boxer Stacey Copeland told BBC Sport that the use of grid girls in F1 is 'unnecessary'.
Copeland has children as mascots at her fights instead of ring girls.
"The sexual objectification of women in sport is not necessary," she said. "It doesn't add anything and enough is enough.
"Change is always really tough and will have its ups and downs but just because we've always done something does not mean it should carry on.
"Grid girls in F1, ring girls in boxing are unnecessary and unequal so we have to over-correct. It does seem over the top to some but we have to do it."
But critics claimed the models were part of sport's glamour, while others blamed political correctness and some of those carrying out the roles were equally vocal about the ban.