Monaco Grand Prix: Why Charles Leclerc is living up to the hype in his maiden season

By Andrew Benson
Chief F1 writer in Monaco
Last updated on .From the section Formula 1212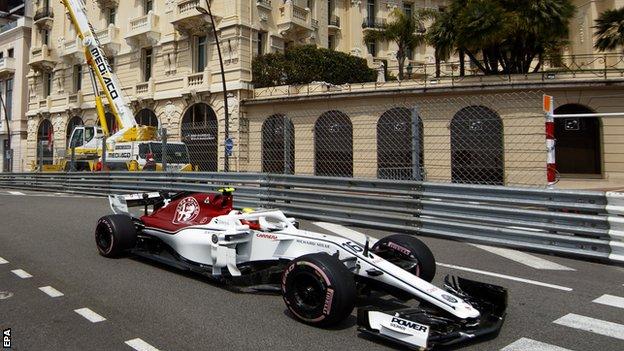 A new driver in Formula 1 knows he is doing a good job if he has two four-time world champions paying him compliments.
That is the situation Sauber's Charles Leclerc finds himself in this weekend at the Monaco Grand Prix.
It is the 20-year-old's debut season in F1 and this is his home race - he lives in an apartment on the pit straight.
But that's not why he is one of the big talking points in the sport - it's because of his performances on the track.
"The hype is absolutely justified," says Ferrari's Sebastian Vettel. "If there is no hype around him, then I don't understand who should be hyped, because if you walk through all the junior categories like that, then you belong here."
You could say Vettel has a conflict of interest, in that Leclerc is a member of the Ferrari driver academy and has been touted as a potential driver for the senior team, perhaps even as early as next year.
But the same cannot be said of the German's title rival, Lewis Hamilton. And yet he, too, has taken notice.
"It's just really great to see a really talented kid come through, who has really earned his way," Hamilton says.
"He really has the potential to do great things here and you can't say that about every kid who has come through in the past years."
Why is he turning heads?
So what has impressed these two titans of the sport about F1's 'next big thing'?
Partly it's his record in the junior formulae - Leclerc dominated Formula Two last year, becoming the youngest ever winner and the first to become champion in his rookie season since current Renault F1 driver Nico Hulkenberg in 2009. Before that, he walked the GP3 championship in 2016.
And before making the step up to cars in 2014, Leclerc finished second in the karting world championship to a certain Max Verstappen, now one of F1's biggest stars with Red Bull.
Impressing in the junior categories is all very well, but it's what a driver does in F1 that counts. Many apparently promising young talents have foundered when they got to the pinnacle, either found out talent-wise or lacking the mental strength to deal with the pressures of the intense environment.
Leclerc has a long way to go but initial signs are good.
He had a shaky start in the first three races of this season, with numerous spins and incidents. But he found his feet for the fourth race in Baku, where he drove impressively to finish sixth in the unfancied Sauber.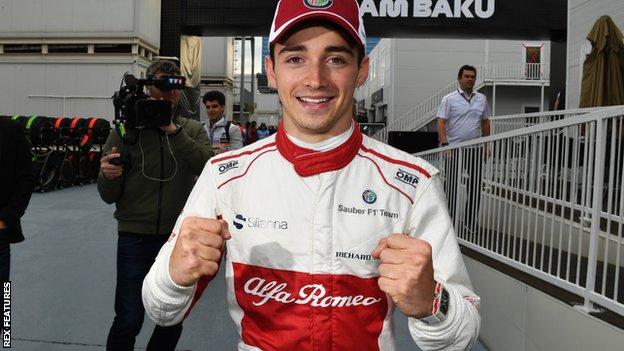 He followed that up with another striking drive in Spain two weeks ago, holding off McLaren's two-time champion Fernando Alonso for a time, before eventually finishing 10th.
As Vettel puts it: "The races he's had so far, he has used his opportunities, scored points with a car that doesn't belong in the points. So he is doing everything he can."
The pressure on Leclerc has been immense from the start of his F1 career, as it was known that Ferrari promoted him to Sauber, to whom they supply engines, with a view to him moving up to arguably the most coveted seat in the sport sooner rather than later.
The word is that if he impresses sufficiently, that could be next year, as a replacement for Kimi Raikkonen alongside Vettel. If they feel he might need a little more time, he could well be moved to the other Ferrari satellite, the more competitive Haas team, for another year of learning.
The way things are going, though, Leclerc might not need that extra time. He has already out-qualified team-mate Marcus Ericsson in three of the five races, has an average advantage of more than 0.4secs and has scored nine points to the Swede's two.
In the two practice sessions on Thursday in Monaco, a track renowned for being a place where the really good drivers can excel, Leclerc was ahead by 0.685secs and 0.598secs.
If the pressure of expectation is getting to Leclerc, it isn't showing - or at least it hasn't since he seemed to leave those early-season errors behind with his performance in Baku.
"It is a dream since a child to drive for the red cars," Leclerc said in a BBC Sport interview in Monaco this week, "so hopefully this will happen one day.
"I will give everything for it to happen next year but the decision is not in my hands and the only thing I can do is give the best of myself on track and then hopefully it will be enough to consider me for the seat next year."
Who is Charles Leclerc?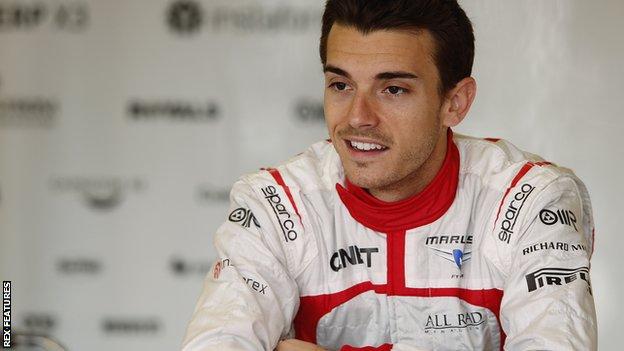 Leclerc has a more interesting back story than many aspiring F1 drivers. His godfather was the late Jules Bianchi, another Ferrari protege, who died in 2015, nine months after suffering grave head injuries in a crash during the 2014 Japanese Grand Prix.
Bianchi was only eight years older than Leclerc, so was more of an older brother than a father figure. Their families are close and Leclerc says Bianchi was always there for him as he was making his way through the ranks.
"When I started formula [car racing], he was always there," Leclerc says. "I would phone him and say on this thing I am not so good and he would explain [it to] me. I have improved probably a bit quicker than the others thanks to him and he is definitely truly missed as a person but also as a help for me obviously."
Bianchi's loss was not the only family tragedy to hit Leclerc en route to F1.
Last year, his father died just a couple of days before Charles was competing in the Baku round of the F2 championship. Impressively, it had no effect on his performance, the then-19-year-old winning both races on the road, albeit losing victory in the second to a 10-second time penalty.
"It was hard," Leclerc says. "I lost him on the Wednesday before the Baku race so it was very fresh but the only thing I told myself was that seeing me racing was for him absolutely everything and he would not want me to be destroyed and do a bad race.
"The only thing he wanted was me to win the race for him. In my mind it will stay as a good memory. I am very happy to have honoured him in this way."
His feelings remain the same now. The memory of his father, Leclerc says, is "a push forward even though it has been a very difficult situation".
"I think about Jules and my father every race weekend so it's not like it is any different here in Monaco," he says.
"The only thing that is a bit more [emotional] here is that my father's only dream was to see me in F1 in Monaco and I am pretty sure he is looking proud from up there, and Jules the same.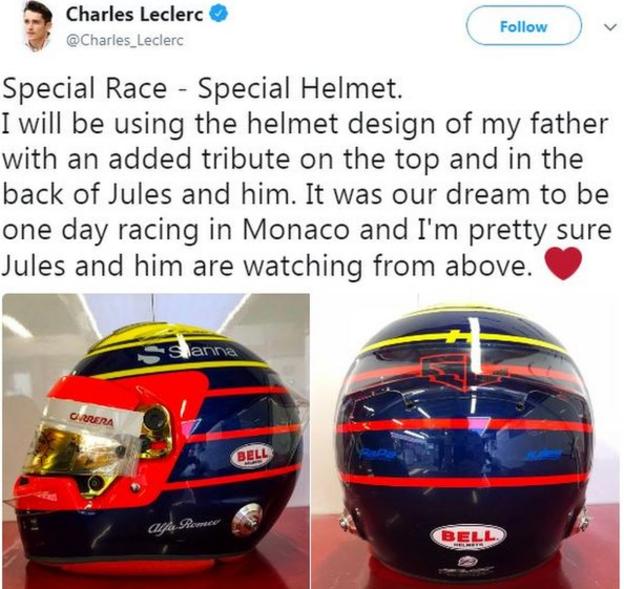 "I remember when we were younger, speaking with our fathers and the dreams of all four was to race each other here. This hasn't happened but I will try to make the best result possible to honour them in the way they deserve to be honoured."
It was the family's joint decision for Leclerc to give up school three years ago to concentrate on making it in his racing career. It was a "big decision", Leclerc says, "because if racing would have stopped it would have been a lot more difficult. But at the time we thought it was the best decision to make and we believed in it."
It has paid off already, with apparently much more to come.
It is all a long way from his childhood in Monaco, dreaming of racing on the track where he is making his debut this weekend.
"It has been a crazy week," he says of his first experience of racing on F1's most fabled track, which also happens to be the route to the front door of his home. "But I don't put extra pressure on myself. It more becomes motivation of doing well at home.
"Last year has been a very special one for me. It was my first ever grand prix in F2 and now it is the first in F1, and I just can't wait.
"It is a way to show the sacrifices I've done in the past have been useful. It is all about staying in F1 but at least I've made it. I hope the teachers will be watching closely because I know they were angry at me when I was missing school back in the day so hopefully now they understand why."
As for his name, for any anglophones who struggle with French, the correct pronunciation is "Luh-clair".
Remember it. Chances are you may be using it a lot more in the future.