Monaco Grand Prix: Max Verstappen crash 'unnecessary', says Red Bull's Helmut Marko

By Andrew Benson
Chief F1 writer in Monaco
Last updated on .From the section Formula 1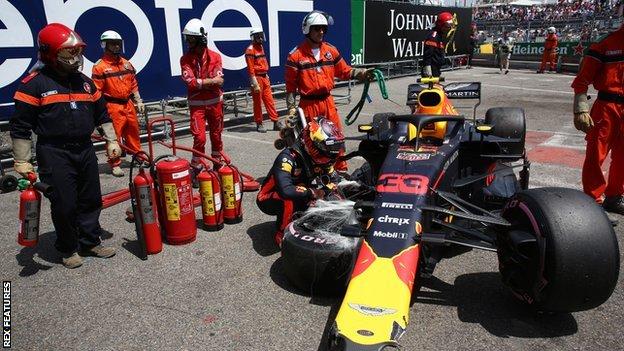 Max Verstappen's Monaco Grand Prix practice crash was "unnecessary" and caused by impatience, Red Bull motorsport boss Helmut Marko says.
Red Bull were unable to repair the car for qualifying after his misjudgement in final practice and he will start the race from the back.
Verstappen has now had at least one incident in each of this season's six races.
"He has to learn not always to drive flat out," Marko told BBC Sport.
"They are all different incidents but this one for sure is a very unnecessary one."
Verstappen is renowned as one of the fastest and most exciting drivers in F1 but Marko admitted that he was concerned about the number of incidents his driver was having.
Marko added: "I think he is not patient enough. He wants always to he is the fastest but the result is only when you cross the line. He needs to be more patient, judge the situations better."
Marko, a former Formula 1 driver, said he would wait until after the weekend to have a conversation with Verstappen about the number of mistakes he is making.
Asked if Verstappen understood that he had an issue that needed addressing, Marko said: "Issue is maybe not the right word. It is always a different situation but they are all because he is impatient."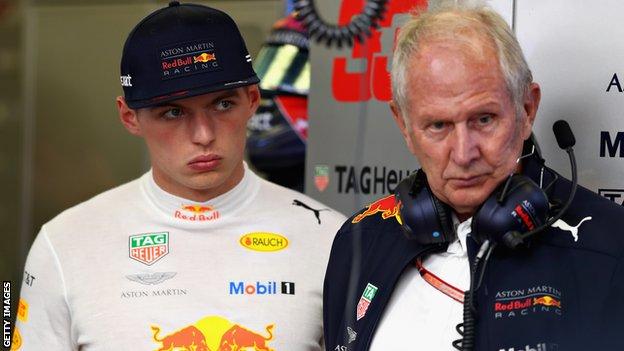 Verstappen's series of incidents have seriously dented his championship hopes:
First, he over-drove in the first race of the season in Australia, ran wide and damaged his car and then spun, and finished sixth

In Bahrain, he crashed in qualifying and then retired from the race after colliding with Lewis Hamilton's Mercedes

In China, he lost a likely win by running wide trying to pass Hamilton and then colliding with Ferrari's Sebastian Vettel

In Azerbaijan, he crashed in practice and then retired after being hit by team-mate Daniel Ricciardo. Both drivers were considered to blame for the incident but Verstappen's decision to make an illegal second move in defence was a contributing factor

In Spain, he damaged his front wing lapping Lance Stroll's Williams after a safety car period but managed to continue to finish third
Verstappen said: "I think this was, together with China, my mistake so yes it is of course not what you like to happen but unfortunately it happens."
Asked how he explained his propensity for trouble, he said: "At the moment, I can't.
"Here at Monaco it is of course very easily done compared to other tracks. We'll look at it, see what we could have done better.
"The team will always be behind me in good or bad times. It goes either way. Last year with a lot of engine problems I was exactly the same so we work as a team and you win and lose together."
Team principal Christian Horner told Channel 4: "This place bites and he got bitten pretty hard in a session that doesn't really count for anything other than setting the car up.
"He is in a car that can win this grand prix and that will hurt him even more because you don't get many opportunities to win a Monaco Grand Prix.
"He needs to learn from it and stop making these errors. He knows that more than anybody. I would think it was a pretty painful qualifying for him watching what could have been."
Asked whether he felt this error would finally drive it home to Verstappen that he needed to find a way to calm down, Horner said: "I hope so. I don't know what else will."