Monaco Grand Prix: Daniel Ricciardo plays down title chances after victory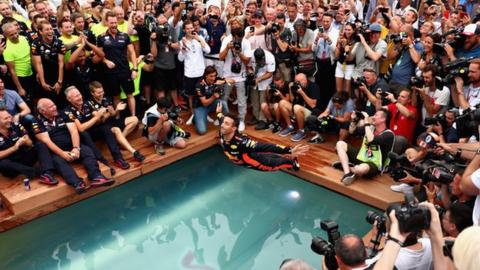 Daniel Ricciardo played down his title chances after his Monaco Grand Prix victory moved him up to third place in the world championship.
The Red Bull driver is 38 points behind Lewis Hamilton of Mercedes, who is 14 ahead of Ferrari's Sebastian Vettel.
He said: "It's a natural question after a victory. Lewis still has a pretty good cushion. It's not impossible but it's not at the forefront of my mind."
He added that Red Bull had more to prove before he could be a contender.
"We have three victories each, and I wouldn't have expected that back in February," he said. "That's pretty cool and I will try to keep it going for now.
"I will try to get a few more podiums but we have to prove on at least one other circuit before the summer break that we can win again before we can say that."
Red Bull's big handicap this season has been a lack of engine power in the final stages of qualifying, when Mercedes and Ferrari have access to an extra power mode that Renault does not possess.
Renault, though, is introducing an engine upgrade at the next race in Canada that is said to be worth at least 20bhp. If it delivers what is expected, it could bring Red Bull right into contention at most tracks.
However, Red Bull will be sceptical of the size of the upgrade because Renault have under-delivered in the past.
Ricciardo nevertheless said Canada would be "interesting".
Hamilton, who finished third behind Vettel, said: "Ultimately it was good to have lost only three points to Sebastian.
"I would love to have had second. With a perfect, perfect lap in qualifying I could have had second, but it wasn't meant to be and I am happy with the result."