Monaco GP: Daniel Ricciardo's drive of 'sensitivity & control' showed extent of talent

By Andrew Benson
Chief F1 writer
Last updated on .From the section Formula 1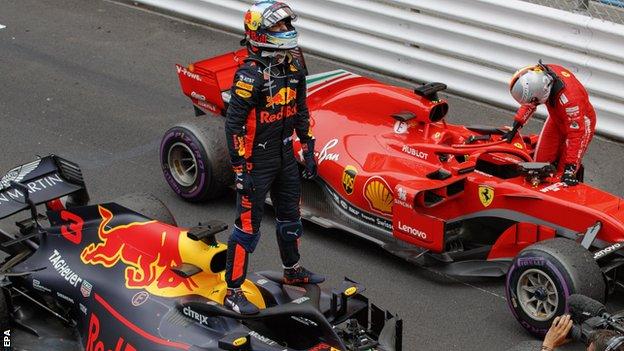 Daniel Ricciardo's trademark is special Formula 1 victories. His win in Monaco on Sunday was certainly that, but it could not have been more different from the all-action style that brought him most of his other six.
The problem on his Red Bull occurred on about lap 28. His comfortable lead over Ferrari's Sebastian Vettel was reduced to nothing and he had 50 laps still to go.
Even allowing for the fact that all drivers were in extreme 'race-management mode' - aka going slowly - to manage tyres, his achievement in holding it together was remarkable.
This sort of talent is underestimated in top-level Formula 1 drivers.
It's easy to admire their extreme skill and bravery in piloting such fast and demanding machines - and nowhere more so than at Monaco, where to watch a grand prix car being threaded at insane speeds through narrow streets is to doubt the evidence of your eyes.
But the very best ones have a sensitivity and adaptability that enables them to cope with difficulties without it unduly affecting their performance.
Fernando Alonso demonstrated it this year in Azerbaijan, when he produced unlikely speed from a damaged car after a first-lap crash. And Ricciardo did it in Monaco on Sunday.
Red Bull team boss Christian Horner likened it to another great drive out of this category - when Michael Schumacher took second place in the 1994 Spanish Grand Prix with a Benetton stuck in fifth gear.
A more appropriate analogy might have been Ayrton Senna's famous victory in Monaco in 1992, when Nigel Mansell lost the lead with a stop to change tyres thinking he had a puncture, and rejoined behind the Brazilian's McLaren. Despite being five seconds a lap quicker, Mansell could find no way through.
Ricciardo's advantage over Vettel was not of the same magnitude, but there seems no reason to question Horner's assessment of the quality of his driver's achievement.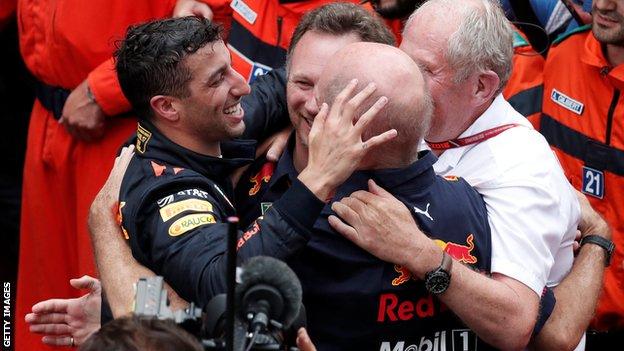 What was wrong with Ricciardo's car?
Ricciardo was in total control of the race, after a weekend he dominated by being fastest in all practice and qualifying sessions, when the problem occurred.
He said over the radio he had suffered a loss of power. In fact, his MGU-K had failed. This is the part of the hybrid system that not only recovers and regenerates energy from the rear axle but also through which all hybrid energy produced by the car's complex systems is channelled.
Horner said he "lost about 25% of the power of the engine", which is something in the region of 225bhp in these hybrid engines, which produce more than 900bhp in race trim. Mercedes and Ferrari are known to be close to 1,000bhp in qualifying.
But the problem was not just a loss of power. As Horner said: "That then means his rear brake temperatures are going through the roof, he is having to cool the brakes, cool the car, he has to lift off to do that and he has Vettel breathing down his neck. All those things he has to manage and he was the coolest guy out there."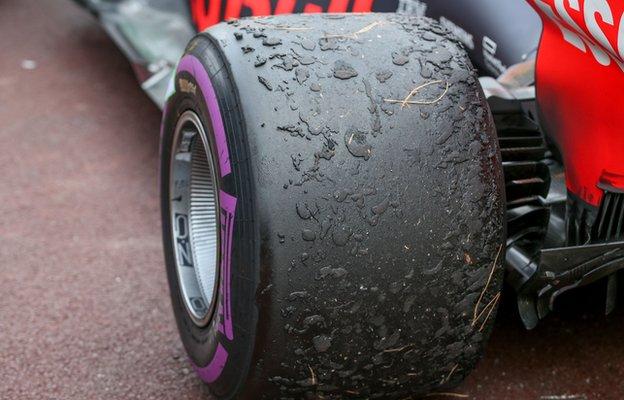 Ricciardo said: "I had a lot less power so that was the obvious thing, but then, yeah, the rear brakes got really hot so I went I think 6-7% forwards with the brake balance. That's a lot.
"Maybe we go 1-2% change during the race, at least, for us, so we had to go a long way forwards and I have to lift a lot before braking to save the brakes and put less energy through them.
"The pace was slow, for the power, the pace was slow to manage the tyres and then the pace was slow because I was managing brakes. Hence why it felt like a very long race but obviously we got it home."
He has had some special victories, Ricciardo.
His first in Hungary in 2014, when he passed Alonso for the lead with three laps to go, stands out particularly, and many would pick as his best China this year, when he carved through from fifth to first after a tyre stop with some daring and beautifully executed overtaking moves.
But after Monaco, he was asked whether this one now surpassed it.
"Give it two days," he said, "and I look back on the weekend as a whole, I think it was definitely my best weekend and the most satisfying.
"Right now, there's still a lot to process but once it all settles I think yeah, I could probably say that.
"You know, the race itself… It's a different race to a China. China obviously got everything going and got the adrenaline going and whatnot but, as a whole, this is probably the best weekend of my career."
Why was the race so dull?
When Alonso and Lewis Hamilton say after a grand prix that it was "the most boring race ever" and "the longest 78 laps of my life", you know something is wrong.
Alonso, who retired for the first time this year when hit by a gearbox problem while running seventh, said it was "just Monaco, it's the way it is. It was quite boring without a safety car or anything".
But there was more to it than that. The fundamental problem was the tyres - or more specifically, the combination of Monaco with soft tyres that degraded quickly and needed to be driven slowly to ensure drivers could eke them out and do only a single pit stop.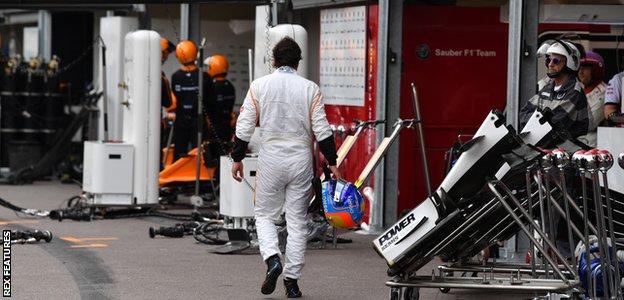 Two stops would be fatal for a driver's race, because it would mean coming out behind slower cars he could then not overtake. But the hyper-soft tyres, while good for a qualifying lap, are not designed to run a long time in races. The same can be said of the ultra-softs most chose as their second option.
That's all very well, but the problem is that tyre supplier Pirelli has been charged with designing tyres on which drivers can race hard.
It was a decision that was made early in 2016, under pressure from the drivers, who had tired (pardon the pun) of driving like this at every race, because the tyres Pirelli had been producing since 2011 needed managing this way all the time.
Last year, the result was harder tyres. The drivers could push again during grands prix but not everyone was happy about the generally one-stop races. So Pirelli went softer with their compound range again for 2018.
To be fair, Monaco was the first race this year in which this problem was so extreme, but as Pirelli F1 boss Mario Isola told BBC Sport after the race: "I think they are usually able to push but if the direction for the future races is to go softer [on the tyres], they will push less."
He added that Pirelli had erred on the conservative side last year because they did not know how tough on tyres the cars would be under new rules aimed at making them up to five seconds faster.
"But now we stayed on the softer side," he said, "and moving on the softer side means we have more deg and overheating. We need to find a compromise."
I asked him whether Pirelli could not produce softer tyres on which drivers could push hard all the time.
"We try," he said. "We know their request is to have softer tyres they can push. But it's not so easy. It is a real challenge to make tyres soft with thermal degradation and no overheating."
The three drivers on the podium were all centrally involved in the push to get Pirelli to redesign their tyres, and none directly answered a question about how they felt about the tyres behaving in this way in Monaco.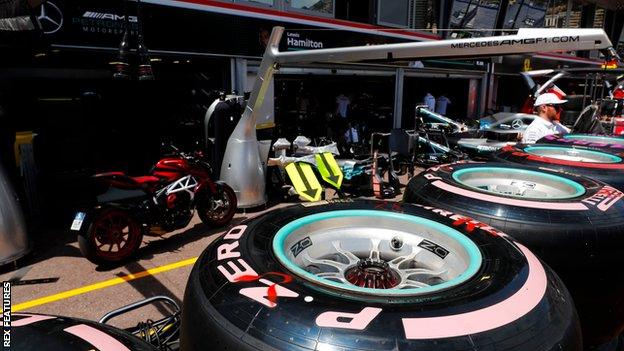 It was what prompted Hamilton to complain about the race being "boring".
Ricciardo said he did not expect it to be the same elsewhere, as overtaking is easier on other tracks, so drivers would be forced to do more stops. He added that he was glad Pirelli was sticking with the hyper-soft for the next race in Canada. But that's not the same as commenting on the tyres' raceability.
Vettel merely said he did not want to answer the question. And in its own way, that was probably the most revealing response of all.
Pirelli's contract with F1 runs out in 2019 and the FIA is launching a tender process for the next deal soon. Pirelli wants to stay on. At least one other manufacturer is known to be interested.
Can Pirelli produce the tyres the drivers want? How do the sport's bosses at the FIA and commercial rights holder Liberty want the tyres to behave? There are some big questions - and some equally big decisions - looming in the not-too-distant future.
The Ferrari controversy
Off track, Monaco was dominated by a row over Ferrari's battery, which its leading rivals suspected of being illegal.
Governing body the FIA has been investigating it for a month. F1 director Charlie Whiting says they were already on it when Mercedes technical director James Allison brought it to their attention before the race in Azerbaijan a month ago.
Mercedes knew about it because of a new employee, who had recently joined from Ferrari after six months' gardening leave.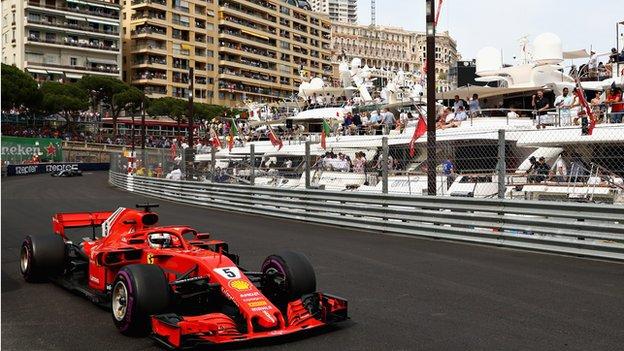 Batteries are important in F1 because they are part of the engine's hybrid system. And if a team can find a way of supplying more energy from the battery to the hybrid system, that is more power overall. It would also be against the rules.
The issue was that Ferrari's battery design was different to that of the other teams.
Whiting told BBC Sport: "The architecture does potentially allow some of the current going to the MGU-K to bypass the meter - the FIA-approved sensor. It doesn't mean it is by-passing it. We wanted to be absolutely sure it wasn't."
The FIA says it is now satisfied that Ferrari had not been using the system inappropriately and has put in place a fix to ensure it can now be monitored more effectively than before.
But it is less than perfect because it requires, Whiting says, "some fairly complex checks" and the FIA would rather Ferrari added a sensor that enabled them just to see the answer straight away.
The governing body, Whiting says, has discussed with Ferrari how this might be done via "a robust long-term solution" through "the implementation of additional sensors to verify more quickly that the energy and power limits are not being exceeded".
But as battery systems are complex, teams only have two for the season, and a sensor would have to be custom-designed and made, it will take time.
Right now, though, with Mercedes and Red Bull both concerned about whether Ferrari have been exceeding the limits on power produced by electrical energy, there is a fundamental question: can the FIA assure people that the integrity of the championship has not been undermined?
Whiting said: "Absolutely."