F1 cost cap could cost jobs say leading team bosses

By Andrew Benson
Chief F1 writer
Last updated on .From the section Formula 1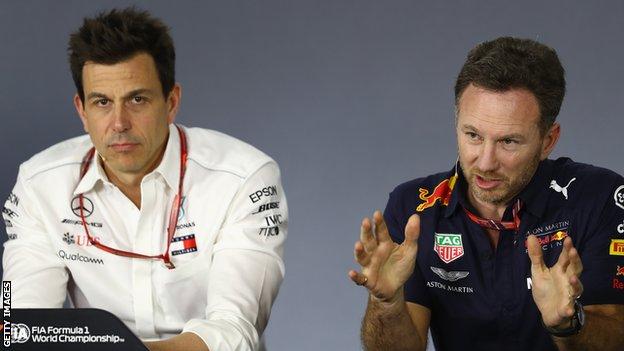 Formula 1 must proceed carefully with plans for a cost cap because of the risk to jobs, leading team bosses say.
F1 rights holder Liberty Media wants to impose a cap of $150m (£112m) a year on teams in a wider shake-up from 2021.
Mercedes, Ferrari and Red Bull all spend about double that and employ up to 1,000 people each. Seven of the 10 F1 teams are based in the UK.
"In the UK, you are talking about potentially thousands of jobs," Red Bull team boss Christian Horner said.
"If a local car plant or supermarket shuts, it makes the headline news. A social responsibility needs to be taken into account when talking about restrictions and caps. It doesn't sit well when drivers can earn up to $50m (£37m) a year.
"The whole thing needs to be looked at quite carefully. The FIA [F1's governing body] and Liberty are aware of that. Our biggest cost drivers are regulations, sporting and technical. There is a responsibility that needs to be given serious consideration as to how these changes are implemented."
Probably five of the 10 F1 teams - four of which are based in the UK - would need to make cuts to staff to meet the budget cap - Mercedes, Ferrari, Red Bull, Renault and McLaren.
However, all could potentially reallocate some personnel to roles within their other companies - Mercedes, Ferrari, Renault and McLaren all make road cars, and McLaren and Red Bull have subsidiaries that work in other technology areas.
Mercedes F1 boss Toto Wolff said: "This was a good point where Liberty recognised that a cost cap cannot be an event but needs to be a process over several years and consider the structures that have been put in place and they are taking our feedback on board. It is clear we will all be protecting our structures and we expressed that [in the meeting]."
As a general overview of the progress of negotiations, Wolff said: "I see some common sense on the table. There are still areas where we are very far away but it is moving forward in a constructive, structured process."
What does Liberty want to do?
Liberty, which bought the commercial rights to F1 in January 2017 and deposed Bernie Ecclestone as the sport's long-time boss, wants to overhaul the sport for 2021, after most teams' current contracts expire.
It has proposed a cost cap; changes to the technical rules to simplify the cars, bring costs down and make the racing closer; a more equitable revenue distribution; and a change to the engine rules.
It is in the process of negotiations with the teams, and the latest meeting was at last weekend's Monaco Grand Prix.
What about engines?
The engine manufacturers in F1 have given in to the proposal to remove the so-called MGU-H, the part of the hybrid system that recovers energy from the turbo, as a way of making them louder, simpler, cheaper and more attractive to potential new entrants.
The only realistic potential new entrant is Porsche, insiders say. The German marque has not yet committed to entering F1 but has made it clear it would not consider such a move unless the MGU-H was removed, as BBC Sport reported on Saturday.
The four engine manufacturers in F1 - Mercedes, Ferrari, Renault and Honda - had wanted to keep the MGU-H because it helps create revolutionary levels of fuel efficiency.
But Mercedes F1 boss Toto Wolff said: "We have accepted to lose the MGU-H.
"We think the technology is a step backwards but in terms of achieving compromise for the benefit of the spectacle, the H going, the revs going up, the fuel limitations going, I think we will have a louder engine, we will not be limited by fuel.
"It is not the most sustainable message we are sending out but we can understand it from a technical standpoint. It is something you need to consider and accept."
FIA president Jean Todt told the teams in Monaco that he was hopeful of producing a definitive set of engine regulations for 2021 by the end of June, and certainly within the next two months.
"On most of the topics we have found an agreement," Wolff said. "On the engine regulations we are really close on being able to tick the box.
"The only major thing we need to sort is we are still spending a lot on engine development and we need to avoid double spending improving the current engine and also doing the new one."