Max Verstappen: Red Bull driver says he 'might headbutt someone'

By Andrew Benson
Chief F1 writer in Montreal, Canada
Last updated on .From the section Formula 1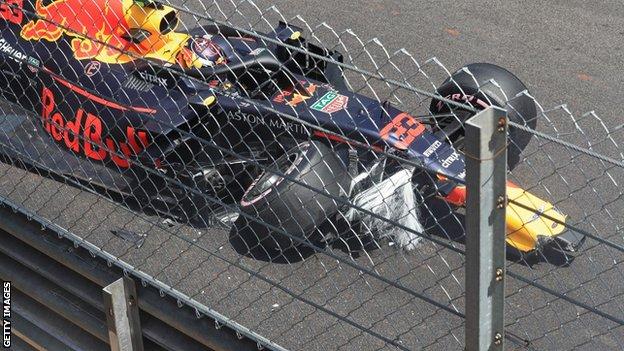 Red Bull driver Max Verstappen says he "might headbutt someone" if he continues to be asked about his series of crashes and mistakes.
The 20-year-old Dutchman has crashed or made significant mistakes at all six races so far this season.
Verstappen said not all the incidents were his fault and the situation was "not as dramatic as people say it is".
Asked why he keeps crashing, he said: "I get tired of the questions. If I get a few more, I might headbutt someone."
In a separate interview, Verstappen said he felt he was just going through a bad patch and that it would end soon.
On the media day before the Canadian Grand Prix, Verstappen told BBC Sport: "I have to do my talking on the track and hopefully we can have a good weekend here.
"I am happy how I am. Of course I am not happy with how the season has gone so far.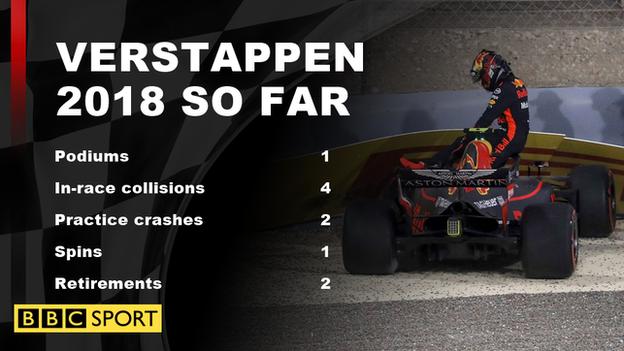 "I know pretty well what went wrong, I took my lessons from that and have some great people around me who can always support me.
"I don't think I need outside help. I have shown in the past years I know how to do it. It is just somehow this year, sometimes you have that in life - and you can see it in every sport.
"You give it all you've got, you prepare in the best way you can, and every year you make steps and I have made steps in the way I prepare myself, but then it is not coming out for some reason you can't explain.
"But you just keep working hard and at one point things will turn."
He said he had not spent too much time analysing what had been going wrong.
"I never really look back because you can't change that," added Verstappen. "The things you can change and influence is what's ahead and that is what I always try to do.
"It is more of a problem if I would be really slow and struggling for pace but that is definitely not the case. What I am experiencing at the moment is a much easier fix than being slow."
Verstappen's contention that the incidents were not all his fault is debatable.
In the first race in Australia, he over-drove behind Kevin Magnussen's Haas, ran wide, damaged his car and then spun, dropping down to finish sixth.

In Bahrain, he crashed in qualifying and then retired in a collision with Lewis Hamilton's Mercedes judged to be a racing incident.

In China, he lost a potential win when he ran wide trying an ambitious move around the outside of Hamilton and then collided with Sebastian Vettel's Ferrari.

In Baku, he crashed in practice and in the race he and team-mate Daniel Ricciardo retired after a collision while the Australian was trying to overtake Verstappen, who made an illegal second change of direction in defence.

In Spain, he damaged his front wing on a back marker at a re-start after a virtual safety car but continued to finished third.

In Monaco, he crashed in final practice and the car was too badly damaged to be repaired for qualifying. He started from the back and finished ninth while Ricciardo won.
Canadian Grand Prix coverage details

Date

Session

Time

Radio coverage

Online text & audio commentary

Friday, 8 June

First practice

14:55-16:35

BBC Sport website

From 14:30

Second practice

18:55-20:35

BBC Sport website

From 18:30

Preview

21:35-22:00

BBC Radio 5 live

Saturday, 9 June

Final practice

15:55-17:05

BBC Sport website

From 15:30

Qualifying

18:55-20:35

BBC Radio 5 live sport extra

From 18:00

Sunday, 10 June

Race

18:30-21:00

BBC Radio 5 live

From 17:00

Monday, 11 June

Review & podcast

04:30

BBC Radio 5 live