Canadian Grand Prix: Red Bull's Daniel Ricciardo escapes grid penalty

By Andrew Benson
Chief F1 writer in Montreal, Canada
Last updated on .From the section Formula 1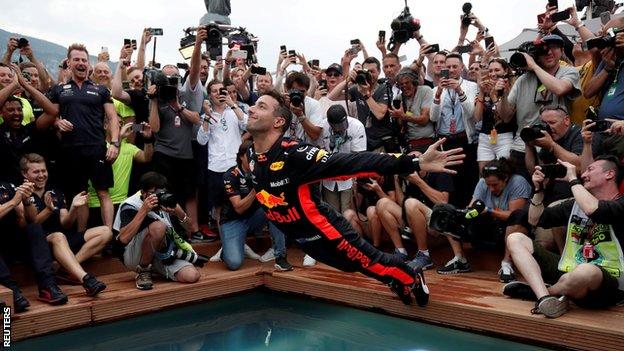 Red Bull's Daniel Ricciardo has escaped a grid penalty at this weekend's Canadian Grand Prix.
But on Thursday Ricciardo said Red Bull would be able to replace the broken part with one used at a previous race.
The Australian, 28, said when he heard "whispers" of a Canada penalty he said he would prefer it at a later race.
Ricciardo suffered a failure of his MGU-K, a part of the hybrid system, during the Monaco Grand Prix. Newey said it "caught fire and was a burnt out, charred wreck".
But Red Bull said they had been able to re-use an MGU-K from the engine that suffered a turbo failure in final practice at the Chinese Grand Prix.
"All I know is I have been told there is no penalty," Ricciardo said.
"If something happens in practice then we will be forced to change something and I will get a penalty, but for now, we still have enough parts to run and, if it is reliable, we will do the whole weekend with it."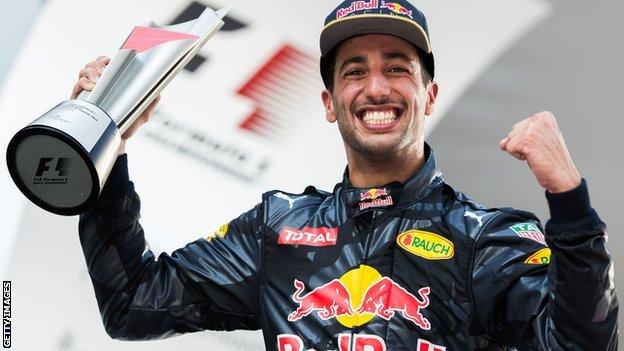 He said, however, that a grid penalty for excessive engine usage was inevitable - perhaps as early as the next race in France.
"It could come as soon as Paul Ricard, but when I heard whispers of a penalty here I was 'I'll take it at Paul Ricard, but not here'," he said.
"Having such good momentum at the moment, a penalty would take a bit of wind out of our sails. I would rather take it somewhere else.
"We feel on paper this circuit should suit us more than some of the others coming up, winning two in a row would be nice so we will try."
Red Bull will benefit from an engine upgrade for the Canadian race, after Renault introduced a revised and improved internal combustion engine for their works team and both their customers, including McLaren.
Red Bull say they believe the upgrade is worth about 0.1 seconds a lap.
Canadian Grand Prix coverage details

Date

Session

Time

Radio coverage

Online text & audio commentary

Friday, 8 June

First practice

14:55-16:35

BBC Radio 5 live sport extra

From 14:30

Second practice

18:55-20:35

BBC Sport website

From 18:30

Preview

21:35-22:00

BBC Radio 5 live

Saturday, 9 June

Final practice

15:55-17:05

BBC Sport website

From 15:30

Qualifying

18:55-20:35

BBC Radio 5 live sport extra

From 18:00

Sunday, 10 June

Race

18:30-21:00

BBC Radio 5 live

From 17:00

Monday, 11 June

Review & podcast

04:30

BBC Radio 5 live