Daniel Ricciardo: McLaren in talks with Red Bull driver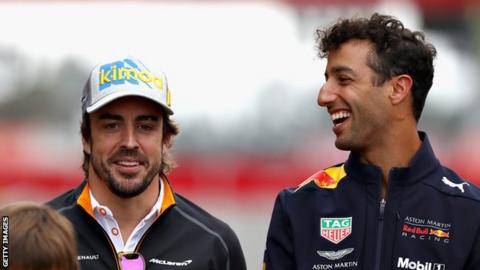 McLaren are in talks with Red Bull's Daniel Ricciardo about driving for them in Formula 1 next year.
The Australian, 28, is out of contract at the end of this year, with seats potentially open at top teams Mercedes and Ferrari next season.
McLaren want to keep lead driver Fernando Alonso in 2019, but he has not decided whether he wants to stay in F1.
The Spanish two-time world champion, 36, is likely to race in the Indianapolis 500 again next year.
Alonso is believed to be weighing up whether to race Indy in addition to the F1 programme - but skipping the Monaco Grand Prix, which clashes, as he did last year - or taking on a full season in Indycars.
McLaren's prime option is to keep Alonso in F1 but, should he leave, the team are looking for a driver as a replacement who is as close to the two-time champion's level of ability as possible.
Ricciardo, as a seven-time grands prix winner regarded as one of the best drivers on the grid, fits the bill.
Alonso has said he will not make up his mind on his future until mid-summer, but has said he finds the predictability of F1 "sad". Only three teams - Mercedes, Ferrari and Red Bull - have won a race in the past five years.
Alonso won the Le Mans 24 Hours last weekend, the second of two legs of the unofficial 'triple crown' of motorsport that he has now completed.
Already a Monaco GP winner, that leaves only the Indy 500 for him to become only the second driver in history after Graham Hill to win all three events.
Alonso said on Thursday before this weekend's French Grand Prix: "One thing we need to wait and see a couple of months now is really the commitment of all the parties into the F1 project and to the future, what will be the seats that next year move on, and which will be the driver line-ups of some of the top teams as well.
"After that, let's see what the future brings, whether it be the Indy 500, triple crown or whatever seems attractive. At the moment I am enjoying Le Mans and not taking too much into account next year."
A McLaren spokesman said: "We never comment on driver matters."
McLaren are considering setting up an Indycar team in 2019, most likely in partnership with an existing leading outfit.
Chief executive officer Zak Brown has said their analysis is still ongoing but that conditions are looking "favourable".
Would Ricciardo find McLaren attractive?
McLaren in F1 might not be especially appealing to Alonso or Ricciardo, as the team are struggling for pace this season.
They expected to be competing close to the front in 2018 after swapping their Honda engines for Renaults, but they have qualified in the top 10 at only two races and Alonso's best result is fifth.
Ricciardo has won two races for Red Bull, who say they want to keep him in 2019, and is fourth in the championship.
Red Bull have signed to use Honda engines in 2019 and 2020, which may also be a factor in Ricciardo's decision.
Ricciardo said: "Renault and Honda have both made improvements this year. They are both on the up.
"It's just Red Bull feel there is more potential with Honda. I will have a listen and try to understand how confident they feel and maybe that can give me more influence on my decision.
"There is definitely interest (from other teams). I haven't been given a piece of paper to sign.
"There is a lot to add up. I am not playing games. It is a process I am trying to learn and understand and make sure I get what I want out of it."
Honda has struggled for performance and reliability since returning to F1 in 2015, with McLaren until the end of last year and with Red Bull's junior team Toro Rosso this season.
But Red Bull chose to switch from Renault because they believe the Honda is now a match for the French engine, no less reliable, and has better prospects.
Mercedes drivers Lewis Hamilton and Valtteri Bottas are out of contract at the end of the season.
The team and Hamilton have both said it is only a matter of time until they reach agreement, and Bottas is also tipped to be retained after a strong start to this season.
Red Bull motorsport adviser Helmut Marko told Germany's Sport Bild: "Ricciardo doesn't want to sign until Hamilton has signed. It's a bit strange. Hopefully it ends soon."
At Ferrari, Sebastian Vettel is under contract until 2020, but his team-mate Kimi Raikkonen is vulnerable.
Ferrari are said by sources close to the team to be weighing up continuing with the veteran Finn or promoting their protege Charles Leclerc, who is impressing in his debut season with Sauber.
At McLaren, it is considered likely that their reserve driver Lando Norris will be promoted to F1 in 2019.
The future of Alonso's team-mate Stoffel Vandoorne is unclear. The Belgian may have to start challenging Alonso more consistently than he has since he made his debut last year to secure his place.