French GP: Jolyon Palmer column - Unlucky Bottas should have been a title contender
Last updated on .From the section Formula 1183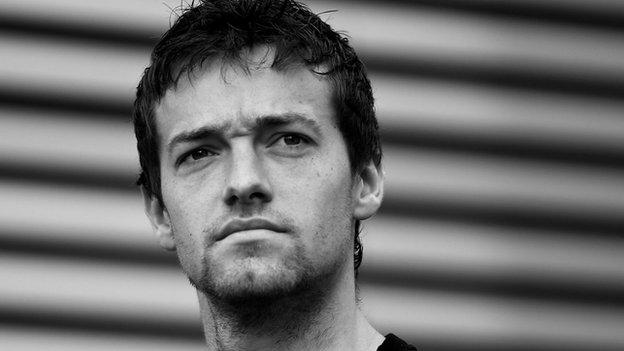 Former F1 driver Jolyon Palmer, who left Renault during the 2017 season, has joined the BBC team to offer insight and analysis from the point of view of the competitors.
The Formula 1 title fight is distilling into another showdown between Lewis Hamilton and Sebastian Vettel, but it could have been so different.
Hamilton's Mercedes team-mate Valtteri Bottas could be right in there with them had it not been for bad luck - Sunday's French Grand Prix was just the latest example.
The Finn qualified on the front row at Paul Ricard, alongside Hamilton, but was taken out by Vettel at the first corner.
Vettel was on the inside, trying to back out of a move he had realised was not going to work. Bottas was making the most of the clear track around the outside and swept around the Ferrari man but was spun round, picked up some damage and could only recover to seventh place, while Vettel finished fifth.
In my view, Vettel was at fault for the incident, and the stewards agreed, which is why they penalised him. But on the first lap, when things are tight, these things happen.
Either way, it was a costly misjudgement for Vettel and more bad luck for Bottas, as the innocent party.
It's hard to imagine Bottas would have beaten the imperious Hamilton to the win, especially as the world champion controlled proceedings into the first corner. But a second place was probably lost for Bottas on this occasion, and with it 12 more points.
In many ways, it summed up Bottas' year so far.
Answering all the doubters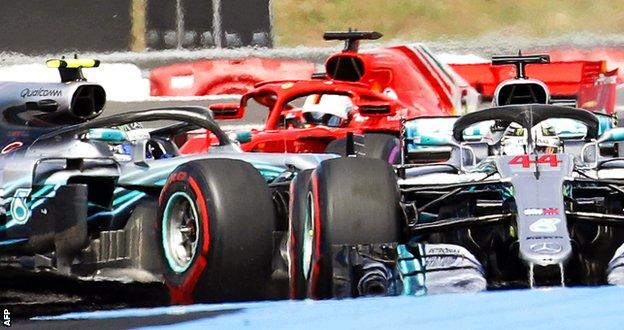 Pre-season, there were a lot of question marks about Bottas.
The world - and Mercedes F1 boss Toto Wolff - were waiting to see how Bottas would perform in his second season with the world champion team.
Bottas started 2017, his first season with Mercedes, well, but after being given another year's contract, he had a run of shaky form through the summer and early autumn.
This year, the question was whether Bottas could justify keeping his place at the best team in F1, especially with Red Bull's Daniel Ricciardo on the market as well.
The questions only deepened after a heavy accident in qualifying for the season-opening race in Australia, and a lacklustre recovery drive.
But since Melbourne, Bottas has been superb, surely one of the most unlucky drivers in the field. If things had gone his way - or even just not against him - then he could be right at the sharp end of this championship alongside his team-mate.
On paper, Bottas' results don't look great. No wins and no poles don't make for great reading, and I can hear the questions being asked about his credentials alongside Hamilton, who after France now has three of each. But Bottas has been a picture of consistency.
Since Melbourne, he has qualified second or third for every race, apart from Monaco where he and Mercedes were missing some pace. And he has out-qualified Hamilton in three out of the seven subsequent races.
There's no denying Hamilton still has the edge between them. And when the car is capable of taking pole, then it has been Hamilton who has delivered in Barcelona and Paul Ricard, edging his team-mate to second place.
But when the Ferraris have had the edge in other races, it has usually been Bottas who has qualified ahead, even if once again there's been little to choose between them.
That's impressive because Hamilton is probably the fastest driver out there. He is unbelievably quick, especially over one lap, which is why he holds the record for most pole positions in F1 history.
But it's not just in qualifying that Bottas has impressed. His races have been consistent as well, but that's where his bad luck has held him back.
After his Melbourne mishap, Bottas needed to respond immediately, and he did exactly that. In fact, he could have taken three wins in a row.
The first in Bahrain wasn't down to bad luck. He just missed out on trying an overtaking move on Vettel's leading Ferrari on the last lap - and some felt he showed too much caution there. But the next two in Shanghai and Baku certainly were down to misfortune.
In Shanghai, Bottas led the race after the pit-stop phase - a guaranteed win by 2018 F1 standards in a race without drama. But there was drama. A safety car was called, which meant Red Bull pitted, changed strategy and Ricciardo came from nowhere to beat Bottas to the win.
Next time out in Baku, Bottas was even more unlucky. Again leading after a late-race safety car, he had everything under control with three laps to go but then picked up a puncture from debris on the start-finish straight. A victory lost, and 25 points with it.
Decent drives have since followed in Barcelona and Montreal to take his tally of second places up to four for the season.
Bottas now sits fourth in the standings, a full 53 points behind Hamilton, and behind Vettel and Ricciardo as well. However, Bottas' bad luck could be argued to have cost him 51 points compared to Hamilton.
That's the seven points difference between first and second in China, the 25 he lost in Baku and the extra seven Hamilton received for being promoted from second to first, and 12 for the difference between second and seventh in France.
OK, you can argue this is perhaps being a little optimistic. And others have dropped points through bad luck as well - Vettel in Shanghai after being hit by Verstappen, and Hamilton in Melbourne, losing the win because of the safety car. But, at the sharp end, Bottas is clearly the driver that has been affected the most by bad luck.
There is a bright side, though. With contract negotiations beginning over the summer months, Bottas has surely done enough to be retained by Mercedes for the future.
Even if his ultimate killer instinct, ability to take poles and wins can still be questioned, Bottas is at the very least the perfect partner to Hamilton. Ahead when Hamilton isn't at his best, consistent and willing to play the team game.
Raikkonen's future in doubt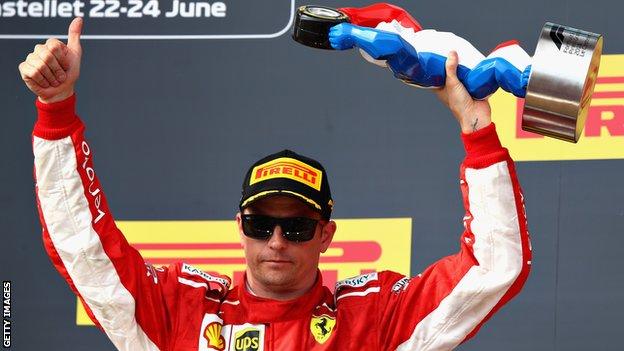 At Ferrari, Bottas' fellow Finn Kimi Raikkonen is not making as convincing a case to be given a new contract.
The question marks continue to grow around Raikkonen's future, with his potential replacement Charles Leclerc doing wonders in the Sauber.
Raikkonen is on a woeful qualifying run since beating Vettel to the front row in Melbourne.
Pretty much every time he's on track at the end of the top 10 shoot-out, the crunch time when the grid is mostly decided, Raikkonen is making mistakes. He has the pace but is constantly unable to deliver under pressure.
Not only that, but having failed to make up a place on the first lap since 2016, he isn't recovering effectively in the race either.
His podium in Paul Ricard marked a solid drive, but really it was the least he could do, in a race which saw two of the front six collide and drop to the back and Ricciardo suffer an issue in the closing stages.
When the title fight is as close as it is this year, the second drivers could have a defining role. At the moment, Raikkonen is unable to get near Vettel to help him out, often being stuck behind the Red Bulls, while Bottas is continually qualifying at the front and challenging Hamilton all the way.
It gives Mercedes the upper hand in the fight with Ferrari.
If Bottas hadn't been on the front row in Sunday's race, Vettel would have taken the lead into Turn One, as he had a much better start than Hamilton. But because of Bottas' presence on his outside, Vettel had nowhere to go and ultimately had to lift off on the run to Turn One.
Not only can having a second driver at the front provide a shield for the 'number one', but it can also provide strategy options that Ferrari sometimes don't have as they are often fighting with only one car for wins or podium places.
Melbourne was the perfect example of how having two cars at the front can help the team out. Ferrari snookered Hamilton, by pitting Raikkonen early and Vettel late.
Mercedes responded to Raikkonen, the faster and best-placed Ferrari at the time, but Vettel ended up winning thanks to a miscalculation by Mercedes under the virtual safety car that enabled Vettel to pit and return to the track in the lead.
Mercedes did exactly the same to Ferrari in Baku. Pitting one driver - Hamilton - and sending the other long into the race to take advantage of a safety car or at least have a fresh set of tyres to attack at the end. That's what gave Bottas the lead, after Ferrari felt they needed to respond with Vettel to Hamilton's early stop.
Raikkonen wasn't close enough to help out, and that's been the case all too often this year.
If he's not careful, he will find himself swept aside for the new generation in Leclerc. Indeed, the decision may have already been made.