Jolyon Palmer column: Hamilton v Raikkonen and F1's penalty problem
Last updated on .From the section Formula 1311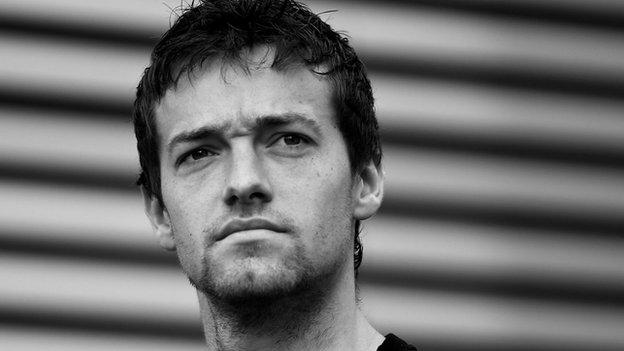 Former F1 driver Jolyon Palmer, who left Renault during the 2017 season, has joined the BBC team to offer insight and analysis from the point of view of the competitors.
The clash between Kimi Raikkonen and Lewis Hamilton at Sunday's British Grand Prix caused a great deal of controversy - but the Mercedes driver effectively lost the race at the start, not three corners later.
Hamilton should have won. He had the pace in clear air, he had the degradation of the tyres under control - more so than anybody else - and, crucially, he had taken pole position with a brilliant lap on Saturday.
But a woeful getaway, with too much wheel spin off the line, dropped Hamilton to third immediately, behind the Ferrari of eventual winner Sebastian Vettel and the other Mercedes of Valtteri Bottas.
In a one-stop race, with Ferrari and Mercedes so evenly matched, it would have been tough for Hamilton to recover to beat Vettel, even before the Raikkonen incident. That is especially true with no apparent team orders to allow him to pass Bottas as well.
The only proviso is that we will never know what would have happened under the safety car in that situation.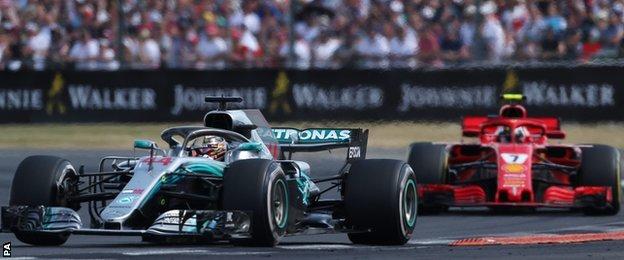 'A bit more caution from Hamilton might have been better'
In my view, Hamilton could have been a bit safer with Raikkonen when the Ferrari driver attacked him into Turn Three on the opening lap, where his race completely turned.
They were side by side into the corner, Raikkonen on the inside. Hamilton gave him space but took a bit of a risk because he didn't allow Raikkonen any margin for error. As Raikkonen locked up, it was clear he was trying to avoid an accident, but he ended up running into Hamilton's Mercedes.
If Hamilton had gone slightly wider around the corner he would then still have had the inside for Turn Four and surely kept the place. They might have still clashed but the risk would have been much reduced, as Raikkonen would have had more space to lock up into on his outside.
There's no doubt that Hamilton is not to blame for the incident, and the stewards laid it firmly on Raikkonen. But thinking about the championship - and even the race itself - a bit more caution from Hamilton might have been a better option. After all, he had the pace to recover.
Having said that, hindsight is always a wonderful thing and the fact it was Hamilton's home race and he got off to a bad start was probably playing on his mind as well. It's only an issue because Raikkonen went in deep trying to gain the position and hit him.
Raikkonen was penalised for it, and also took responsibility for it after the race, which I thought was very decent of him, as it's rare to see a driver be so mature in the heat of the moment.
Both men had brilliant drives after the incident. Raikkonen showed a rare moment of passion over the radio, clearly frustrated about being stuck behind the slower Red Bulls. He then had fantastic pace to recover to a podium after a brilliant wheel-to-wheel dice with Max Verstappen.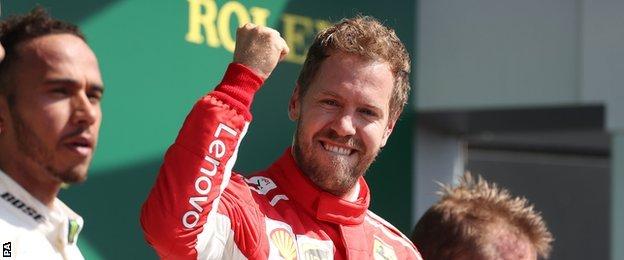 Hamilton, on the other hand, had much more to do. Dropping to the back, he put on one of his best drives for a long time to recover to second, finishing only just behind Vettel.
After the race, Hamilton and Mercedes were both immensely frustrated. Part of that was down to it being the second time in three races that one of their drivers had been put to the back after an over-zealous Ferrari overtaking attempt on the first lap.
They dropped unsubtle hints Ferrari might have done it deliberately. Of course, this is unfounded. And once the dust had settled on Sunday, Mercedes F1 boss Toto Wolff appreciated that - as did Hamilton.
Raikkonen is not a dirty driver at all, and he certainly doesn't owe Ferrari and Vettel any help for the remainder of the year as he's almost certain to be replaced by Sauber's Charles Leclerc for 2019.
On top of this, an accident at the first corner would usually hobble both parties, as it did in France two weeks ago, when both Vettel and Bottas ended up at the back and were sentenced to recovery drives.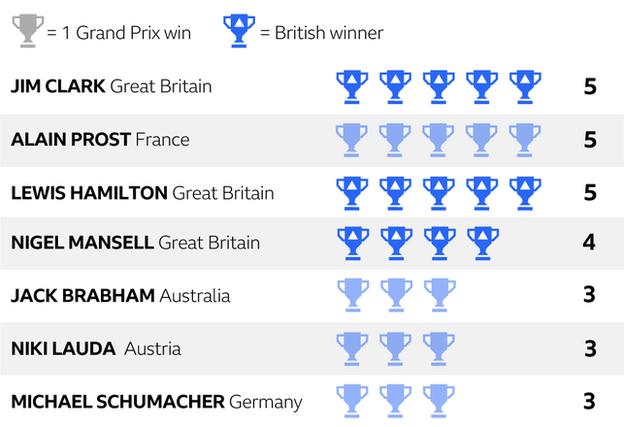 Was Raikkonen's penalty right?
It is fair enough to deem Raikkonen at fault for the incident. But I just can't get my head around the penalty given to him - 10 seconds, when in my view Vettel's clash with Bottas in France was slightly worse. Vettel came from further back in a faster corner, and he only got a five-second penalty for that.
There's no consistency and that's the most frustrating thing as a driver. It is much like in football, where penalty decisions aren't black and white.
Tunisia rugby-tackling Harry Kane to the ground during England's World Cup opener was allowed, but when Panama tried to do the same thing, it was immediately a penalty. How can players know where they stand when it's like that?
I had the same frustration last year. I was forced off the track by Fernando Alonso in Spa. He received no penalty. Fine. But what irked me was that in the previous race, Kevin Magnussen got a five-second penalty for doing exactly the same to Nico Hulkenberg.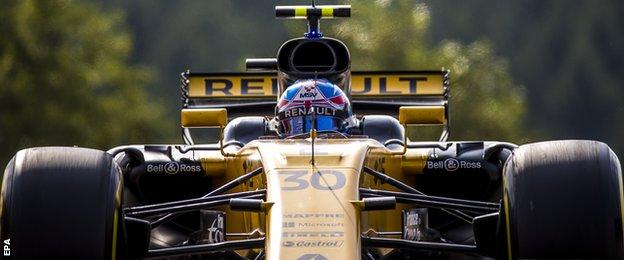 It's the consistency that is so frustrating. The penalty system should be more black and white. In my opinion - and that of many drivers - the judgements made in specific incidents are too variable.
If Magnussen had pushed me off in Spa that time and Alonso had pushed Hulkenberg off in Budapest, I bet Magnussen would still be punished and Alonso would still get away with it. Each case should be judged on its individual merits rather than who is involved or the consequences.
Does F1 need penalties?
The wider question is whether F1 needs penalties at all for incidents such as these.
People love close, hard racing. It's what everybody watches the sport for. They love safety cars, too. And this year has really highlighted that a safety car can turn a boring race into a thriller, with a strategy roll of the dice and the tightening up of the field.
Yes, a collision like the one on Sunday is unfair on Hamilton, and the French clash was unfair on Bottas. But sometimes that's racing.
There wasn't any malice in the mistakes made by either Raikkonen or Vettel. They were racing hard for position and got it slightly wrong.
It was the same when Romain Grosjean crashed with Carlos Sainz at Copse on Sunday. It was a much faster corner, and a much bigger accident. But the decision to judge it a racing incident was the right verdict, even though it was technically Grosjean's moment of oversteer that meant he drifted into a vulnerable Sainz.
Fundamentally, what is the difference between that and the Raikkonen and Vettel clashes? The driver on the inside was technically left enough room to make it around the corner but a small error, or excess speed, meant they ran wider and hit the car on the outside.
The collision produced a thrilling race at Silverstone and some more entertainment in France as well. Should people be complaining about it?
Maybe, in the same way as a footballer isn't sent off any more for a "genuine attempt to play the ball", a driver shouldn't be penalised for a genuine attempt to overtake or defend that leads to a mistake and contact.
I still fully endorse a penalty for any move that was dangerous or cynical. The equivalent of a red card in football. Indeed, perhaps these penalties could be harder.
For example, if a driver was to force another driver off the road, particularly in a straight line, they could be dealt with more strictly as this is an obvious and deliberate attempt at unfair driving. It could be the same for clearly moving twice in defence, as Verstappen has been guilty of a number of times, and which is clearly outlawed in the rules.
And of course, penalties should be used for incidents such as pit-lane speeding or not getting out of the way of blue flags. In these instances, things are black and white.
In days of old, penalties weren't handed out at all for collisions during legitimate racing situations. There was high drama, and it was all good for the sport.
It's a difficult call because Mercedes, Hamilton and their fans will feel aggrieved, particularly with the importance of this race for the Briton. But if the shoe is on the other foot, they will happily take it at the next race.