I discovered at the age of 63 that I am the son of a Formula 1 champion and I have inherited millions
Last updated on .From the section Formula 1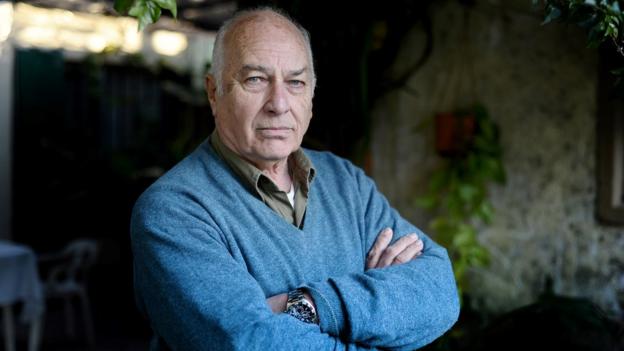 Ruben Juan Vazquez was 57 and working at a seaside hotel outside Buenos Aires, when a guest approached him and said he was the spitting image of Argentine Formula 1 champion Juan Manuel Fangio.
The guest also told him that Fangio - who died in 1995 - could have had a child of roughly his age, and that perhaps Ruben should check if it was him.
That conversation took place a few years after the death of the racing driver, who for many is still regarded as the best there's ever been.
Fangio won the World Driver's Championship five times - a record only broken by the Germany's Michael Schumacher decades later.
But Ruben's lifestyle in Pinamar, some 350km south-east of Buenos Aires, had none of the glamour associated with a racing icon.
After losing his job at the railways in the 1990s, he ended up working as a hotel hand in the seaside resort.
As a man of humble origins, he harboured no such hopes, but all the same he asked his mother, Catalina Basili, what she made of the tale.
Basili's first reaction was to deny there was anything in this story.
But five years later, almost 90 and widowed, Basili called her son to tell him the truth: he was the fruit of a forbidden love.
The man who'd raised him as his own son was not, in fact, his father.
Basili and Fangio had had a romantic affair in the 1940s - during a time she and her husband had been briefly estranged - and she had become pregnant.
After such a revelation, Rubén sought the advice of a lawyer.
Basili decided to help her son and officially registered Ruben as Fangio's son.
A protracted legal dispute ensued, but she followed it closely until her death in 2012, aged 103.
"My only regret is that I never got to live with him," says Rubén, "but other than that, I'm just proud and thrilled."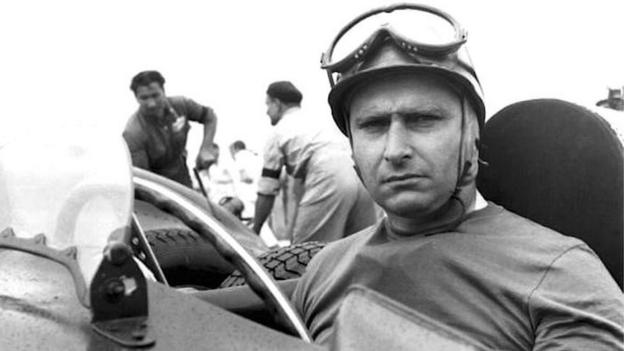 A legal battle
As a kid, Ruben suspected he had special a bond with Fangio. Like the motor racing hero, he was also born and brought up in Balcarce, a town in Buenos Aires province.
As a teenager, he even asked him for a job.
"When he walked into my office and claimed to be Fangio's son, I had no doubt," says Miguel Angel Pierri, Ruben's lawyer, "they look just the same."
By then Ruben was already 63 years old, and about to embark on a legal battle that would go on for 13 years.
The first step in this legal fight was to get DNA evidence - and the process to exhume Fangio's body began 2015.
It took two years to prove paternity, but once the DNA tests confirmed the match, he legally changed his name to Ruben Juan Fangio.
In the process of the investigation, no stone was left unturned: even Ruben's voice pattern was analysed and compared to his father's by a US expert.
"Even their voices sound alike," says Ruben's lawyers.
The final stage was securing Ruben's rights as an heir to the Fangio fortune.
Fangio's wealth is estimated at over $50 million, according to lawyers who have already begun an inventory of land, real estate and vehicles that once belonged to the racing driver.
Then there's the 'Fangio brand', to take into account. How much revenue is generated from the use of the name by various products sold worldwide?
According to the court ruling, the new heir is entitled to his share of any revenue generated by advertising or endorsements bearing his father's name.
"It has been a long race, a long battle," says Ruben, "but once I learnt I was Fangio's son, I didn't hesitate or have any doubts (about paternity)."
"I was thrilled my true identity had been acknowledged," he told BBC News Brazil, "and of course, for being the son of a racing legend, the man who won the Formula 1 World Championship five times."
At 76, Ruben is married, the father of three children and grandfather of seven. He's retired now, but he does not care to be called a millionaire.
"I don't really like talking about these things," he insists, "but I can tell you this: everything that's happening matters to me. I've got my identity, and I'm pleased it's been done properly, as it should be."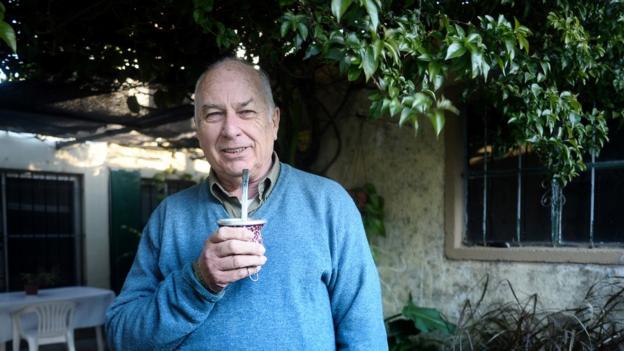 Brothers at age 70
Looking at recent photos of Rubén Fangio, the resemblance with his famous father is striking.
Fangio led a discreet life off the racing tracks, and - officially at least - he had no children.
But recent DNA tests have confirmed that Ruben in fact has a half-brother, Oscar 'Cacho' Fangio, four years his senior.
'Cacho' was a Formula 3 driver in his youth. He and his mother actually lived with the racing champion, but although at the time he was nicknamed 'Fangio' on the tracks, he's only just now changed his name legally.
"Fangio and Oscar's mother lived together" says Mr Scarcella, Oscar's lawyer. "There are letters, photos and videos of the two together, attending races in Germany and elsewhere in Europe."
Today, Oscar and Ruben call each other brothers, even though both were in their 70s by the time they first met.
The two men are currently travelling together around Europe: touring Spain and England, where they were invited by a group of British drivers, life-long Fangio fans.
"I'm travelling with my brother and we're happy," says Rubén, "we're enjoying ourselves."
According to their respective lawyers, Ruben and Oscar are the only two officially recognised heirs of Fangio.