German Grand Prix: Sebastian Vettel fears for future of Hockenheim race

By Andrew Benson
Chief F1 writer
Last updated on .From the section Formula 1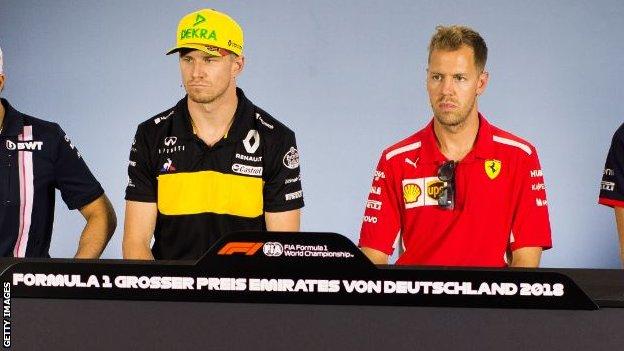 Sebastian Vettel is "afraid" the 2018 German Grand Prix will be the country's last for the foreseeable future.
The Hockenheim track is out of contract after this season and it is asking for a new deal that would see it pay a smaller fee. No agreement with Formula 1 is in sight.
The German said: "It would be a shame to lose one of the classic races."
Ferrari's Vettel said the problem was the cost of hosting a race and the lack of financial support from the state.
It is the same issue threatening the future of the British Grand Prix, which was staged at Silverstone earlier this month.
Only France, Italy and Belgium have longer histories of hosting grands prix than Germany, which held its first in 1926, the same year as Britain.
F1's owner, the US group Liberty Media, has said it wants to protect the historic European races, saying they play an irreplaceable role in the sport's appeal.
But F1 has not been able to agree a fee with Germany and Britain that the events' organisers believe is sustainable. Silverstone's contract to host its race runs out after 2019.
Races such as Britain and Germany, held on tracks run as businesses, are competing with other venues backed by governments prepared to pay vast sums to use an F1 as a global promotional event.
At the same time, Liberty is pursuing a policy of trying to establish new races in what it regards as "landmark cities", such as the proposed new grand prix in Miami, Florida, next year.
Four-time world champion Vettel added: "It has so much history, Germany is so well known for car manufacturers.
"[But] you have pay money to get a grand prix. Other countries are prepared to fund the grand prix and Germany is not ready to spend money on the grand prix to advertise F1, racing and Germany to attract people coming here.
"So the view there is different from other countries and that is where the problem is. I know the people here are working very hard to get people here but it is hard for them because they have no-one backing them up from the state."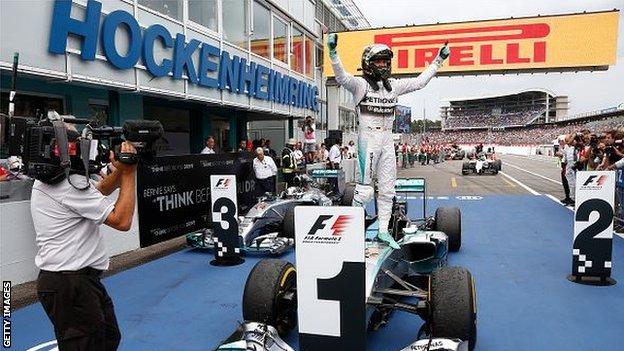 Vettel's countryman, Renault driver Nico Hulkenberg, said he felt part of the problem was that Germans were "a little bit spoiled" following the success of Michael Schumacher and Vettel, who between them have won 11 drivers' titles since 1994.
Vettel said: "Nico has a very valid point. It is normal if something happens for the first time there is a lot of excitement. Michael was the one who kicked off F1 and made it popular [in Germany].
"In the UK, it is different, [because] they invented it maybe, they always had great racing drivers, whatever the era.
"Michael was the one who had that boom and since then it's great for Germany to have German drivers. There was time when we had a lot of German drivers and now it is only Nico and myself.
"It is probably true that in general the Germans are a little bit difficult to get excited.
"I hope that because of the fact we failed in football [at the World Cup] this year people saved a bit of money on barbecues and can come here and spend some money. The weather is supposed to be great."