Formula 1: Ferrari chief Sergio Marchionne replaced as result of illness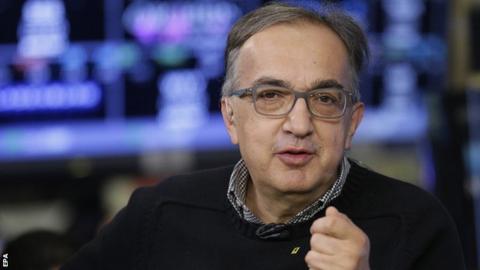 Sergio Marchionne has been replaced as the boss of Ferrari and sister company Fiat as a result of an illness.
Fiat said the 66-year-old had suffered complications following surgery. A statement from Ferrari added that he would not be able to return to work.
Marchionne had been the chief executive officer of both Fiat and Ferrari.
John Elkann, the scion of the Agnelli family that controls Fiat, is named chairman of Ferrari, while Louis Carey Camilleri has become chief executive.
Camilleri is a Ferrari board member and the former boss of tobacco company Philip Morris, the main sponsor of the Ferrari Formula 1 team.
Briton Mike Manley, former head of the Jeep division of Fiat, has been named as chief executive of the Fiat Chrysler group.
A Ferrari statement said the company had learned of Marchionne's condition "with deep sadness" and thanked him for "the extraordinary contribution he has made in recent years at the helm of Ferrari".
Marchionne took over as president of Ferrari in 2014 from Luca Di Montezemolo, who served more than 20 years in the role.
Di Montezemolo revived Ferrari after a slump in the early 1990s and oversaw the rise of the team that led to the dominant years with Michael Schumacher, who won five consecutive titles from 2000-2004.
Ferrari's competitiveness dipped in the early years of this decade but they have surged again in the last two years after a major restructure of the F1 team overseen by Marchionne.
The Italo-Canadian has also been a major figure on the political side of F1, and had formed a powerful alliance with Mercedes that was fighting major changes to the sport being planned by new owners Liberty Media for 2021.
Marchionne has more than once threatened to pull Ferrari out of F1 after 2020 if he perceived the changes to be against how it saw the sport. He was particularly concerned about plans to simplify engines.
Ferrari's statement said the board had given Camilleri "the necessary powers to ensure the continuity of the company's operation".