Force India: F1 power struggle over team's future

By Andrew Benson
Chief F1 writer
Last updated on .From the section Formula 1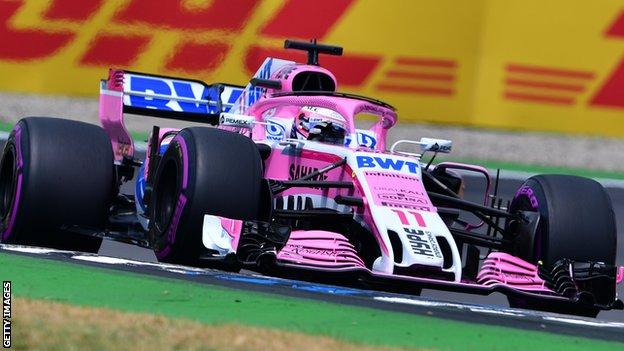 The story of the collapse of Force India into administration and the search for a rescuer to take over the team just got a lot more complicated.
It's already difficult enough to find a buyer for a Formula 1 team, especially if - as in Force India's case - they have debts of many millions of pounds. But now it has become political.
In a nutshell, three of Formula 1's biggest names - McLaren, Renault and Williams - are asking for reassurances before they agree to conditions that would help a sale.
They are not against the team being bought by new owners - indeed they want it to survive. But they have concerns that by doing so it may become a satellite of a manufacturer - in this case Mercedes - in all but name.
That, they feel, threatens not only their businesses on an existential level, but also the healthy future of the sport itself.
What is their problem?
These teams - some of the most successful and well-known competitors in the history of F1 - fear that there is an effort to create a Mercedes B team - and that that would mean not only further strengthening the political and sporting power of the German giant and their off-track ally Ferrari, but also that it has serious ramifications on a much wider level.
McLaren, Renault and Williams feel this would be a further step towards entrenching F1 as a two-tier sport, and make it impossible for independent teams such as McLaren and Williams to compete, and possibly even to exist.
Even Renault, a manufacturer team themselves, are worried the model by which they run their team would become unsustainable.
Mercedes say they share these concerns. Team boss Toto Wolff told BBC Sport: "We don't like the concept of B teams in Formula 1. We'd rather not have this structure because it provides advantages to both teams - and competitive advantages, you could argue. We are not buying Force India and we would rather not have the concept of a B team."
But the stand-off remains.
Why the concerns?
Many viewers of F1 will have noticed the leap in competitiveness this year of Haas and Sauber.
Haas are the smallest team on the grid, and yet they consistently have the fourth fastest car. Sauber were two seconds off the back of the grid last year, but this year their promising new driver Charles Leclerc has regularly qualified in the top 10, and even journeyman Marcus Ericsson is regularly threatening a McLaren driven by two-time world champion Fernando Alonso.
McLaren and Williams have their own problems, and freely admit they need to fix them. But they perceive the rise of Haas and Sauber to be the result of the close links and shared resources between both teams and Ferrari - and believe Ferrari are benefiting as well.
McLaren and Williams are worried that, if the model is allowed to perpetuate itself, independent teams will effectively no longer be able to compete. Renault say it could even make them reconsider their involvement in F1.
Renault Sport F1 boss Cyril Abiteboul told BBC Sport he was "not criticising" Haas, who he says are simply making the most of what is allowed under the F1 rules, but added: "That's not the type of F1 we like. We are a little bit afraid that such a construction would make it impossible for anyone who is not enjoying the benefit of a master team or slave team to be competitive at their own level.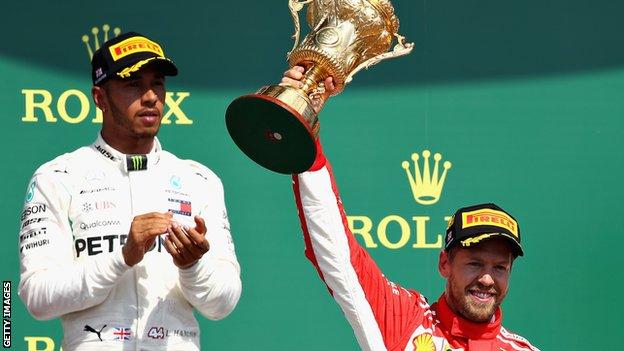 "We start to see some glimpses of that today in certain aspects of the grid or the development of the chassis or engine. We need to make sure it does not become a necessity, otherwise our model does not work and our involvement can't be sustainable."
Wolff says: "I understand there are questions from Cyril and others over what is the future of F1 if big teams buy smaller teams, which I completely respect. I completely share those thoughts and I don't think it is the right way forward.
"I hope we can find a discussion so the scope of co-operation is narrowed down between teams. There are commercial arrangements that make sense, but there are downsides to it. And that is the competitive order can change.
"So we need to find a solution to how the small teams can benefit from shared infrastructure but at the same time not gain an advantage that is currently possible."
McLaren and Williams declined to comment.
It's about power and politics as well as sport
The background to this is political as much as it is sporting.
F1 is engaged in discussions over the future shape of the sport post-2020. The car manufacturers already appear to have won a battle over the engine regulations, fighting off an attempt to make significant changes to the current turbo hybrid engines.
The privateers are concerned that if the 'wrong' people - in their eyes - get their hands on Force India, it would enhance Mercedes' power.
This would be not only when it comes to debate over issues such as rule changes, because it would be another team guaranteed to vote in Mercedes' direction. It could also influence aspects of the driver market.
And even the racing could be affected. If, for example, a Mercedes found itself up behind a car from a Mercedes B team in a race - would the 'B' fight, or simply wave the Mercedes through? Some believe this already happened in Monaco this year, with Lewis Hamilton and Mercedes-contracted Esteban Ocon.
But it's not just about Mercedes. Ferrari, Haas and Sauber have been a similar concern for some time, as have Red Bull and junior team Toro Rosso.
Who and what are they concerned about most?
There are believed to be five potential buyers for Force India, with the leading contender said to be Canadian billionaire Lawrence Stroll, whose son Lance drives for Williams.
This is the bid McLaren/Renault/Williams are most concerned about in terms of the "slave team" scenario.
Other interested parties are
An American consortium involving Indycar team owner Michael Andretti and Pieter Rossi, the father of former F1 driver Alexander Rossi, who now races for Andretti

A second US consortium involving Jeff Moorad, the former boss of the Arizona Diamondbacks and San Diego Padres baseball teams, who now runs a sports investment-management company

Russian billionaire Dmitry Mazepin, whose son Nikita races in GP3 and is Force India's development driver

Soft drink company Rich Energy, said to have West Ham owners David Sullivan and David Gold behind it. Rich Energy had a bid to save the team from administration with a £30m sponsorship deal rejected by the judge on Friday on the basis that it did not provide enough finance for the team going forward
Abiteboul says Renault are "extremely sensitive" to the perils of the situation, pointing out that they rescued the former Lotus team from going into administration at the end of 2015. And all three parties are understood to want a sale to take place - but not without guarantees.
Mercedes are Force India's largest external creditor. But Wolff says he can have no influence over who buys the team.
"We have held discussions with every potential buyer to my knowledge and the most important (thing) is someone with the right funds buys the team," he says. "But we are not orchestrating it. It is in the hands of the administrator.
"It needs to be the best outcome for the creditors of the team and that is to sell for the best financial outcome."
What are the three doing about it?
Force India are appealing to a potential buyer because they finished fourth in the championship last year and are arguably the best pound-for-pound team in F1, on the basis of what they have achieved considering their resources.
But, as such, they are also entitled to large amounts of prize money and powerful voting rights - both of which are attractive to a new owner.
However, a buyer will only get these if the transfer of ownership is approved by all the other teams. If not, they are effectively starting from scratch without the benefits, and buying only Force India's 400 staff and assets.
Abiteboul says his concerns do not centre on Mercedes per se, or Force India in isolation; indeed, he says he understands Wolff's position.
"I am not sure Toto is convinced that it is a good thing for F1 to go in this direction," says the Frenchman, who has an alliance with Mercedes on engines and other political issues in F1. "I think it is something he is pushed into looking at.
"I am not saying he is doing it, because I don't know what is in his mind, and I am not privy to the discussions he is having with the Force India administrators and buyers.
"But I am pretty sure that the way he is looking into it, he is seeing it is probably working for Ferrari and therefore (Mercedes) probably needs to mimic what they are doing. So I understand his position."
Abiteboul says his question is a big-picture one to Liberty Media, the US company that took over F1 last year, and governing body the FIA; it's just that the "Force India situation is linked in a certain way".
"We will make sure that no job is under any threat," Abiteboul says. "That is very certain. But we just want to understand the vision of the commercial rights holder in that respect.
"The only thing where we want to have a little bit of clarity is we understand that there are right now a number of incentives for large and smaller teams to get together and take advantage either of the current regulations or future regulations."
Would Renault veto the transfer of rights, naming and prize money in any sale of Force India if they had concerns about the new ownership effectively trying to form a partnership with Mercedes?
"The answer is no, because we want to save the jobs," Abiteboul says. "But we want to have the reassurance required before we have to vote that this will not be the case."