Belgian GP: Jolyon Palmer column - Why F1's ultimate underdog Force India has bright future
Last updated on .From the section Formula 1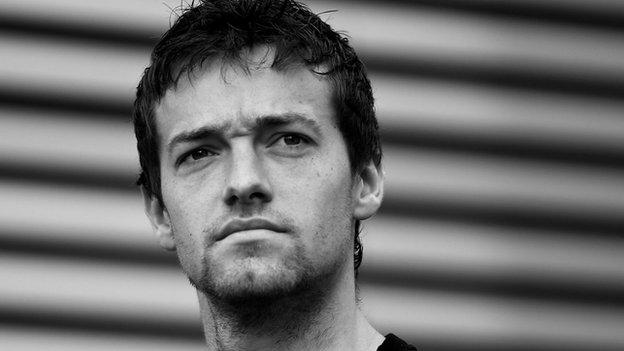 Former F1 driver Jolyon Palmer, who left Renault during the 2017 season, has joined the BBC team to offer insight and analysis from the point of view of the competitors.
Aside from a big first-corner crash, the 2018 Belgian Grand Prix probably won't live too long in the memory for many. But for the Force India team, it was one of the most significant weekends of their existence.
Just four weeks ago, at the Hungarian Grand Prix, the team entered administration as mounting long-term debts finally caught up with them. They remained hopeful of salvation, but things were bleak and only deepened throughout that race weekend.
Both drivers limped out of qualifying at the first hurdle, ending up in 18th and 19th on the grid at the Hungaroring, and subsequently finished the race well outside the points.
Force India are the ultimate underdog team of recent years. They have one of the smallest budgets in Formula 1, but have punched well above their weight, scoring numerous against-the-odds podiums (including one in Baku this year).
But at the end of July, the outfit known as the best 'bang-for-buck' performers was in turmoil, on the precipice of collapse and with an on-track performance to match.
Fast forward four weeks and things have never looked rosier for them.
Bright start of a new dawn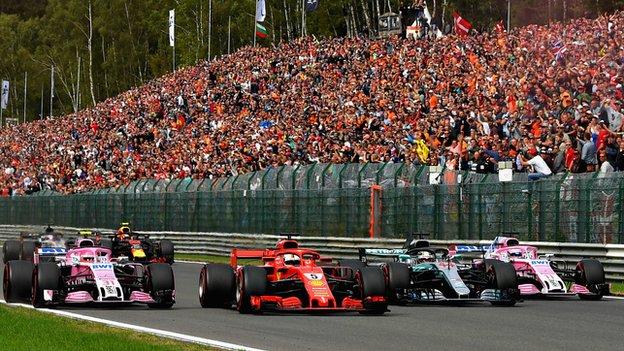 Bought out by a consortium led by Canadian businessman Lawrence Stroll, father of Williams driver Lance, more than 400 jobs at the factory have been saved, and the team reconstituted as a 'new' entry, with a new-ish name, Racing Point Force India.
More memorably, last weekend saw one of their best ever team qualifying performances - Esteban Ocon and Sergio Perez took third and fourth on the grid in a crazy, wet top 10 shoot-out in Spa on Saturday.
It could have been so different, as Perez survived one of the biggest moments I've ever witnessed at Eau Rouge, on slick tyres on a wet track.
It is a notoriously punishing corner and Perez absolutely rally-crossed it, sliding at high speed right next to the barriers. But he held on majestically.
Both drivers did a superb job and really showed the talent they both possess.
Finishing fifth and sixth in the race was ultimately the most they could do in a car far slower than those in the 'A' race ahead, but Perez's attempt to hold off Valtteri Bottas' Mercedes in the closing stages was valiant.
A horrible situation to perform in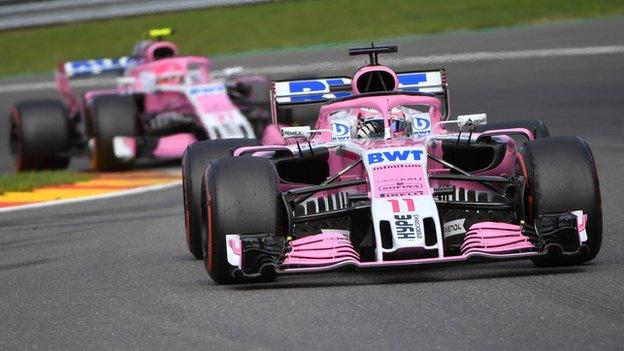 The whole season must have been uncomfortable for Perez and Ocon. We now know how close Force India were to collapse, and being in a team on the precipice is a horrible situation for a driver to have to perform in.
When I was third driver for Lotus in 2015, it was a similar situation. For the entire year, the team was scraping by with last-minute sponsorship deals left, right and centre, and a bit of goodwill to match. For the drivers, though, it is extremely tough.
I was only doing some free practice sessions in 2015, but the precarious nature of the team upped the pressure and responsibility massively.
Firstly, turning up not knowing if we would be racing or not, it was tough to get into the right mental space to drive.
Secondly, knowing that a lack of spare parts meant any damage could result in the team not being able to race, or even worse, collapse completely.
It made the job Romain Grosjean did to take a podium in Spa 2015 even more remarkable. As he celebrated, the bailiffs were literally impounding the Lotus cars and equipment in the Belgian paddock.
Lotus moved on and turned into Renault at the end of the year following a buyout, and Force India look to be through the chaos and unpredictability of their current predicament.
It is a testament to both drivers that they have remained so professional throughout, and ultimately managed to keep delivering on track through difficult times.
I had my first F1 test with Force India back in Abu Dhabi 2014 and I know first-hand how good they are, how hard working, but mainly what a great atmosphere they have in the team.
That must have helped them through the tough moments. It's good to see their future secure again and marked with a superb weekend performance.
Ocon the pawn in a wider game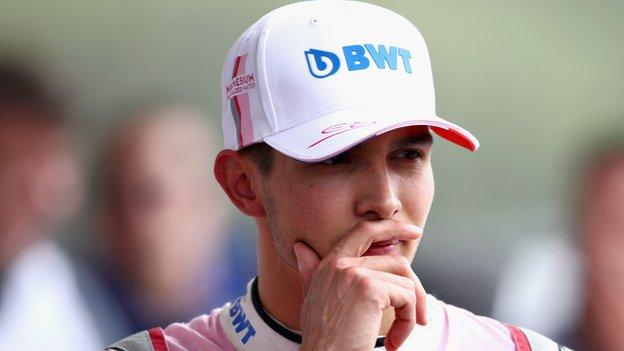 The next question now Force India have been saved is, what will happen to their drivers?
It would seem obvious to keep the same pairing for the future, given both are proven to be quick and consistent.
The only question mark last year was their relationship after a few on-track incidents and off-track niggles. They seem to have put that behind them this year, though, and have been much more controlled.
What changes the situation goes back to the saviour of the team - Lawrence Stroll.
His son Lance is racing for Williams and it's been heavily rumoured that Lance will be driving for Force India at the latest next year, and possibly before the end of this one.
It was one of the big talking points in the paddock last weekend, and no-one involved in the situation - Lance Stroll, Force India or Williams - said anything to suggest it was not on the cards.
Perez was instrumental in the changing of ownership at Force India. He was owed a large sum of money and ended up putting them into administration, with a view to them being saved in the long run. The feeling in the paddock is that Perez's seat is therefore safe as he is linked in to the new ownership. He also brings a sizeable chunk of sponsorship from his Mexican backers.
So the pressure and question marks gather around Ocon.
Ocon didn't need his performance in Belgium to demonstrate how good he is - he's already done that in his now two-year career in Formula 1.
In theory, the timing of the buy-out should be good for him, because logic dictates that Stroll, who has had an extremely difficult season in an underperforming Williams team, can't replace a future star who is delivering and is backed by Mercedes, who supply Force India's engines.
Stroll Jr switch would be risky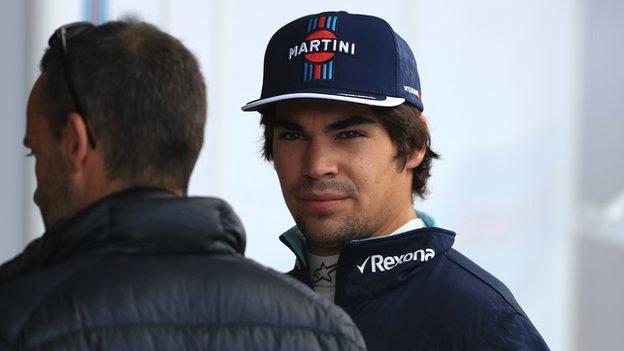 For Stroll Jr, there are two main risks in stepping into the Force India.
Firstly, his 'pay driver' image, which comes from his billionaire father buying his way up the motorsport ladder and into Formula 1, would only be massively enhanced.
Secondly, he would then be paired up alongside Perez and could be found wanting, as he was alongside Felipe Massa at Williams for the vast majority of last year.
Stroll's team-mate this year is rookie Sergey Sirotkin, and the Russian has been on average the quicker of the two, up eight-five in qualifying after 13 races.
Williams say it's impossible to judge the drivers in a car so bad. I disagree. Looking back through the years, great drivers have shown well in poor cars. Think back to Ayrton Senna in the Toleman in 1984, Fernando Alonso in a Minardi in 2001, or even more recently the late Jules Bianchi in the Marussia.
The Renault I was driving in 2016 was a difficult car as well, but the fundamentals of driving it quickly don't change. You spend practice setting up the car as best you can, and then qualify and race to the maximum within the limits of the equipment you are given.
Despite that, both Lawrence and Lance Stroll will surely be tempted by the prospect of a Force India drive, though, and the chance to move up the grid.
After all, Stroll has had a few stand-out performances in Formula 1 as well. There's talent there and that was proven by his qualifying effort in the wet in Monza last year, to put a Williams on the front row alongside Lewis Hamilton.
Although there are risks for Stroll, the signs are that he will end up in a Force India sooner or later.
That would mean Ocon is left looking for another seat, which would be a shame for him, and it's tough for him to be in this position.
A number of teams have potential vacancies for 2019 - McLaren, Williams, Haas and Sauber. But there are complications involved in all of them, especially in sorting out a deal for the remaining races of this season. And right now it's not obvious where he might end up.
But surely someone with his talent and with Mercedes behind him will be an attractive proposition for another team in the end?