Italian GP: Lewis Hamilton 'couldn't have imagined' win before race

By Andrew Benson
Chief F1 writer at Monza
Last updated on .From the section Formula 1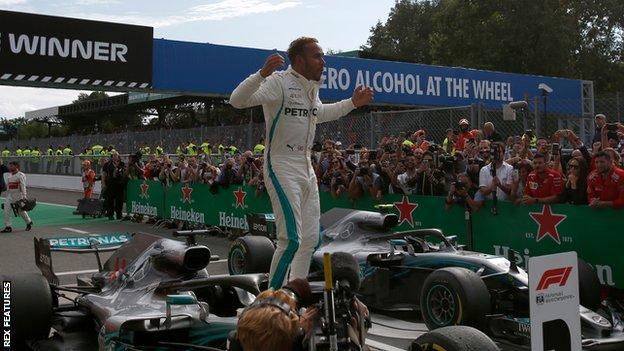 Lewis Hamilton said winning the Italian Grand Prix and extending his championship lead to 30 points was beyond his hopes going into the race.
"We couldn't have imagined we would have that kind of lead," Hamilton said.
"I'm really happy I've been able to extract more from the car and hopefully make that little bit of a difference."
There are seven races and a maximum of 175 points remaining this season.
"We are very fortunate to have capitalised on the different situations. I'm sure it's exciting for people to watch. We still have a long way to go but I am definitely happy with the day's result."
The title rivals clashed on the first lap at Monza, the German spinning to the back after hitting Hamilton as the Mercedes passed him around the outside of the second chicane.
Hamilton then followed the other Ferrari of Kimi Raikkonen closely before passing him nine laps before the end of the race.
The four-time world champion said he considered it one of his best wins.
"It's always very difficult to compare past performances," he said. "I always tell you that I don't really have the greatest of memories - but under the sheer pressure that we are under I definitely will consider it to be quite far up there.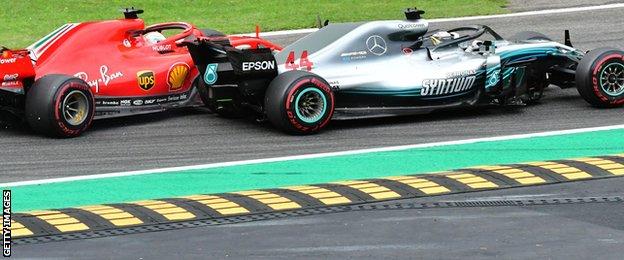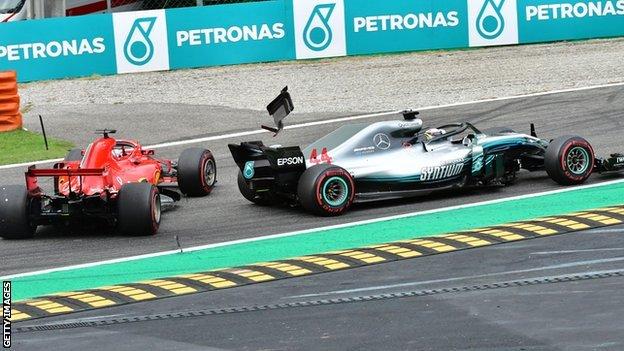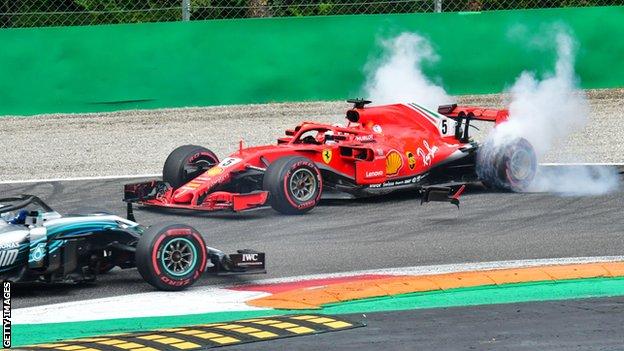 "And obviously to do it on Ferrari's home turf as well, with such a difficult crowd and so much pressure on the team with the performance that they have, to really be able to pull a little bit more out of the bag, and really make it stick…
"But I generally think that this year I've been quite consistent in my delivery. I have really been happy with what I've been able to extract from the car and again, just incredibly grateful and proud of the team for continuing to keep their faith in me, and keep pushing as they are."
Hamilton's overtaking move on Vettel was investigated by the stewards but they took no action, deeming it a racing incident.
He added: "I think it was a racing move. It's pretty much the same move that Kimi did to me (after a restart following a safety car period triggered by the incident).
"It's what we're supposed to do out there. We're supposed to be racing. I left him space."
Vettel said the clash was a result of a sequence of events starting with the first corner and implied that his spin was partly caused by the fact he had Raikkonen in front of him, which would cost him some grip.
"Lewis saw his chance around the outside but didn't give me any room and turned in," he said. "His car at that point feels a lot better than mine with nobody in front, and I had nowhere to go.
"It was unfortunate for us to get spun around and have a lot of damage but it could have been him spun around and us carrying on.
"It wasn't that way but given I was looking the wrong way and last, finishing fourth with the same strategy as everyone else is a decent recovery with a damaged car.
"It could have been worse. It is a disappointment for the people who turned up. They gave us a lot of support and we didn't delver for whatever reason."