Italian GP: 'Lewis Hamilton was superb but Sebastian Vettel's errors are adding up'

By Andrew Benson
Chief F1 writer
Last updated on .From the section Formula 1762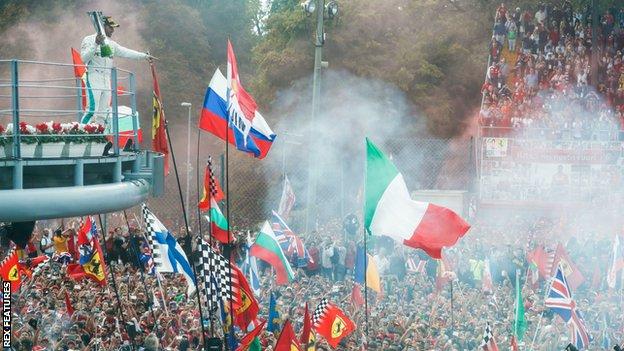 Lewis Hamilton should not have won the Italian Grand Prix, but he did. And how important will that be when the final reckoning in this thrilling Formula 1 championship is made down the line?
Stealing victories from others when the odds are against you is a measure of all great drivers, and Hamilton again proved his standing in the pantheon with one of his best races.
Conducting the podium interviews, former Ferrari driver Felipe Massa, the veteran of many scraps with Hamilton, summed it up: "Lewis, I would say one of the best races for you. I raced a lot with you but the race you did today was just fantastic."
While Hamilton celebrated, serenaded by the boos from the fanatical tifosi which he said had acted as motivation all weekend, Ferrari were left wondering how on earth a race they should have dominated got away from them - not for the first time this year.
This is becoming something of a theme for Vettel and Ferrari, and the way things are going it could cost them their best chance of winning a title for a decade.
Somehow, Ferrari and their drivers are squandering the advantage of the best car on the grid, and Hamilton heads off to the seven deciding long-haul races of the season with a 30-point lead, more than a clear victory.
Getting that back will not be easy for Vettel, even with what is arguably still the fastest car.
Ferrari's home trip-ups
Getting a definitive read on the relative pace of the Ferrari and Mercedes at Monza on Sunday was virtually impossible. Ferrari were unquestionably the fastest in qualifying - hence their front-row lock-out - but they lined up the 'wrong' way around, and that would prove crucial.
In the race, Hamilton was unquestionably faster than Kimi Raikkonen, but Vettel's car was damaged in the clash with his title rival on the first lap, the decisive moment of the race, and it cannot be known how quick he would have been.
But what can be said without question is it was Ferrari's race to lose, and lose it they did.
How? The short answer is Vettel slid into Hamilton and spun at the second chicane on the first lap as the Mercedes passed him around the outside, damaging his car and consigning him to a fight back through the field. The long one is it was a combination of a series of small but important errors from driver and team.
First, Raikkonen's pole. He won it partly because he was the last in the line of cars going for it in the final seconds of qualifying, so he got a slipstream from Vettel, who was behind Hamilton, who was behind his team-mate Valtteri Bottas.
The communication between Vettel and his engineer after Raikkonen had pipped him was illuminating. Initially celebrating, his engineer then said: "P2." Vettel replied: "We'll talk about it later."
Vettel was asked both after qualifying and the race what had upset him, and each time he declined to comment. The assumption was he was annoyed the Ferraris had not been the other way around, giving him the best chance of the advantage of the tow. He also said he had not been happy with his lap.
So the Ferraris started one-two, but with their title contender second. Would they let Raikkonen beat him? "If he is on pole, I guess he is allowed to win," Vettel replied.
If Ferrari discussed tactics before the race, and the best way to stay in front and keep Hamilton behind, it did not look like it as the first seconds of the race unfolded.
The drivers got away in grid order, but Vettel challenged Raikkonen into the first chicane as Hamilton was challenging him. All three were racing and what should have been Ferrari's perfect race began to come apart.
Vettel said: "At the first chicane I tried to pass him [Raikkonen] on the outside and, it is his right, he opens the brakes and defends.
"Then I am a little bit left with late braking and going deep into Turn One. I have to give him room and he is coming back. I think he locked up a little bit and I got squeezed.
"Fortunately Lewis was not in a position to react immediately so I could get back. But I had a poor exit out of Turn Two and I would like to be closer."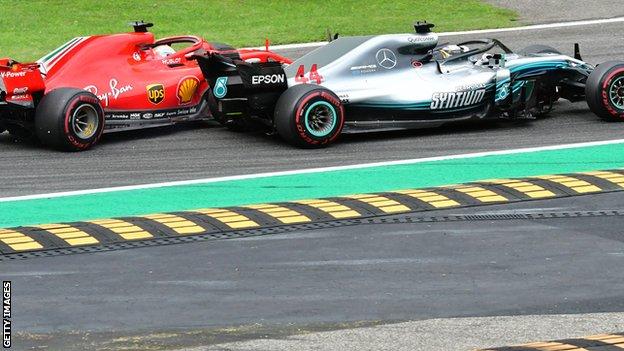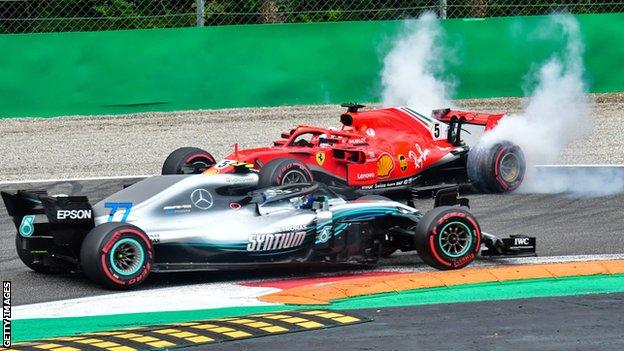 Vettel's slow exit from the first chicane gave Hamilton the chance to attack him through Curva Grande into the second chicane. As Vettel initially went to the inside to try to pass Raikkonen, Hamilton saw an opportunity on the outside. And so began the moment that wrecked Vettel's race.
"I wanted to get down the inside of [Raikkonen into] Turn Four," Vettel said. "I think I had the space but again Kimi opened the brakes which it is absolutely fine for him to do.
"I could do the same but then the apex is coming very rapidly and it would have been a nasty one.
"I tried to get out of there. Lewis saw his chance around the outside but didn't give me any room and turned in. His car at that point feels a lot better than mine with nobody in front, and I had nowhere to go.
"It was unfortunate for us to get spun around and have a lot of damage but it could have been him spun around and us carrying on."
That's one way of looking at the incident. Here's Hamilton's: "Kimi came across in front of him. He would have lost a little downforce. Obviously he went in a little bit deep.
"I gave him the right amount of space. I watched the replay just now. I was so proud of that manoeuvre. It felt great in the moment and it looked exactly as I experienced."
FIA F1 director Charlie Whiting said: "It was clearly a racing incident - just one of those things. How it turned out was in the lap of the gods." Or in the lap of the drivers involved, anyway.
Hamilton's super drive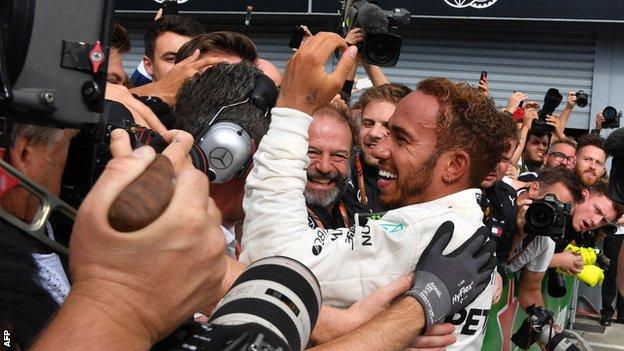 With Vettel out of the way, Hamilton was free to attack Raikkonen, and it was soon clear he had a pace advantage. He'd been asked to stay within a second and a second and a half of the Ferrari and had thought that would be impossible. But it wasn't.
Mercedes F1 boss Toto Wolff said: "In qualifying, we didn't have the quickest car and today we did." He believed this was down to Ferrari not being able to use in the race the engine mode that rivals can see gives them more power - especially electrical deployment - over one lap.
Hamilton tracked Raikkonen closely through the first stint, and now Ferrari had a quandary. They could not afford to let Mercedes stop Hamilton first, because his pace would almost certainly have meant he made up enough ground on his fresh tyres to be ahead after Ferrari's stop. So they made sure they stopped first, on lap 21.
Raikkonen came out on fresh tyres. Impressively, on the Finn's first flying lap on fresh rubber, Hamilton matched his pace. But then the Ferrari driver started gaining ground. He did not really need to, because he was already close enough to Hamilton to emerge ahead when the Briton stopped. He just needed to peg him where he was. But he kept pushing, setting a series of fast laps in the mid-one minute 23 seconds bracket, bringing the lead down by five seconds.
It looks like Raikkonen paid for this later in the race. Hamilton stopped seven laps after Raikkonen, and now the Ferrari was caught up behind the second Mercedes of Valtteri Bottas, running long to try to help his own race against Red Bull's Max Verstappen, which also conveniently allowed him to hold up Raikkonen.
So Raikkonen's tyres were now getting a double-whammy; worked hard in the initial laps after his stop, they were now being worked hard in the dirty air behind Bottas. And by lap 36, damage was visible on his left rear.
When Bottas pitted on lap 36, Raikkonen had spent six laps behind him, and now had Hamilton less than a second behind. Hamilton waited, turning the screw, watching Raikkonen struggle more and more, and on lap 45, with nine to go, he pounced, with another outside pass, this time at the first chicane.
It was a perfectly executed race by Mercedes - superb driving matched with intelligent team work. And very much not by Ferrari.
Are Ferrari throwing it away?
This was Hamilton's third win in four races. All three of them have come when Mercedes did not look to have the fastest car, and two after incidents in which it could be argued Vettel or Ferrari made an error of judgement.
The one in Monza was not as big a mistake as crashing out of the lead in Germany in July, as Hamilton closed in the wet. In many ways, it is harsh to call it a mistake at all. As Whiting said, it was just one of those things. But it remains the case that he did slide into Hamilton, and spin, and damage his car, even if his recovery with so many aerodynamic parts not working was impressive.
This follows Vettel's crash with Bottas at the start in France, being penalised for blocking Renault's Carlos Sainz in qualifying in Austria, which earned him a grid penalty without which he probably would have won, and unsuccessful passing attempt on Bottas at a restart in Baku in April, which converted what would have been first or second into fourth.
The mistakes, errors of judgement, misfortune, whatever, are small. But they are all adding up. As are the questionable team decisions by Ferrari.
Hamilton said: "The heat is there, and the intensity is there. It is unavoidable for both of us.
"It is very difficult for people watching who are not in it to feel what we feel. The pressure is at its highest I can ever remember. That is the pressure you put on yourself because you want to succeed, the pressure of all your desires and fears, of all the people depending on you, which is a lot of people. It has been an incredible day.
"The pressure is so high, all I can do is focus on trying to deliver every weekend. I definitely feel I am extracting everything and more out of the car. The last three wins, knowing those weekends we have not had the upper hand and have been a step or two behind, to finish ahead by one step, that is an incredibly proud feeling for everyone in the team.
"That excitement is what is spurring us along. There are still seven races to go and we are not being complacent at all. We have to deliver results like this more often. Today could easily have been the other way around.
"You have to find the right balance of being aggressive and not making mistakes. Sometimes you overdo it and leave stuff on the table and today I did not want to walk away having left something on the table, and think: 'If only I'd braked two metres later I could have passed him,' and all these different things.
"Naturally I love that wheel-to-wheel battle we had, and the one with Kimi. That is what I love most about racing. It is the single most amazing feeling. Every now and again you have it in F1 and when you do it is the greatest feeling."