Jolyon Palmer column: Brilliant Hamilton dragging Mercedes towards title
Last updated on .From the section Formula 1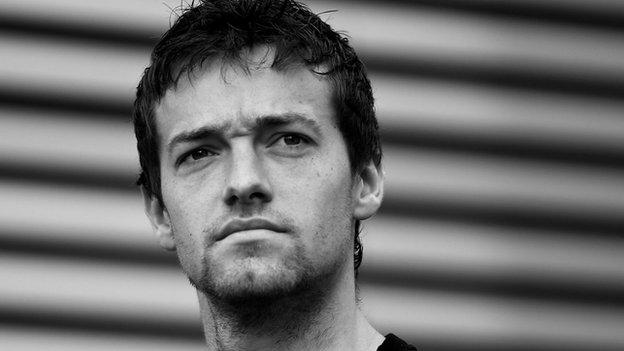 Former F1 driver Jolyon Palmer, who left Renault during the 2017 season, has joined the BBC team to offer insight and analysis from the point of view of the competitors.
There have been many moments during the 2018 World Championship that could be labelled "season defining", and the Italian Grand Prix was one.
One week earlier, at the Belgian Grand Prix, Ferrari's Sebastian Vettel won with the fastest car to bring Lewis Hamilton's points lead down to 17.
And after the Ferraris locked out the front row in qualifying at Monza, the signs looked ominous for Mercedes.
But Hamilton's drive on Sunday was exemplary. He knew he had to get among the Ferraris at the start, saying he needed to go back to his "old-school karting moves".
Well, he did just that, passing Vettel around the outside at the second chicane - a huge moment in the season.
Hamilton was aggressive and opportunistic in his move, but he had every right to do it. Side-by-side into the corner, it took only the smallest amount of understeer for Vettel's Ferrari to nudge the side of the Mercedes and spin.
It was a small error from Vettel but I don't really see that he could have done too much differently. He had to fight for the position but, baulked behind team-mate Kimi Raikkonen, he was missing the clear air that Hamilton had and used to his full advantage, going deeper on the brakes, attacking on the outside.
The contact between the two was fairly minimal but it was enough to end Vettel's victory hopes.
A racing incident definitely seemed a fair assessment from the stewards. It was one of those that could easily have gone the other way. Instead of the Ferrari facing backwards, Vettel could have pitched Hamilton into a spin and got the rub of the green. Here he didn't.
Vettel complained on the radio that Hamilton left him no room. In fact he did. Not a huge amount, but enough. Vettel's moment of understeer caused that collision.
Hamilton took a chance with the pass - that chicane is bumpy under braking, it tightens and pinches through the apexes - but to be a champion sometimes you have to take risks. It's all about calculating them in a split second and making the right decisions. It paid off massively for Hamilton.
But Hamilton's drive wasn't defined by one moment at the start of the race. He then hunted Raikkonen mercilessly for the next 44 laps, often following within a second, and putting the Finn under huge pressure.
To Raikkonen's credit, he never made a significant mistake, but Ferrari's decision to pit him early left him with worn tyres and Hamilton could pounce later on.
Throughout the race, Hamilton looked supreme on the brakes at Turn One. Every time he was in Raikkonen's wheel tracks, he was visibly gaining on the brakes.
So when he finally had a shot around the outside, he knew it could work. Raikkonen braked as late as he dared, but it wasn't enough. Hamilton was through and had an unchallenged run to a brilliant victory.
A masterclass from start to finish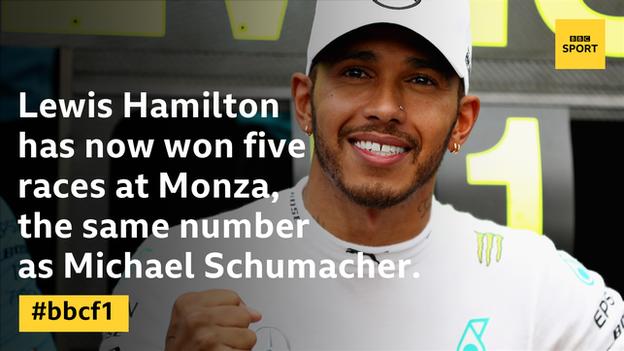 It wasn't just in the race that Hamilton was brilliant.
All weekend he was a chunk quicker than team-mate Valtteri Bottas. Almost every single lap he did throughout practice and qualifying was faster than his team-mate by at least 0.3 seconds. He was truly dragging his Mercedes into a fight for a race win it probably didn't deserve to be in.
With championships won and lost by small margins, brilliant performances and costly mistakes, this was a weekend that summed it all up.
Hamilton's performance speaks for itself. Putting everything together for the win, in one of the best drives I've seen him produce. It was less visually impressive than some of his wet-weather masterclasses, but he was ruthless and never made a mistake.
In fairness, Vettel drove a very measured race after his early spin. Recovering to fourth was as good as he could have hoped for, helped out by Max Verstappen's juvenile antics in the closing stages in defending from Bottas.
This was supposed to be the race that Vettel staked his claim for the 2018 title.
If he had won, the gap to Hamilton would have been at most 10 points, maybe seven if Raikkonen could have finished ahead as well. And with Ferrari having the fastest car at the moment, the title fight would be swinging his way.
Instead, that one moment at the start of the race means a potential 10-point gap is now 30 - as big a lead as either man has had this season - and crucially more than the 25 points awarded for a race win.
Psychologically, that makes a difference to a driver. Hamilton will head to Singapore, one of Mercedes' weakest tracks, knowing that even if he fails to finish he will leave ahead in the standings. It's a far more comfortable position to be in.
By contrast, Vettel goes to Singapore with the knowledge that if he fails to finish the title race will likely be effectively over, as it was there last year with his start-line crash.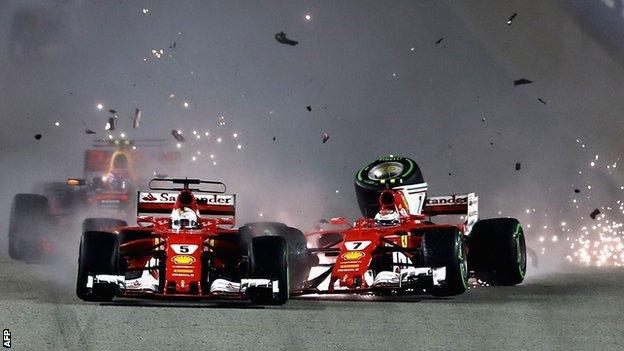 Where do Ferrari go from here?
The questions are again all going to be on Ferrari and Vettel - why is he not able to win, despite having the fastest car?
This has been the case in Germany,Hungary and now Italy. Three of the last four races. He should be ahead in the championship by now. Instead, he has a deficit to make up.
The first thing that should be obvious to the team will surely be the use of the second driver.
It's ironic that Ferrari as a team has a reputation for using team orders controversially.
Back in 2002 at the Austrian Grand Prix, Rubens Barrichello let Michael Schumacher through on the run to the line to take the win, amid a chorus of boos and much embarrassment. It was entirely unnecessary, as they had no competition for the title that season.
Then in 2010, when team orders were banned, Felipe Massa got a coded team order to allow Fernando Alonso through to win the German GP.
Again, it was met with reservations and technically broke the rules - Ferrari were fined - but at least that time it was the right thing to do, as Alonso almost went on to win the title.
Now, Ferrari seem insistent on giving Raikkonen and Vettel equal opportunity. It's the ethical, fair thing to do. But amid a ferocious title battle, it's foolhardy, and Mercedes, traditionally anti-team orders, are doing the opposite.
Bottas was off the pace of Hamilton in Monza, and Mercedes used him to help Hamilton's, and the team's victory bid.
In qualifying, after it became apparent Bottas wasn't in the mix for pole, he was used on the last run to create a slipstream for Hamilton, to aid his final attempt. It didn't quite work in qualifying, as Hamilton was ultimately beaten by both Ferraris.
Despite being ahead, though, Vettel was unhappy at being out qualified by Raikkonen, with clear frustration in his voice on the team radio on the in-lap, saying: "Let's speak afterwards". It was a curt response to his engineer congratulating him and saying he was second.
There was a stark contrast in tactics from the two teams.
At Mercedes, Bottas was towing Hamilton around. At Ferrari, Vettel was towing Raikkonen around. Why? It made no sense and Vettel knew it.
In the grand scheme of things, it is the fairest way for a team to operate, and most if not all teams alternate who goes out first in qualifying from one weekend to the next.
But when the championship is coming down to the wire and the margins are so fine, Ferrari surely have to put all their efforts behind Vettel.
It was no guarantee that Vettel would have been on pole had he been following Raikkonen in qualifying and not the other way around, but he would have had a better chance.
And from there, if Vettel had started on pole, he would have led the race and been out of reach of a Hamilton attack at the start. The whole outcome and title picture would be looking different.
Even in the race, Mercedes used Bottas to help Hamilton's race chances, leaving him out long enough to slow Raikkonen down and damage his tyres in the process.
It didn't particularly affect Bottas' race. In fact, it might have been the most obvious thing for Mercedes to do anyway. But it clearly shows where their loyalties are at this stage of the season.
In the hybrid-engine era, this is by far the toughest title fight Mercedes have had and they know it. After the race, team members declared it as their most enjoyable victory in years. Against the odds, in Ferrari's backyard, spurred on by the boos of the disappointed tifosi.
Bottas said after Budapest that he hated being called a wingman. Well, that's exactly what he is for the remainder of this year while the title remains in the balance, and if Ferrari want to win the championship they must do exactly the same with Raikkonen.
Other things have gone wrong for them as well. Vettel needs to cut out his own mistakes. That was how the German GP slipped away, as Vettel slid off the track in the damp. While the Hungarian GP got away because of wet weather in qualifying - another Ferrari weakness and a massive Hamilton strength.
Thirty points is not insurmountable by any means, but it is imperative that Vettel and Ferrari have a perfect final seven races if they want to win the title. This, after all, is the stage of the season when their 2017 championship bid unravelled.
The pressure in Italy was immense, having the fastest car, in front of around 100,000 passionate Italian fans.
But Ferrari's actions and failure there mean that that pressure will now remain immense for the run-in.
It's far from over, but you just start to feel that it's Mercedes' and Hamilton's to lose.