Lewis Hamilton: Ex-Ferrari chief 'disgusted' at booing of Mercedes driver

By Andrew Benson
Chief F1 writer in Rome
Last updated on .From the section Formula 1413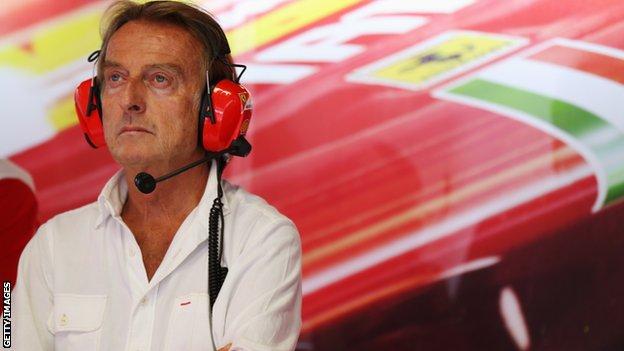 Former Ferrari president Luca di Montezemolo says he was "disgusted" by fans who booed Lewis Hamilton after Sunday's Italian Grand Prix.
Di Montezemolo, who ran Ferrari for 23 years from 1991-2014, said jeering and whistling at the Mercedes driver after his win was "a big mistake".
"Lewis is a fantastic champion, has always been very correct, and he made a fantastic race. Full stop," he added.
"What happened was very, very bad and I am really upset."
Hamilton shrugged off the boos, saying he had "harnessed it and turn it from negative to positive".
Di Montezemolo, who was speaking to BBC Sport in an exclusive interview at his office in Rome, added that any criticism from Ferrari fans about Mercedes' decision to use Valtteri Bottas to slow Ferrari's Kimi Raikkonen for a few laps to aid Hamilton was misguided.
Ferrari had employed similar tactics many times in the past, he said.
"I can tell you we won a few championships [this way] when I was the chairman and CEO - with Kimi and Felipe Massa, with Rubens Barrichello and Michael Schumacher, with Michael and Eddie Irvine," he said.
"So this is part of the history. And Bottas did not make anything incorrect or a foul. He made his race.
"When I have heard somebody make criticism… This is normal. In life it is difficult to win, but it is more difficult to accept when you don't win. So, yesterday I was not happy for what I have seen, from the public.
"Mercedes made its job. If I was in charge of Ferrari in the same condition as Mercedes, I would make exactly the same choice. So, finito."
Montezemolo rebuilt Ferrari from one of its lowest ebbs in the early 1990s and oversaw the dominant Michael Schumacher era of the early 2000s, as well as the team's last world title with Raikkonen in 2007, and Fernando Alonso's two near-misses in 2010 and 2012.
The 70-year-old said that he felt it was time for Ferrari to clear up the confusion over which driver will partner Sebastian Vettel in the team next year.
The seat is between Raikkonen and Sauber's Charles Leclerc, and Ferrari's new chief executive officer, Louis Carey Camilleri, said at the Italian Grand Prix that no decision had been made.
"When I was in Ferrari, I did not like to have people from the grandstand tell me what to do, so I don't want to do the same," Di Montezemolo said.
"But what I can say is that, in my opinion, at a certain point of the season - traditionally it was Monza - it is good to announce... who [will drive next year] because it is possible to avoid psychological attitude of the drivers."