Daniil Kvyat: Toro Rosso return for Russian driver a year after being dropped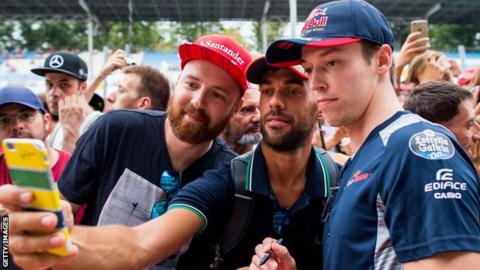 Daniil Kvyat is to make a remarkable return to Red Bull's junior team a year after being dropped from the drinks company's driver line-up.
The Russian has been re-signed to drive for Toro Rosso next season despite being demoted and then dropped twice by Red Bull in the space of 18 months in 2016-17.
Kvyat's team-mate has not been named.
Pierre Gasly is moving up to Red Bull to replace Renault-bound Daniel Ricciardo.
The Frenchman's 2018 team-mate Brendon Hartley's position is under threat.
Kvyat, 24, said he was "particularly pleased" to be re-joining a team he knows "very well".
"I never gave up hope of racing again, I am still young and I have kept in good shape to always be prepared in case another opportunity presented itself," he added.
"I will give my best to deliver what the team expects from me and I can't wait for everything to start again."
Toro Rosso team principal Franz Tost described Kvyat as "a high-skilled driver with fantastic natural speed".
"There were some difficult situations he had to face in the past, but I'm convinced that having had time to mature as a person away from the races will help him show his undeniable capabilities on track."
How has this happened?
Kvyat's move back into the Red Bull fold gives the 24-year-old a chance to revive a Formula 1 career that appeared over and marks a dramatic U-turn by the company's motorsport boss Helmut Marko, who is in charge of the junior driver programme.
Kvyat was hailed as "the real deal" by Red Bull team boss Christian Horner when he was promoted from Toro Rosso to the senior team for 2015 to replace Sebastian Vettel when the four-time world champion moved to Ferrari.
But Kvyat was demoted back to junior team Toro Rosso after the 2016 Russian Grand Prix, in a swap with Dutchman Max Verstappen, after being out-paced by team-mate Ricciardo and being involved in a number of incidents.
A year and a half later, Kvyat was dropped from Toro Rosso altogether after a disappointing run of form culminated in a crash during the 2017 Singapore Grand Prix.
He was briefly reinstated for the US race a month later when a complicated series of driver moves left Toro Rosso with an empty seat for that one race, but then dropped from the Red Bull programme altogether after scoring a point on his one-off return.
Kvyat has spent this year as a Ferrari development driver but has been called back as a result of a lack of other options to fill the seats at Toro Rosso for 2019.
What does this say about Red Bull?
Red Bull's decision to re-sign Kvyat betrays a gap that has appeared in their driver development programme.
They have successfully promoted Vettel, Ricciardo and Verstappen to their senior team in recent years.
But Ricciardo's move to Renault for next season, and the promotion of Gasly to replace him alongside Verstappen, has left at least one seat free at Toro Rosso, and no Red Bull junior driver waiting to fill it.
Red Bull's most advanced driver in the junior categories is Briton Dan Ticktum, who is second in the European Formula Three championship with one round to go. But he has not yet achieved sufficient results to earn a licence to drive in F1.
What about the other Toro Rosso seat?
Red Bull have not yet said who will be Kvyat's team-mate in 2019.
New Zealander Brendon Hartley has been driving for the team since last year's US Grand Prix, but the 28-year-old's future is in doubt.
Marko tried to sign British Formula Two driver and McLaren reserve Lando Norris to replace Hartley with immediate effect in the early summer, but was rebuffed by McLaren, who have now promoted the 18-year-old to a race seat in 2019.
Insiders say Hartley has very little hope of being retained next season. Asked at the last race in Singapore whether Hartley could still save his seat, Marko told BBC Sport: "Let's see how he does in the next couple of races."
If Hartley is dropped, a leading contender for the seat alongside Kvyat is former Manor and Sauber driver Pascal Wehrlein. The German, 23, last raced in F1 in 2017 and earlier this month was released from his contract as a junior driver for Mercedes.
Marko has ruled out taking McLaren reject Stoffel Vandoorne, who is to be dropped at the end of this season. The Belgian, who not long ago was regarded as one of the most talented drivers rising through the ranks, looks set to be forced to pursue opportunities elsewhere in motorsport.