Lewis Hamilton: Japanese GP winner regrets gulf between Ferrari and Mercedes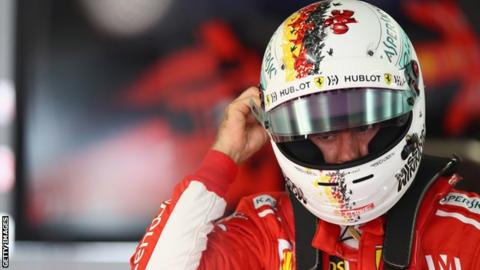 What had been a toe-to-toe battle between two evenly matched foes has turned into a rout almost in the blink of an eye.
Six weeks ago, Ferrari had the fastest car and Sebastian Vettel dominated the Belgian Grand Prix. Yet in Japan on Sunday, Lewis Hamilton took his sixth victory in seven races and moved to the brink of a fifth world title.
And the events of the race emphasised once again the gulf in class this year between two men who, statistically at least, seem closely matched.
Hamilton dominated the weekend in a Mercedes that within a month has moved from struggling to hang on to Vettel's Ferrari to overpowering it.
Ferrari made the latest in a series of operational management errors that have plagued their season.
And Vettel yet again became tangled up with a rival in a racing situation and came off worse.
The result is that Hamilton goes to the US Grand Prix in Austin, Texas, in a fortnight's time knowing that if he wins the race and Vettel is lower than second, or if the Briton scores eight more points than him, he will be world champion.
Hamilton takes off into the stratosphere
It seems surreal to think it now, but it is not that long since Hamilton and Mercedes looked like they were in a real dogfight for this title.
Hamilton won in Germany and Hungary in July, but both wins came despite the Ferrari being the fastest car. And Vettel returned from the summer break with a dominant victory in Spa that made it look like it would be child's play to close the 17-point deficit he had to Hamilton after that race.
Instead, Hamilton has made 50 points on Vettel in the subsequent four races. Mercedes have added remarkable amounts of performance to their car and Hamilton has exploited it to grind Vettel's challenge into the dust.
What does that feel like, he was asked?
"I just feel very proud of our performance," Hamilton said. "We have stayed on course with our plan and we are continuing to deliver at the strength and pace we have for a while now.
"It is a marathon not a sprint. I have been in races when I was a kid doing cross-country and just run out of stamina. We seem to have good stamina this year."
Vettel stumbles again
The reality is that Mercedes have developed such a performance advantage in the past three races that Vettel was probably always going to find it difficult. But he and Ferrari have certainly hastened their own end.
The team were at it again in qualifying at Suzuka, when they sent both Vettel and team-mate Kimi Raikkonen out on treaded 'intermediate' tyres at the start of qualifying when the track was dry.
Yes, it was a marginal call, and more rain was on the way. But they were the only team to do it. Vettel then did not help himself by running wide at Spoon Curve on his only lap in mostly dry conditions.
That put him eighth on the grid, and he initially did a great job of making up lost ground in the race, slicing up to sixth within three corners, which became fourth when Raikkonen and Red Bull's Max Verstappen tangled at the chicane.
The Dutchman locked up and Raikkonen tried to pass him around the outside, but Verstappen forced him off the track as he rejoined. He was penalised five seconds for the incident.
"He could have also just waited for me to come back on the track," Verstappen said.
It seems that what he meant was not that his rivals should hang back for him if he makes a mistake, but that Raikkonen would have been better off to duck back to the inside.
He also railed about the penalty being "ridiculous" and said he would "probably have another two points on my stupid licence but I don't care". He was given one.
Vettel knew Verstappen had a penalty but was eager to make ground and attack the Mercedes in front - "obviously I am not just racing him," he said. And he thought he saw an opportunity on lap eight.
He had a good run on the Red Bull out of the Hairpin, having saved some hybrid boost, and as they approached the difficult Spoon corner, he saw Verstappen's rear light flashing, indicating his electrical energy had run out. Vettel saw a gap and went for it. They collided and, as Vettel put it, "I ended up last again."
Vettel v Verstappen
Was Vettel over-ambitious in trying such a move at a corner that is not known as an overtaking spot because of its high-speed and limited braking, against a driver with a reputation such as Verstappen's?
The door was open, but it was always going to be close - and although Vettel got a good way alongside, he was not quite far enough to ensure wheel-to-wheel contact rather than wheel-to-important aerodynamic bits beside the cockpit.
"How many times do you think you can afford to wait?" he said. "The gap was there and there are not so many chances you get when you are close.
"Being that close as well through Spoon, I was quite sure it would be difficult to stay there and try something on the back straight.
"I was fairly open-minded coming out of the Hairpin and the tow that I had was very powerful and the gap was there.
"The problem was as soon as he saw I was side by side, he opened the brakes and tried to push. But I think that's wrong. I don't think he makes the corner either. He just looks at me.
"He should keep the overview of the track and we should both try to make the corner in the first place and then sort out who is inside, outside, first, second, whatever."
"For me the gap was there. Knowing that he closes and we don't make the corner and so on, then, no you don't do it again. I don't think there was anything wrong with trying."
Verstappen countered: "In that corner you can't overtake. I even gave him space, but he under-steered into my car."
Mercedes team boss Toto Wolff said: "I'm not sure it was a mistake. He had recovered well from his starting position and was running a solid fourth, and at that stage as a race driver you either have to go for it or not. The door looked open, and he gave it a go."
The stewards called it a racing incident.
How have Mercedes done it?
Vettel recovered to sixth, but his title hopes are now all but extinguished.
"It has been always very close," he said. "The last races obviously we were not as strong. The last weeks have been tough for us. We need to prove that the last races is not what we can do."
In other words - let's try to salvage some self-respect and prove we are not as bad as we have looked at times this season.
Ferrari's unravelling started in Italy after they locked out the front row, with the 'wrong' driver on pole, and then failed to manage the first lap effectively. Hamilton passed Vettel, who spun to the back, and the Mercedes driver drove superbly to steal victory from Raikkonen.
But it was Singapore where form really took a decisive turn.
At a race where Mercedes have traditionally struggled, Hamilton took pole with one of the laps of the season. Since then, Ferrari have not really seen them for dust.
Wolff said: "We have made a big step forwards since Spa. Monza, Singapore and now here. Three very different tracks and we took it as an ambition to perform on all three, to prove to ourselves that we are able to deliver a car on every sort of track.
"And now we are in a really good position. We understand how the aero works with the tyres, the drivers really feel well and have a lot of confidence in the car, and all that together made us outperform our competitors.
"It is obviously a combination of developments in the pipeline but equally finding clues."
He said he had reminded the engineers after the race of an email he had sent to the team after Belgium.
"I said: 'We are just not giving up. This is not a championship we are going to lose. We need to understand why we have been out-performed.' So it is development, research, analysis, mindset, work ethic, fun."
Hamilton regrets Vettel collapse
Hamilton said that if it was up to him, he would rather Ferrari were still in the fight.
"When we were having a race like Monza, for me I loved that and I would have been happy to have that every race," he said. "I honestly thought that was how it was going to be given how they were so strong in the previous two races.
"But they have lost a lot of performance and then it has been a little bit difficult for them. I would love to have a race right to the end. But I can't let that take away from the great job we're doing and our happiness."
Hamilton chose his words carefully, but he was not exactly trying to dissuade anyone from the impression that Ferrari and Vettel have effectively crumbled under the pressure Hamilton and Mercedes have applied.
"Always being able to go head to head with the guy you're competing with, and seeing who brakes earliest, and see who falters is the ultimate challenge of your mental stability under that pressure," he said, before pointing out that only a week ago in Russia he had passed Vettel on the track again after a strategy error allowed the Ferrari ahead.
"I always welcome them and I am grateful we have had some of those moments like in the last race. The strategy didn't work out well but it was good for letting me show my abilities under those pressured moments.
"Together we can claim credit for applying the pressure and ultimately maybe that is what happens in head-to-head battles with top competitors - eventually one of them, even though they are still performing great, can't always perform the same.
"It is a psychological war we are in. It is collectively. Everyone has been 100% and everyone has delivered time and time again. I am grateful to have always delivered when the time has been to deliver."
Finishing it off
Despite the maths being overwhelmingly in their favour, Mercedes were at pains to point out that nothing was won yet.
"I am very strict on not being complacent," Hamilton said. "There are still 100 points available. I know we still have to keep doing the job we are doing now right to the last flag. Also knowing from past experience, so much can happen."
Wolff added: "It ain't over until it's over. I have seen many black swans swimming across the pond in my life, things that seemed not possible and they happened. And that's why I'd rather wait until it is really done.
"Freak incidents happen everywhere and a DNF and a consequent bad result wipes out a big chunk of your points.
"I know that the probability from a statistical standpoint doesn't look likely but this is motor racing. It is a sport. Anything can happen. I don't even want to think about him breaking a finger.
"I don't want to dwell too much because this is bad karma too. Let's just get it done, go to Austin, have a strong weekend and hopefully seal the championship."