Lewis Hamilton not thinking about F1 world title before Mexican GP
Last updated on .From the section Formula 1368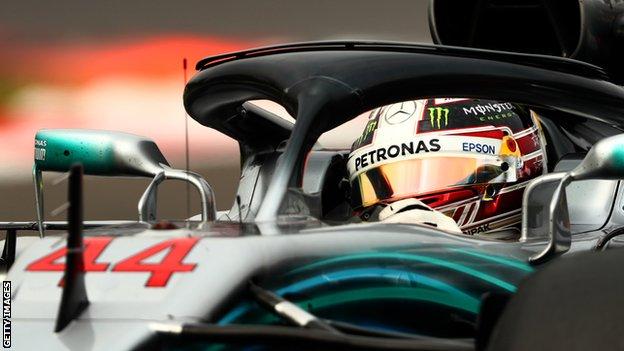 Lewis Hamilton is on the cusp of achieving something only two other men in history have done before - but he says he is not thinking about it.
A seventh place in Sunday's Mexican Grand Prix would be enough to clinch a historic fifth world title, matching the great Argentine Juan Manuel Fangio and only two behind all-time record holder Michael Schumacher.
And if the Mercedes driver's only title rival, Ferrari's Sebastian Vettel, does not win the race, it does not matter what Hamilton does, he will be champion regardless.
Hamilton starts third on the grid, with Vettel alongside him in fourth, the pair of them behind the Red Bulls of Daniel Ricciardo and Max Verstappen.
But Hamilton - just as was the case last weekend at the US Grand Prix, where he could also have clinched the title if results had gone his way - says the idea of celebrating his title in front of 135,000 wildly enthusiastic fans, in the converted baseball arena that makes up the last section of the lap and hosts the podium ceremony, is not on his mind.
"It is really strange, but just like the last race, there is a very weird feeling. I'm not thinking about it. I'm not trying not to think about it," he said.
"I want to win the race. I'm just on winning races. That's my mindset. I don't think: 'If this happens it would be great.' I think about doing my hard work tonight and making sure I study tomorrow and making sure I deliver. That's all I think about."
Winning the race, though, will not be easy. For one thing, the Red Bulls have been looking utterly dominant all weekend. For another, Hamilton only has to cast his mind back to this race last year for evidence of what can go wrong.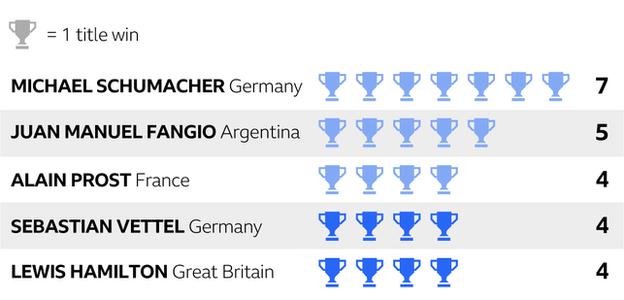 He started third then, too, behind Vettel and Verstappen. But after the Red Bull driver had passed Vettel into the first part of the right-left-right combination of corners that starts the lap, Vettel then hit Hamilton at the third.
Ferrari front wing to Mercedes rear tyre was all it took to puncture Hamilton's right rear, and he was forced to crawl back to the pits and rejoin a long way behind the field. He could recover only to ninth.
There is inevitably a possibility that sort of thing could happen again, and Hamilton is well aware of it.
"You saw what happened last year with the red car behind," he said, a reference to Vettel, who has been making a bit of a habit of colliding with other cars and spinning this year - he has done it three times in the last five races, compromising his title chances as a result.
But Hamilton said: "I don't ever let worry come into my circle. I don't worry. I will have fun tomorrow. What will be will be.
"I have professional drivers ahead, obviously one with less experience but still quick, and I will gauge it as I get to the corner and then it is a long race.
"The goal is always just to go the distance. Last year really sucked being that far back. So I hope I am in the mix."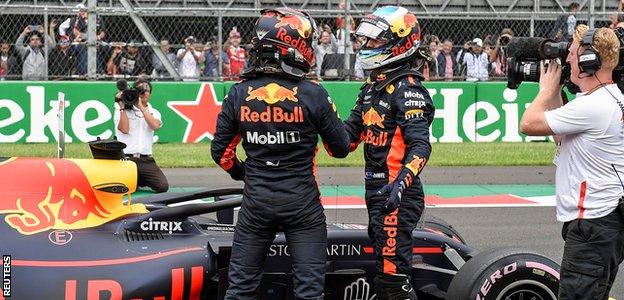 Battle of the Bulls
Hamilton's remark about a driver "with less experience but still quick" is a reference to Verstappen, who is renowned as being brutally hard and not always entirely clean in his racing with other cars.
The Dutchman had looked all weekend as if he was on course to achieve his own statistical milestone and become the youngest pole sitter in grand prix history, having dominated all three practice sessions and the second part of qualifying.
But in the final session it was not to be. He was troubled by engine problems - not for the first time this year - and missed out by just 0.026secs to a blistering final lap from Ricciardo, who beat his team-mate in qualifying for the first time since Monaco back in May.
If Verstappen looked a little sulky and entitled afterwards, that's just his determination and competitive spirit coming through.
The 21-year-old has an extravagant talent, and knows it, and he is aching to apply it to the sort of results Hamilton has been achieving with Mercedes.
But both Red Bull drivers will be determined to win for their own reasons, and many sniff potential trouble ahead.
Ricciardo is leaving Red Bull for Renault at the end of the season, and this could be his last chance to win for a while.
Verstappen, meanwhile, just wants to win - and it will be a matter of pride to equal the victory score between them this year at two each, rather than see it go out to three-one in Ricciardo's favour, especially after a year in which Verstappen's superiority has been plain once he got over his crash-and-error-strewn start to the season.
Ricciardo calls himself the 'honey badger', after the deceptively fierce African mammal that is known for its fearlessness, and Verstappen's aggression and no-compromise approach is well known.
Back in Baku in April, the two ended up crashing out of the race when Verstappen pulled an illegal double defensive move on Ricciardo, who, too close behind to react, smashed into the back of his team-mate.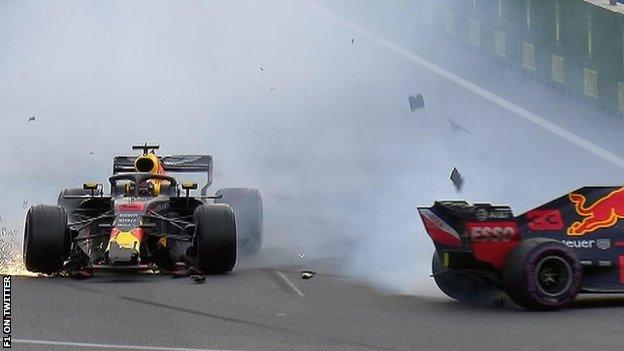 They were read the riot act by their team bosses after that - Verstappen, word has it, more than Ricciardo, given he was the one who actually broke the rules.
The race in Mexico will be dominated by tyre management, and overtaking is difficult despite the long straights, so the drivers will know the importance of the start and first corner.
But the long run down to Turn One not only gives Verstappen a chance to pass Ricciardo, but also Hamilton and Vettel, whose cars have more powerful engines, an opportunity to slipstream the Red Bulls.
Ricciardo said: "We're going to race, for sure. I think we've got no choice. There are going to be massive tows down to Turn One and if we don't race then someone is going to race us. But we will do it with some respect.
"I would love to get a podium myself but I know the team would love to have both cars up there and we can. We will try to keep it sensible and race hard but get to the end with big smiles."
Someone brought up Baku.
"No one wants to fight like Baku," Ricciardo said, "so hopefully no heart attacks tomorrow. Heart attacks of celebration and joy."
Verstappen said: "I don't even think about Baku any more."
"All done, Baku," Ricciardo replied.
We'll see.
Choose your top three drivers from the list below
Why are the Bulls so fast in Mexico?
Ricciardo's pole was Red Bull's second this year, a season that has been marked by the team's frustration that engine partner Renault has failed to close up on the performance shown by rivals Ferrari and Mercedes.
Many times this year team boss Christian Horner has publicly bemoaned Renault's power deficit. And eventually the team have lost faith - that is what has led to Red Bull's decision to switch to Honda engines next year.
Confusingly, at least at first glance, Mexico sees among the highest straight-line speeds on the calendar and yet Verstappen dominated the weekend until qualifying and Hamilton referred to the Red Bulls as "in a league of their own".
So why are the Red Bulls not struggling in Mexico as they did, for example, at high-speed Spa and Monza?
The two-pronged answer lies in the altitude of Mexico's capital city. At 2,200m, the engines have less power and the cars' aerodynamics are much less effective than at the lower altitudes at which cars normally race.
The engines lose about 22% of their total performance, but the power reduces proportionally for everyone, so those engines with less horsepower lose less overall.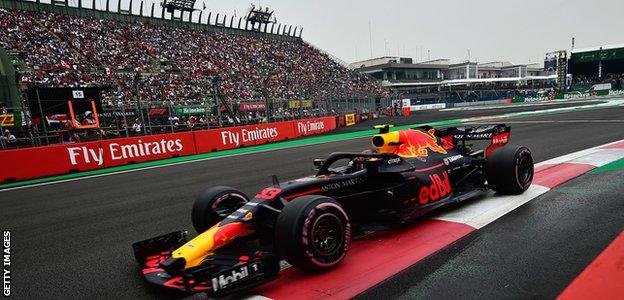 The Renault engine is said to be in the region of 70bhp down on the Mercedes and Ferrari in qualifying trim on a normal track. The best engines produce close to 1,000bhp.
The exact number is a closely guarded secret, but let's say for the sake of argument that the Mercedes and Ferrari have 980bhp. That would mean the Renault has about 910bhp.
At 2,200m, 980bhp becomes 764bhp; and 910bhp becomes 710. So Renault's actual power deficit, using these numbers only as a guide, would reduce from 70bhp to 54bhp.
In other words, the Red Bull has less of a disadvantage on the straights than at other tracks - and it also has more of an advantage in the corners.
As the aerodynamics are less effective in the thinner air, teams pile on as much downforce as they can.
So the cars run in the maximum downforce trim they use at Monaco and Singapore - where Red Bull are always very competitive; indeed Ricciardo won in Monaco this year - but actually produce less downforce than they would running the lowest downforce levels at tracks like Monza and Spa.
That means that the more downforce a team can crank on, the quicker their car will be in Mexico. The Red Bull is regarded to have the most downforce when running a high-downforce package, and night follows day.
On paper, then, they should walk away with the race. But that brings us back to the men in the cockpit - and Hamilton and Vettel are as aware of the possibility of intra-team drama in front as anyone.
"Being behind the Red Bulls is not a bad thing," said Hamilton, who cannot really lose from them being ahead as long as he stays out of trouble. "I don't mind those guys being where they are because that takes points away from both me and Sebastian so that's OK."