Lewis Hamilton fifth title: 'I don't know if it'll ever kick in'

By Andrew Benson
Chief F1 writer
Last updated on .From the section Formula 1
Lewis Hamilton said he was struggling to come to terms with his achievement after clinching a fifth world title at the Mexican Grand Prix.
The Mercedes driver has drawn level with Argentine legend Juan Manuel Fangio - two behind record holder Michael Schumacher on seven.
Hamilton said: "I don't know if it is ever going to kick in. It hasn't kicked in right now. I hope it kicks in soon.
"It has been an incredible year, the toughest year mentally and physically."
The 33-year-old sealed the championship with fourth place in what was one of Mercedes' weakest races this season, both cars struggling with tyre wear throughout.
He said: "In my mind, it is another day of fighting and I still have more races to win. It is not over for me.
"I have to go back and work with the engineers, debrief, get my mind right, start training again next week and get in gear so we can try to win [the next race] in Brazil.
"We have struggled in these last two races. I am conflicted but I am really happy it's over because it was a really tough race.
"It came to the last lap and I was just like: 'Please, hold it together, don't make any mistakes.'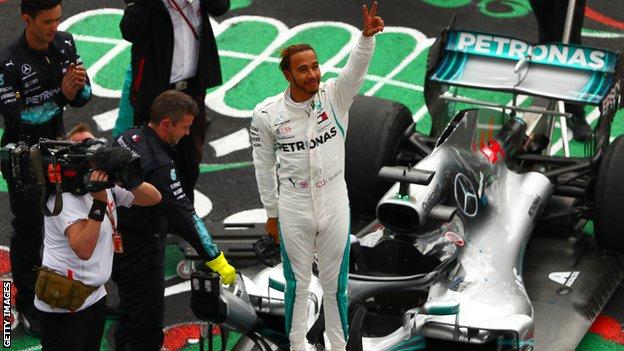 "But it has been a long, long year and it wasn't won today; it was won by an accumulation of great races from us as a team so I am just thankful for everyone's help and support.
"I have had incredible support. My fans have been amazing, my family have been so supportive, but most importantly Mercedes and my team, they have been the most incredible unit.
"We have been so unified and we have really worked to raise the bar. I am really proud of everyone."
Mercedes have won every single championship since turbo hybrid engines were introduced into F1 in 2014, which raises the real possibility that Hamilton could soon match Schumacher's all-time record of both championships and race wins. Hamilton is on 71 victories; Schumacher won 91.
But Hamilton said it was too soon to consider that.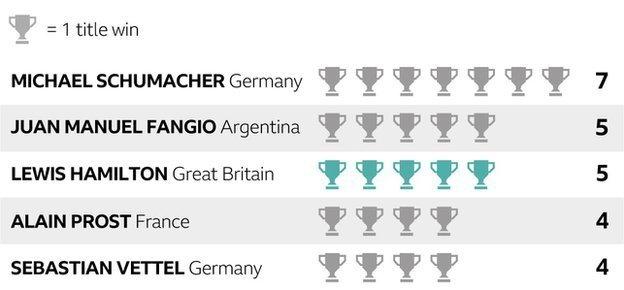 "I have to try to enjoy this one at the moment," he said. "You never know what is around the corner and up ahead of you.
"Naturally you have to set your sights and goals high but right now it is really important to cherish every moment.
"Time is so precious and I won't be standing here as a five-time world champion ever again so that is really what I want to try to enjoy right now.
"Naturally I am gonna keep racing. I love doing what I do and the support I get is incredible and the fans really help cheer me on to make me continue doing what I really love.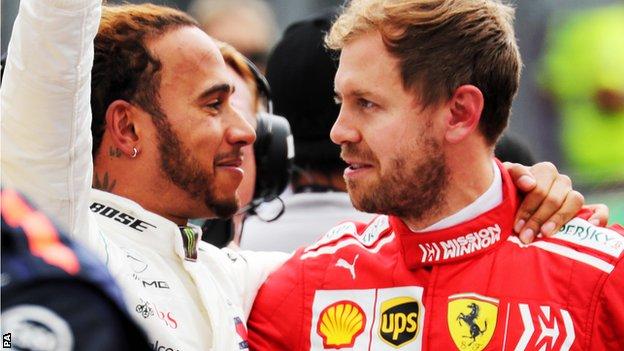 "To everyone back at home, I just want to say a big thank you to you whoever you are for your support and your opinion, good or bad. I hope you are having a great weekend and I hope the rest of 2018 is an amazing year for you."
Nigel Mansell, the 1992 world champion, said on Twitter: "Many congratulations Mercs and Lewis - brilliant job by both."
Mario Andretti, the 1978 world champion, added: "Love how modest and mature Lewis Hamilton is reacting after achieving his fifth world championship. Deserves all the credit Mercedes is giving him and more…"
Race winner Max Verstappen tweeted: "An amazing performance to win five titles and he has clearly been the more consistent one of the two fighting for the title."
Kimi Raikkonen, who was third, added: "He did the best job out of any of us as a driver and he deserves the win."