Lewis Hamilton: British world champion 'should be celebrated more' - David Coulthard
Last updated on .From the section Formula 1
Former Grand Prix racer David Coulthard says Lewis Hamilton should be hailed as one of the all-time Formula One greats.
The Briton claimed his fifth championship last month in Mexico, equalling Juan Manuel Fangio and is now just two off Michael Schumacher's record.
"There's no question he's an exceptional driver," says 13-time race winner Coulthard.
"He can be divisive but whether you like his personality or like his lifestyle, you have to recognise he is an iconic and successful British racing driver and we should be celebrating that more.
"I think we're quite shy about our success in the UK. If we look at America, they just had their World Series in baseball, it's a domestic championship but they talk about it like it's the world.
"We don't really celebrate how good we are across the board. We're good at what we do, not just in motorsport, and we need to shout about it more."
Williams and McLaren need to 'keep things fresh'
Coulthard believes that British constructors McLaren and Williams need to invest in fresh talent if they are to recapture the success they enjoyed in the 1990s and 2000s.
McLaren are sixth in the teams standings with two races remaining while Williams are languishing at the bottom of the championship order.
"By using the same ingredients, you are going to get the same cake every time," says the Scot, who made his F1 debut with Williams in 1994 before spending nine years with McLaren.
"It's confusing and disappointing to see the difficulty they have gone through. Success comes from the people, not the name on the door.
"It isn't self sustaining and it is all about the people involved at any given period. Clearly, both those teams have not been able to energise, reinvent and attract young talent and that is what they have to focus on."
He added: "They need to change the structures they have in place and bring in the young talent, that is where the energy comes from. You need to be challenged to reinvent yourself otherwise everything becomes a bit stale and that's what has happened with those teams.
"I remember asking Patrick Head if the success of a team is down to money or brain power," recalls Coulthard. "And he was very clear and said 'brain power'. So both teams need to harness and energise that brain power and they can be back winning again in the future."
Both teams appear to have taken on board the advice from the man who has 247 Grand Prix under his belt, signing two young British drivers who have been challenging for the F2 title.
"In George Russell for Williams, and Lando Norris with McLaren, they have signed have two great young talents who will now get their opportunity for long careers and successful careers and can bring the teams along with them," says Coulthard.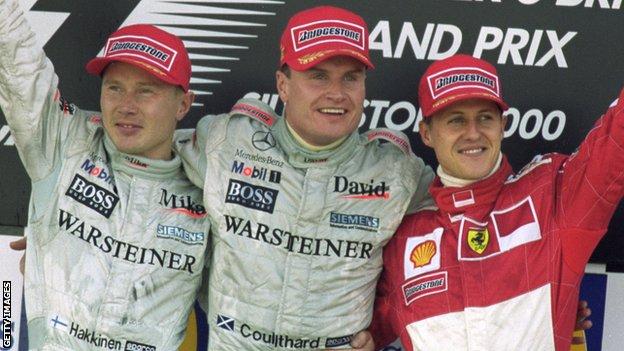 Teenage dreams so hard to beat
"I'd never have dreamt that I'd have ended up in Formula One on a world tour as I have been for 25 years," admits Coulthard.
"Motor racing has been a great family to me and I'm proud to have had the career I did. Not everyone who is involved in motorsport are the drivers there are some incredible characters and people that I've met along the way.
The 47-year-old made his F1 debut for the Williams team after the tragic death of Ayrton Senna in 1994 but he insists that he never thought about the dangers that are inherent in the sport.
"At no point did I ever feel the risk or I would die in a race car. The needs and desire of a young racer of different of that of the governing body," he said.
"I'm lucky enough to have the career that I did have, and although I wasn't quite good enough to win the F1 championship I'm proud I can say that I won 13 Grands Prix.
"I've won at some of the best tracks in the world and to win at Silverstone with my family there was something I will never forget."
Bringing Formula One to the streets
Coulthard is in Belfast to perform a demonstration run around the city centre with Red Bull on Saturday evening, and says it is a great chance to attract new fans to the sport.
"Even if you don't watch Formula One, you'll be amazed by the machine. The noise, the sound, it really is an amazing sight," he says.
He has previously brought Formula One to the streets of the Northern Irish capital in 2010, and will do three demo runs in Sebastian Vettel's 2012 winning RB8 - providing a rare chance to hear the roar of the old V8 engine that the sport used before the switch to quieter, less-popular V6 hybrids in 2014.
"It's the same race seat, the suit has just been let out around the waist," he said. "It's powerful, it's a fast car and it's a great reminder of how challenging it is. The best bit is I don't lose anymore.
"I've been retired 10 years but it is still a buzz to get back into the car and to see the reaction people have when hearing a Formula One car and seeing how the team operate.
"This sport is so much more engaging than a machine and person on a race track, it's a celebration of bringing people together."