Robert Kubica: Five other comebacks from severe injury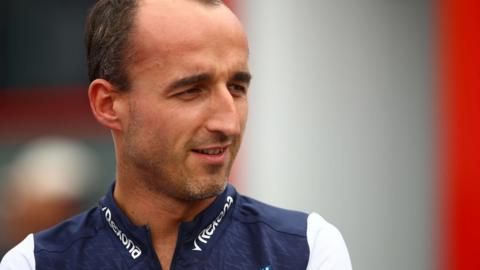 Polish driver Robert Kubica is to make his return to the F1 grid in 2019 - eight years after the accident which partially severed his hand.
Kubica will drive for the Williams team, for whom he has been testing this season. It is a remarkable comeback for the man who was seen as having the potential to be every bit as good as his contemporaries Lewis Hamilton and Sebastian Vettel - only to be badly injured whilst rallying before the 2011 season.
He went off-course and collided with a barrier that subsequently penetrated the car and went into Kubica's arm and body.
He was fortunate to survive. But the injuries to his hand were such that it was thought he would never drive again; even though the hand was reattached, he lacked dexterity and feeling.
But with great determination he has slowly worked his way back and, remarkably, he has convinced the bosses at the famous Williams team that he can do the job for them.
Here are five other drivers who came back to success after suffering devastating injuries.
Alex Zanardi
Known by his full name Alessandro when he first broke into F1 in 1993, Zanardi's life is the stuff of movies.
Unsuccessful in that first spell as his team, Lotus - who had once provided race-winning cars for Jim Clark, Graham Hill and Ayrton Senna - collapsed, the Italian went to race instead in the US in Indycar.
He took pole in his second race, was voted Rookie Of The Season in his first year and then won two titles in 1997 and 1998, enough to get him a drive back in F1 with Williams in 1999.
But again it did not go well. Williams' car was underpowered, Zanardi's driving was erratic and both typically struggled to make the top 10.
After just one season, Zanardi was replaced by future World Champion Jenson Button and he went back to the US. In his comeback race he started from last on the grid but made his way all the way up to first place.
But when he spun on cold tyres, his car was hit in the side by another driver. Zanardi lost his legs in the impact.
This was not the end of his time in sport, however.
After getting prosthetic legs, he went on to drive in the World Touring Car Championship - before turning his hand, quite literally, to handcycling.
His first race was the 2007 New York marathon, where he finished fourth. Building on that he won two golds and a silver at the 2012 Paralympics - and then the same again at Rio 2016.
Not only that, he got a role as Guido in the three Pixar Cars films.
Alessandro Nannini
Nannini was the ultimate victor of one of the most famous races of all time - the 1989 Japanese Grand Prix, when Alain Prost and Ayrton Senna collided.
Prost could not continue but Senna raced on after a push start, getting a new nose for his damaged car, taking Nannini and crossing the line first. But he was disqualified for cutting a part of the track when he rejoined the race, gifting Nannini his only win.
A year later, Nannini - the younger brother of famous Italian singer Gianna - was involved in a helicopter crash that severed his hand completely.
Miraculously, microsurgery was able to reattached the limb, although Nannini never regained full feeling in it.
This meant that - despite testing a Ferrari with a specially adapted steering wheel - he was not able to race in F1 again. But as his compatriot Zanardi would later do, he went to touring cars - where he was very successful, taking many wins in 1993 and 1994.
He then totally changed career, setting up an international chain of upmarket coffee shops in his own name.
Gerhard Berger
Shortly before the 1984 season in which he made his debut, Gerhard Berger would make an extraordinary escape - though this accident was not on the racetrack.
Travelling down a quiet country lane late at night in his native Austria, Berger was startled when a car pulled out of a side road and collided with him.
He was thrown from his seat, through the air and landed in a river, breaking his neck.
He would certainly have died had it not been for the extraordinary coincidence that two doctors, who had turned off the autobahn on a detour in search of food, happened to be behind Berger.
Knowing exactly what to do, the doctors carefully removed Berger from the river without causing further damage to his spine, and then took him to hospital where he had rods inserted into his neck.
The rods were certainly tested - in 1988 Berger had a colossal accident at the Tamburello curve at the San Marino Grand Prix that would later kill Senna - but he survived to enjoy a Grand Prix career that would last until 1997 and include 10 wins.
Graham Hill
Many divide double champion Graham Hill's career into two: the superstar before, and the long decline after, the terrible accident in 1969 that broke both his legs.
Hill was the reigning World Champion when he crashed badly at the US Grand Prix. Resting up in hospital, the famously witty Hill was asked what message he had for his wife; he replied, "Just tell her that I won't be dancing for two weeks."
While it is true that Hill did not win a race again after that, he did actually put in many good drives - but he was struggling with bad machinery, not least that of his own team, which he set up in 1973.
Nevertheless in 1972 - three years after the accident - he won the Le Mans 24 hours sportscar race, making him the only man in motor racing history to have achieved the "triple crown" of Monaco Grand Prix, Indianapolis 500 and Le Mans. He still holds that honour, despite Fernando Alonso's best efforts.
Juan Manuel Fangio
The man many still regard as the greatest driver of all time only raced in the World Championship for eight years - but missed an entire season in 1952 owing to a horrendous crash in Italy.
The Argentine, who was the reigning champion, had agreed to drive in a non-championship race in Monza only a day after racing in Northern Ireland - but missed a connecting flight from the French city of Lyon, meaning he had to drive through the night over the mountain roads of the Alps to make the start.
He arrived only 30 minutes before the 1430 start. The rules strictly should have excluded him, but such was his renown that the other drivers persuaded the organisers to let him enter anyway, from the back of the grid.
Incredibly tired, Fangio crashed on the second lap and was thrown from the car, breaking his neck.
The injury caused him to miss the whole of the 1952 season. But he was intensely lucky not to have been killed - F1 cars at the time had very little in the way of safety features, and drivers wore what were little more than leather hats for protection.
But survive he did - and, after he spent 1953 feeling his way back into the sport, he won four titles in a row from 1954 to 1957.