Abu Dhabi GP: All you need to know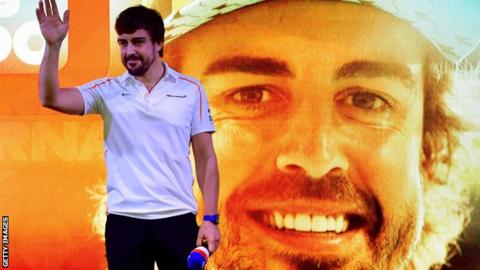 The curtain comes down on the 2018 Formula 1 season in Abu Dhabi on Sunday with a race that will be marked by farewells, last chances and new beginnings.
The season ends as it started, with Lewis Hamilton on pole in his Mercedes, although the lap, good though it was, could not match the spectacular effort with which he blitzed the field back in Melbourne in March.
On a track where overtaking is difficult, Hamilton should start as favourite, but a season of phases has entered a new one in recent races - a Red Bull one - so the grand prix will start with all six drivers from the top three teams regarded as potential winners.
Goodbye to a legend
Only two teams are keeping the same driver line-up next season, Mercedes and Haas, so a lot of drivers will be either bidding farewell to their work mates of the last season, or in some cases to F1 for good.
And of course there is one big goodbye - the last race of one of the greatest drivers in history, Fernando Alonso.
Much of the weekend has been focused on the two-time champion, reflecting his stature in the sport.
He was in the pre-event news conference. There was a farewell party for him in the paddock on Saturday evening.
McLaren have done a special livery on their cars and his overalls, reflecting the colours of Spain and his region of Asturias. He has a special helmet colour-scheme, one side the first one he used in F1 and the other the one he has used this year but with gold replacing yellow. He is wearing a special cap. There will be a farewell team photo. And a guard of honour as he heads to the garage for the final time before the race.
He has borne it with good grace, but it's not what he would have chosen.
"All these tributes are a bit embarrassing for me," he said. "I'm shier than people think and I want it go by quickly. I would like to be invisible until Monday, but I'll have to be here and talk a bit."
In the car, he has maintained his high standards to the end. A peach of a lap in first qualifying - nearly 0.7 seconds quicker than team-mate Stoffel Vandoorne - got him into the second session, and the team were very impressed. And it completed a 21-0 clean sweep of the Belgian this season, a rare achievement.
"The laps were good, definitely good," Alonso said. "I am happy with the feeling in this last qualifying.
"Sometimes you maximise the lap. Sometimes you realise there could be more potential in the lap or in that corner, that braking. Maybe you lock up the tyres, maybe you had traffic. There is always if, if, if, a couple of tenths here and there.
"But today I was happy with the last run in Q1 that put us in Q2 and also the lap in Q2 so the result and position is what we deserve. But on the personal side I am happy to finish on maximising the lap."
He has been saying for a while he expected to find Abu Dhabi emotional but he said on Saturday that "the whole weekend has been quite OK so far. A little bit emotional outside the car but inside the car you just put the helmet on and concentrate on the job. It was a normal feeling after qualifying.
"In the race we see how it goes but when you put the helmet on and start to do your job you have so much information from the engineers and so much going on it is quite easy to get into the mood of the race and you are not thinking too much about the situation."
He doesn't let up, Alonso. On Monday, he will be in Bahrain doing a car swap "for fun" with Nascar legend Jimmie Johnson, who he has become friends with this year. And after the winter, he has a world endurance championship to win, and the Indianapolis 500 to prepare for.
Beyond that, he says he does not know, but already there is talk of him testing McLaren's 2019 car at some point, perhaps helping the team at the odd race, and more racing.
"I don't know what I will do after Indy," he said on Saturday evening. "I may do a full season in Indycar. I may do a full season in F1. There are a lot of things I may do in motorsport."
He added earlier in the weekend: "For 2020 I don't know exactly what I will do, or what will be the plan. Further away, it's impossible to think - but yeah, who knows? Life is long and beautiful. I will always love Formula 1, so if I will be here in the future as a driver, as a father, as an FIA boss or whatever. I will think."
What will he miss most?
"I think driving the cars," he said. "The cars are something special. It doesn't matter if you're 14th, fifth or fighting for victory.
"Obviously if you can be on the podium and win, definitely it's an extra celebration and joy, but when you go out of there for qualifying, or even for free practice, and you're drive these cars, they are very special, y'know?
"The amount of technology behind these cars would be difficult to replicate in any other series - but on the other side there are negative aspects of F1, especially if you are 18 years here.
"You dedicate your entire life to F1. You have no friends, no family, no free time, no privacy, no wife, no kids, no nothing. It's just full dedication if you want to succeed. So, I think, I have other priorities right now."
Last chance for Bottas, potential relief for Vettel
A grand prix victory always means a great deal, championship-relevant or not. They are too precious for it not to.
But beyond that, this race is a last chance for a win in 2018 for Hamilton's team-mate Valtteri Bottas, who currently faces the prospect of ending a season in which the Briton has won 10 races and a fifth world title without a victory.
For Sebastian Vettel, third on the grid for Ferrari, it is an opportunity for a modicum of redemption - and, remarkably, a first win since Belgium at the end of August.
A win here would not ease the pain of a season which Ferrari and he could have kept alive to the end had they not made so many mistakes - even if they have been doing their best to reject that notion this weekend - but it would at least give them a boost going into the winter.
Daniel Ricciardo is leaving Red Bull after this race to move to Renault - and, barring a revolutionary step forward from the French team, for the popular Australian it likely represents the last realistic chance of a win for a while.
And Hamilton can simply rub in the superiority he has shown compared to his rivals all year.
Who will win in Abu Dhabi?
Choose your top three drivers from the list below
Before this season, Hamilton had twice won the championship before the last race - but this is the first year in which he has subsequently gone on to win another grand prix.
His victory in Brazil last time out was somewhat fortuitous after Max Verstappen's clash with Force India's Esteban Ocon cost the Red Bull driver the lead, and the five-time champion wants to make a point.
Hamilton said he didn't know why he had not been able to win before this year.
"I don't think it's 'cos I couldn't do it in the past, just didn't do the job," he said. "I think this year it was being in a different place in my life.
"I do want to continue to push the limits, push the boundaries and I wanted to finish the season on a solid high if I can. So that I can really continue to keep that foundation as strong as it has been this year so I can use that to start on next year. I think in the past it was still good.
"It was no biggie that I didn't win after I won the championship but I'm definitely happy with how it's going this year and there's still a long race. So still got a lot of work to do but really happy with today."
Prospects for the race
The race, as ever, will be dominated by tyres - managing them to stint lengths, not pushing too hard and so on.
The drivers are growing increasingly frustrated by this, want them to be more raceable in the future, and are worried changes planned for next year will only make their thermal sensitivity - the big problem with the Pirellis - worse.
Hamilton does not expect an 11th win this year to be easy, and figures on a challenge from Red Bull as well as Ferrari.
"Red Bull are always strong in the race," he said. "It's evident that they're probably better than all of us at looking after their tyres and operating where they don't have to manage the same as everyone else, whatever that's down to, downforce, whatever it may be.
"But it's not that easy a circuit to overtake. And you know the Ferraris are very strong on the straight, so for them to propel past a Ferrari, I'm sure will not be easy."
Ricciardo, though, is hopeful. And with one driver starting on hyper-softs on one on ultra-soft, like the Ferraris, they have strategic options.
"Race pace is good," Ricciardo said. "Even if we hang there we can try and undercut or something."
As a technical aside, Mercedes are running their controversial tyre-cooling wheel holes for the first time since Japan this weekend, even though they had clearance as to their legality in Mexico, following a Ferrari query. So it will be interesting to see how their tyre wear goes after struggling with it at all the races since they ran them closed.
In F1, nothing ever stands still. Fluidity and the constant search for progress drives things ever onwards, and that's as true at the last race of a season as the first.