Sebastian Vettel: German says he needs time to recover after disappointing year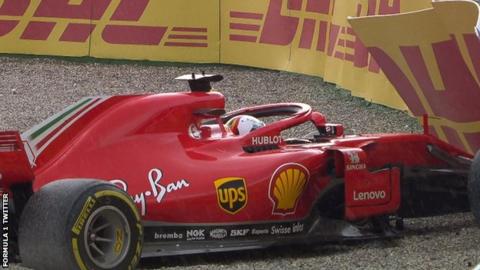 Ferrari's Sebastian Vettel said he needed "some time for myself" to recover from a disappointing year and his defeat by Lewis Hamilton.
Vettel and his team made mistakes that cost him the chance to take the title to the final race of the season in Abu Dhabi, which Hamilton won.
The four-time champion said: "It has been quite an exhausting year for me. I definitely need a bit of a gap."
However, he said that after a break he would be "very, very hungry" for 2019.
Vettel said he believed he could be "better than I was at times this year" next season.
"The year I've had, I don't think I ever have any problems raising my hand if I made a mistake," he said.
"Knowing as well, as a racing driver, how quickly things can go wrong, how quickly things could have gone differently this year, I think, yeah, I have to review a couple of things.
"But there's other things that went wrong and don't need a lot of reviewing and not over-complicating things too much.
"I know what I need to do. Certainly, here and there, looking back I haven't been at the top of my game so… I look at myself first."
He added that Ferrari as a team had "lost our path a little bit halfway through the year", a reference to developments that were introduced at the Singapore Grand Prix and gave the team a drop in competitiveness for three races.
"Things didn't come together so obviously we did a step back towards the end of the year which enabled us to be more competitive again.
"But I think we've understood what went wrong. We obviously tried to do a better job in the future. That was one key thing.
"On the other hand I think we had a lot of lessons. It was a tough year in general.
"The team is strong and the team has potential but surely it was a lot of things that happened inside the team."
He added that the death of Ferrari president Sergio Marchionne of complications following a surgery for cancer in his shoulder "obviously had an impact and was tough".
He added: "It's up to us to look into every single detail and make sure we come out as a stronger group, enabling us to build a stronger package for next year and for the future."