McLaren have no regrets about split from engine partner Honda, says chairman

By Andrew Benson
Chief F1 writer
Last updated on .From the section Formula 1107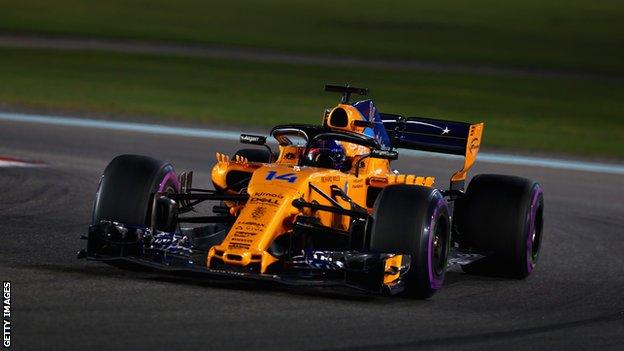 The chairman of the McLaren Group says he has no regrets about the decision to split from engine partner Honda before the 2018 season.
Sheikh Mohammed bin Essa Al Khalifa of Bahrain admitted it was "an expensive decision" but added: "It was in the long-term interests of the company."
McLaren have just finished the worst season in their history.
Honda switched to Red Bull's Toro Rosso junior team and next year will supply Red Bull, who won four races in 2018.
Red Bull, who this year used the same Renault engine as McLaren, have data on both power-units.
They believe the Honda engine ended the season with more performance than the Renault and are hopeful of a step up in competitiveness for 2019 which will allow them to challenge world champions Mercedes and Ferrari more closely.
Meanwhile, McLaren having the same engine as Red Bull this year exposed the fact their chassis had fallen from competitiveness, and a restructure of the team has been instigated.
McLaren started the season expecting to challenge Red Bull for podium finishes but have instead had what has been on average the second slowest car on the grid.
They managed to finish sixth in the constructors' championship largely thanks to Fernando Alonso's driving.
That has forced McLaren to recognise their car and design team were not as good as they thought they were. As a result, they have split with several key figures who were involved in the 2018 car and its predecessors, and set up a reorganised management system with a number of new employees.
Sheikh Mohammed is the chairman of the McLaren Group, and the representative of its majority and controlling shareholder, the Mumtalakat investment fund of the Bahraini government.
He said: "On the one hand, (it was) frustrating. On the other, we are committed to this. The way we were heading, the change was bound to come. Tremendous respect for Honda but the relationship wasn't working and so we had a civilised discussion and we decided to part ways."
He added: "We will see this through. Frustrating, because we are racers at heart, but you just have to power through."
The decision cost McLaren in the region of a net $100m (£78.7m), taking into account the loss of income from Honda, which supplied free engines and a significant amount of financial backing, and the need to buy engines from Renault.
That is an ongoing cost, only a small part of which has so far been recovered by attracting new sponsors.
What went wrong?
McLaren started the year badly and fell back in competitiveness as it went on.
Their best performances came at the three slowest tracks of the year - Monaco, Hungary and Singapore - where the car's excessive amount of drag was less of a penalty than at other circuits.
Asked why the team had not made more progress with the car during the season, chief executive Zak Brown said: "The car is not good."
Sheikh Mohammed added: "We're confident we know why we haven't been able to develop this year's car. There is a fundamental problem (with it). And we think we've addressed it.
"I don't know if we want to disclose what we have discovered and why, but we have taken steps, and the development of next year's car has helped us understand what went wrong here."
He said analysis did not confirm what was wrong "until after the summer break".
"Had we discovered that in April we would have had a B car," he said. "But it was too late."
Mohammed added Mumtalakat, which had to pump extra funding into McLaren to cover the losses, was committed to the Formula 1 team for the long term.
Brown said McLaren's return to competitiveness was "a journey" but he and Mohammed were unwilling to put a timeline on it.
A big technical shake-up
Brown said he was "confident we have identified our personnel and structure that ultimately led to our technical issues".
McLaren started the season with a three-pronged technical leadership team, but head of aerodynamics Peter Prodromou is the only member of it still employed.
Chief technical officer Tim Goss left the company in April followed by engineering director Matt Morris in July. Eric Boullier resigned from his position as racing director in July.
McLaren have signed James Key from Toro Rosso as their new technical director but the Englishman cannot start work until an unspecified date next year.
Former Indycar driver Gil de Ferran was appointed in July as sporting director
McLaren have also re-signed Pat Fry, who left in 2010 to join Ferrari, as engineering director. He and performance director Andrea Stella, who joined the team from Ferrari with Fernando Alonso at the end of 2014, are leading the design of next year's car in Key's temporary absence.
Brown said: "If you were to say who are the fathers of the race car, those two guys (Fry and Stella) are leading the charge and then there's a design group and an aero group.
"It's a collective effort but those two guys are very joined up, which was one of the issues we had. We had three and they weren't as joined up as they should and could have been.
"There was no clear lead. There is a lot more clarity on how the car's been designed and going to be developed, and shared goals and targets that are agreed upon to have a kind of a common goal moving forward. And then of course when James starts he will be technical director and it will be very clear."