Alexander Wurz to lead all-female W Series selection programme

By Andrew Benson
Chief F1 writer
Last updated on .From the section Motorsport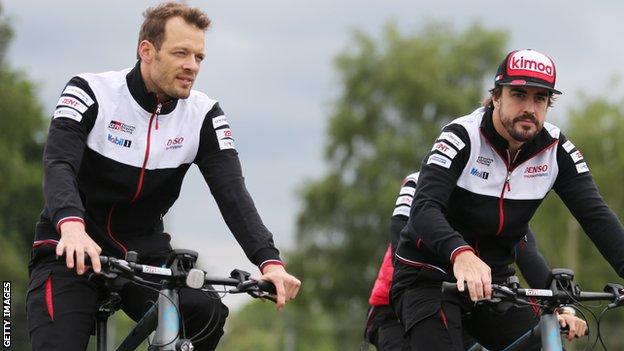 Ex-Formula 1 driver Alexander Wurz is to lead the assessment programme the new all-female W Series will use to select competitors.
W Series starts next year and will provide free drives to 18 women selected following rigorous testing.
Grand Prix Drivers' Association chairman Wurz said: "W Series might help the promotion of females in all motorsport and I salute that effort."
He said there was no reason women could not compete with men on an equal basis.
"We know there is no difference in capability between male and female drivers," said Wurz, who will use the same assessment system his company used for governing body the FIA's institute of excellence.
"That we don't have enough female drivers in racing is just a mirror of society because families don't take enough girls to the kart track.
"W Series will hopefully create a scenario where mum and dad can say: 'If I bring her to karting, she might be selected for W Series.'
"I have a positive feeling towards the series so I am taking it as a responsibility to choose the people who really deserve a chance in a category where they will become professional racing drivers.
"I will be on the judging panel along with [fellow ex-F1 driver] David Coulthard and others. The idea is not to find the fastest person at the assessment, necessarily, but those who have the most potential and show the most promise."
Among the leading names who came through Wurz's programme for the FIA were former McLaren F1 driver Stoffel Vandoorne, who is moving to the all-electric Formula E series for the 2018-19 season that starts next month, and Indycar winner Alexander Rossi.
W Series has released a list of 55 names who will undertake the assessment early next year. It will include fitness tests and psychometric profiling, as well as multiple driving skill tests.
Wurz said: "The goal is to put together the toughest, most sophisticated selection involving all aspects of a racing driver's life - the mind, the body, driving, fitness, psychological and psychometric, skills of interviewing and presenting and so on."
Among the names on W Series' initial list of candidates are Britons Jamie Chadwick, the first woman to win a Formula 3 race, and former GP3 and F3 driver Alice Powell.