Italian GP: Charles Leclerc wins in Italy after 'dangerous' defending on Lewis Hamilton

By Andrew Benson
Chief F1 writer at Monza
Last updated on .From the section Formula 1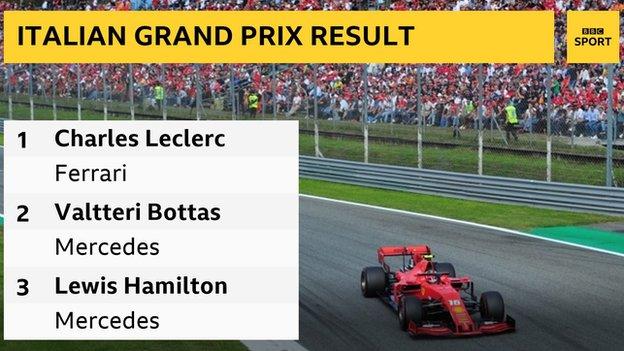 Ferrari's Charles Leclerc just held on under intense pressure from both Mercedes drivers to win a nail-biting, incident-filled and controversial Italian Grand Prix.
The 21-year-old pushed the rules on driving conduct to hold off Lewis Hamilton through the middle of the race before Valtteri Bottas took up the challenge in the closing laps after a mistake from the world champion.
And there were fresh concerns surrounding Sebastian Vettel after yet another driving error in a long sequence dating back to the middle of last year.
Leclerc's victory was his second in a row, following his maiden win in Belgium a week ago, and Ferrari's first at their home race since Fernando Alonso triumphed in 2010.
Leclerc screamed with delight into his radio as he crossed the line, after a victory that further underlines his status as a major new force in F1.
The 1978 world champion Mario Andretti, who drove for Ferrari at the start of his career and at the end of the 1982 season, said: "Fab win for Charles Leclerc, under pressure all the way. Future world champion for sure."
Eight days after the loss of his friend Anthoine Hubert in a Formula 2 crash in Spa, Leclerc was overcome with intense emotions after the race.
"I have never been so tired," Leclerc said, before switching to Italian and saying: "It was the hardest race" and describing the win as "a dream".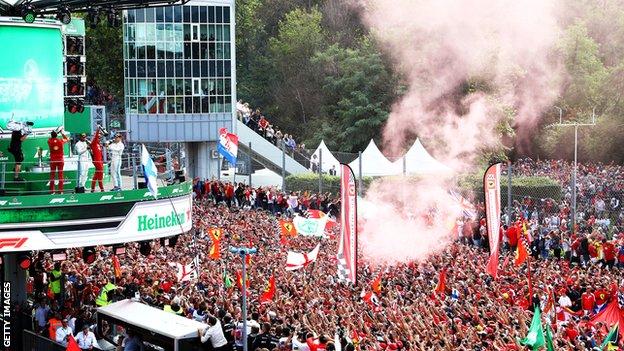 Leclerc's 'dangerous' battle with Hamilton
This victory was even harder won than at Spa, when he drove a measured race to finish less than a second ahead of Hamilton.
This time, Leclerc had a Mercedes behind him throughout and he had to resort to some questionable tactics to hold Hamilton off.
Mercedes failed in an attempt to pass Leclerc with the so-called undercut, when a team stops their driver a lap earlier than their rival to try to benefit from fresh tyres.
The pit stops completed, Hamilton had his first chance on track on lap 23 when Leclerc locked up into the first chicane.
The world champion was alongside into the next proper corner, the Roggia chicane, and Leclerc moved over and pushed Hamilton slightly off the track.
Hamilton complained he had broken a rule saying a driver has to leave a car's width on his outside if he is defending in this fashion but the officials chose to give Leclerc a black-and-white warning flag - the equivalent to a yellow card in football.
Hamilton continued to track Leclerc, who on lap 35 locked up at Turn One and had to cut the chicane.
Again, Hamilton was on his tail accelerating out of the corner, and this time Leclerc made a very late move through Curva Grande to fend off the Briton.
"There is some dangerous driving going on," Hamilton said over team radio, but there was no further word from the stewards.
Soon, Hamilton's tyres started going off - Mercedes had fitted mediums at the stop while Ferrari had chosen hards.
The bell tolled for Hamilton's chances on lap 42, when he locked up and went straight on at the first chicane, and Bottas slipped by into second place.
Seven laps later, Hamilton pitted for fresh tyres in pursuit of the point for fastest lap, which he secured.
Hamilton's championship lead over second-placed Bottas is now cut by two points to 63.
Not enough pressure from Bottas
With Hamilton out of the picture, it was Bottas' turn to attack Leclerc.
The Finn had medium tyres that were eight laps fresher than Hamilton's and should have been able to challenge Leclerc even harder than the world champion had.
But he was unable to do so. Leclerc, despite his now very worn tyres, kept him at arm's length.
And when Bottas locked up at the first chicane on lap 51 lapping Lando Norris' McLaren, Leclerc had the job done and secured a victory that will live in his memory for the rest of his life.
Vettel's Ferrari status hanging by a thread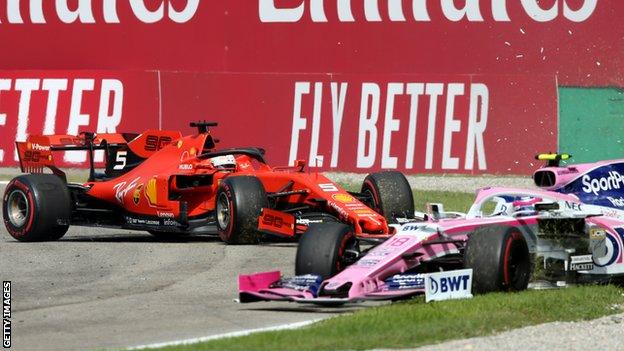 While Leclerc took a win both brilliant and controversial, Vettel had a nightmare.
He ran fourth for the first five laps, after briefly losing the place to Renault's Nico Hulkenberg on the first lap, but then lost control of his car at the Ascari chicane.
As if that was not bad enough, he rejoined the track without looking and crashed into Lance Stroll's Racing Point.
The Canadian then committed a similar offence as he got going again, narrowly missing Toro Rosso's Pierre Gasly.
Vettel was given a 10-second stop-go penalty for the incident, the most severe in-race penalty available to the stewards short of a disqualification.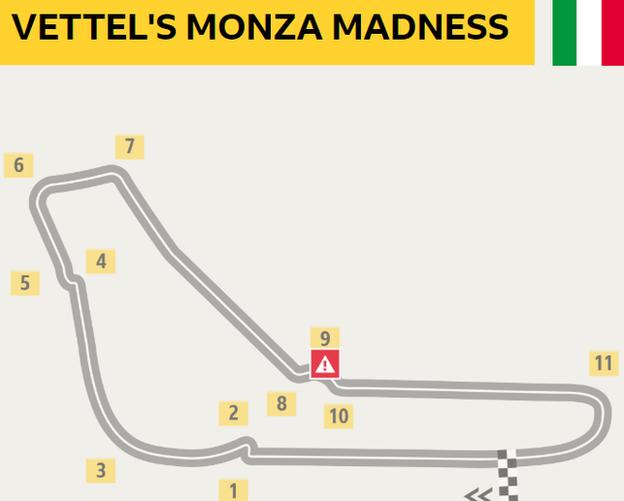 But there will be those who feel he deserves a further penalty, perhaps a grid drop at the next race in Singapore, after a quite ludicrous piece of driving for a four-time world champion.
Vettel began the season as the number one driver at Ferrari but has been consistently outperformed by Leclerc. The Monegasque has now won two races, with Vettel without a victory since Belgium last year, and has out-qualified the German several times in 2019.
In addition, Vettel got three penalty points. That's nine for the 12-month period. Three more and he gets a race ban.
The Renaults of Ricciardo and Hulkenberg took fourth and fifth, ahead of Red Bull's Alex Albon, who recovered after running off track early on trying to pass McLaren's Carlos Sainz around the outside of the first Lesmo corner.
Driver of the day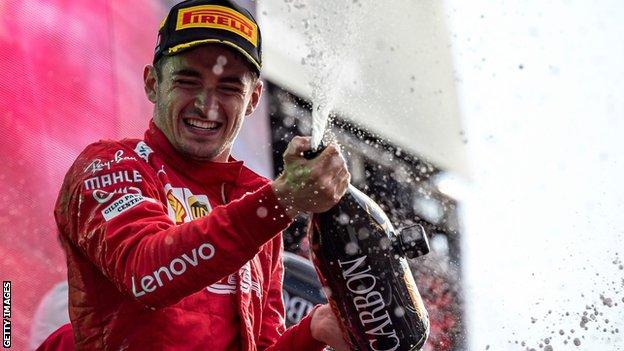 What happens next?
Singapore in two weeks' time. It's tight and twisty and has lots of corners, so Ferrari can expect to struggle after two consecutive wins. But can Red Bull take the challenge to Mercedes at Marina Bay? Max Verstappen will fancy his chances.
What they said
Leclerc said: "I did a few mistakes but at the end I finished first. Very happy with this. I need to be careful with the mistakes but none of them made me lose position today."
Bottas said: "I think we had some good strategy for me but I am gutted. I tried everything to get him but there was no way past. There was front locking from the loss of downforce and they are so fast in a straight line."
Hamilton said: "Charles did a great job. A lot of pressure from Valtteri and me. I did the best I could. Following so closely for such a long time. The tyres went off, they were so quick in a straight line."