Coronavirus: F1 governing body will 'take action' on race calendar after outbreak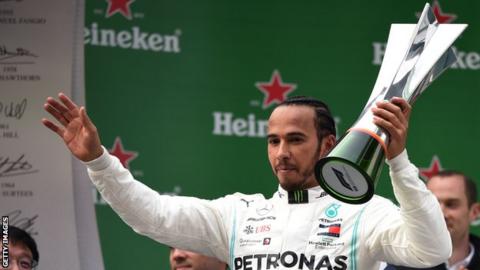 Formula 1's governing body says the Chinese Grand Prix is at risk in the wake of the coronavirus outbreak in the country.
A statement from the FIA said it was "monitoring the evolving situation".
It said it would "evaluate the calendar of its forthcoming races and take any action required to help protect the global motorsport community and the wider public."
The Chinese Grand Prix is scheduled to be held in Shanghai on 19-21 April.
Before that, the FIA is responsible for a race of the all-electric Formula E series in Sanya on 21 March.
Shanghai is about 500 miles from the centre of the coronavirus outbreak in Wuhan, while Sanya is around 1,000 miles away.
Chinese health authorities have said there were 7,711 confirmed cases in the country as of 29 January. Infections have also spread to at least 15 other countries.
The World Health Organization will meet on Thursday to again consider whether the virus constitutes a global health emergency.
The death toll from the coronavirus outbreak has risen to 170, and a confirmed case in Tibet means it has reached every region in mainland China.
On Wednesday, the UK Foreign Office adjusted its travel advice to warn against all non-essential travel to China and British Airways cancelled all flights to the mainland of the country.
The FIA's statement comes a day after the F1 Groups said it was "monitoring the situation in China closely" in tandem with the race promoter and motorsport's governing body the FIA and that the move came "in light of official advice from the British Foreign Office".
On past evidence, the F1 authorities will wait as long as possible before making a decision to call off or postpone the race.
They will be hoping that the virus outbreak is under control before they have to make a call on whether the race should be held as scheduled.
The last grand prix to be cancelled as a result of an emergency situation in the host country was the 2011 Bahrain Grand Prix, after protests erupted in the Middle Eastern state as part of the Arab spring.
Hundreds of British citizens are being flown back to the UK from Wuhan on Thursday and will be put in quarantine for up to two weeks following their arrival.
Australia, Japan, the US and European Union nations are also repatriating citizens.
The Chinese Grand Prix is not the only sporting event under threat from the virus outbreak.
On Wednesday, The World Indoor Athletics Championships, which had been due to be held in Nanjing on 13-15 March, was postponed for a year.